Share This:






In an ever-increasing world of fakeness (fake news, fake foods) there are companies that still want to put out great products that are super healthy. One such company I have found and patronize is Amphora Nueva. I really like the product so much I wanted to write a post and share it on my website. In the world of increasing fake foods, I believe Amphora Nueva delivers.
I wrote a general article on How To Tell If Olive Oil Is Real, which helps you determine if olive oil is real. In this article, I also wrote briefly about Amphora Nueva. So, check it out.
The availability of those "fake" information and products create more confusion. You can't always trust what you hear or read on the front of a label. You have to research and read the back of the label.
Unfortunately, they don't sell this in your local grocery store, as you can only buy this online or if you visit their three locations in California. Currently, at the time of writing this, their website is undergoing construction and you can only call in your orders currently. But their website should be up in a week, with all the information regarding each oil.
I was first alerted to Amphora Nueva's olive oil when Dr. Rhonda Patrick posted this company on her Instagram account. She mentioned it was healthy and was third-party tested. Dr. Patrick deals with issues concerning the brain, cancer, fitness, and aging.
So, I reached out to the owner of the company Nate Bradley to find out more on this company and their product.
What Is Amphora Nueva & Why You Need To Know?
Amphora Nueva is a olive oil company. They have three locations located around the Bay Area but they also lucky for those not in the Bay area the option of buying online (not at the time of writing this, but soon) or by calling.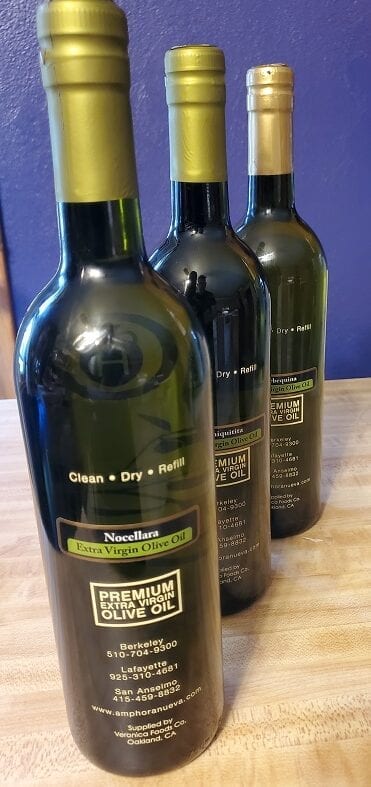 You need to know about this company and their product as Amphora delivers full transparency on their olive oils, by this I mean they provide information on where it was pressed, the pressed date, and third-party testing with the results. They also have been in business for over 100 years.
Get Ready For Flavor!!!
After tasting Amphora olive oil, I doubt I ever had real fresh olive oil before in my life. This is because after tasting it I was like, "Wow!" this is different, as it had flavor and a little acidity. Most times in the past when consuming so-called olive oil it just tasted like all the other seed oils out there. Blah and oily.
I was immediately impressed with the flavor, the olive oil I received was pressed within a week of consuming it. Talk about fresh! The freshness is a big part of olive oil as it sits around for long passages of time it degrades, olive oil can become rancid with time. In fact, most of the olive oil you buy at the grocery store is rancid.
What Do They All Sell?
They have 36 different olive oils they sell and around 30 different kinds of vinegar as well. To supply fresh olive oil they receive olive oils from both hemispheres of the world.
Share This: