Share This:






More Than 50% Of Olive Oil Is Fake!!!
This might be a shock to you but most Olive Oil you buy isn't really olive oil. In this article, I hope to highlight and tell you how to tell if olive oil is real and offer a great company you can trust to buy olive oil from.
Well, how much is fake, you might ask?
The averages for fake Olive Oil range between 69% up to a whopping 80%. My GAWD!!!
While the exact numbers aren't that clear, be sure that it is highly likely you're getting fake olive oil if you just grab a bottle of EVOO in the supermarket and go.
This becomes even more cloudy when they mix other oils along with olive oil and sell it off as EVOO. Or by mixing low-quality olive oil and then brand it as extra virgin olive oil.
We shouldn't have to worry about this, right? Should be some sort of regulations, right? There is not or at least it isn't enforced.
Life isn't that easy, I wish it was. So, you should take a little time and effort to make sure your olive oil is real.
Other Oils That Are Faked
Avocado oil is often faked or rancid. Read my article on How To Buy Real Avocado Oil & Avoid Fake Avocado Oil. I highlight two brands that tested 100% real and fresh avocado oil.
Signs Of Your Olive Oil Is A Fake
The number one way for me to know how Olive Oil is fake is by tasting it. But you can't just pop open a bottle at the local supermarket and taste test it. Bummer…I know. But it would make it so much easier.
Once you experience real fresh EVOO for the first time, you got your senses to rely on. Why, because it tastes different. It smells different. It tastes diverse. It has a low-keyed spice note to it. It just tastes real. So key points to remember:
Should smell green or peppery, as well as earthy.
Taste, it should taste good. Until I bought real olive oil online, I rarely tasted olive oil that tasted good. Now that I have the known taste of real fresh-pressed olive oil I can easily spot a fake by taste alone. I think you would also be able to.
The fresher the olive oil, the healthier and more flavorful as well.
Fake oil has little smell to it.
Must have "Extra-Virgin" on the label somewhere. While this isn't the be-all-end-all advice, it's still a good practice to follow.
Look for Pressed Date also sometimes called harvest date. Fakes usually don't market this on their products.
Real fresh EVOO should burn slightly when you consume it.
Avoid buying any Olive Oil in clear containers, as olive oil breaks down with UV light.  This is a dead giveaway for fake olive oil. Avoid, avoid, and avoid.
Why You Should Be Concerned
The United States seems to be where most of the fake olive oil is being shipped too. So the deck is automatically stacked against you. So, you might be just spending good money on bad misleading fake products. Getting a lower grade oil instead of high-quality olive oil.
So, most Americans are getting ripped off. Both from their money and their health, as EVOO has many health benefits. By consuming a lower grade oil, they are in essence robbing you of your health. So, what do you do…
Where To Get Good Fresh Quality Olive Oil
My advice is to avoid buying EVOO at supermarkets and start buying it online from a reputable source. It will more than likely be fresher and taste better, than what you can buy on a shelf from a store.
I am buying my EVOO from Amphora Nueva Berkeley Olive Oil Works. This is what I am currently buying and plan on buying from here on out. Amphora Nueva is a family-owned business that is operational almost for 100 years and is based out of California. They have all of their olive oil tested by a third party and post that information along with the harvest date at the top of each product's page.
This company has transparency, as they have been doing this for years. Even before people knew about fake olive oil.

I follow Dr. Rhonda Patrick on social media and she alerted her followers to a company where she buys her olive oil from. As I have been passively looking around on where to buy real EVOO for years, but not having the time or resources to try to find a good Extra Virgin Olive Oil. So, when I saw Dr. Patrick's post, I was immediately interested and decided to buy some and try it out for myself.
I have ordered from this company after having chatted via email with the owner. I have learned some important information from these correspondents. As he was extremely helpful and knowledgeable.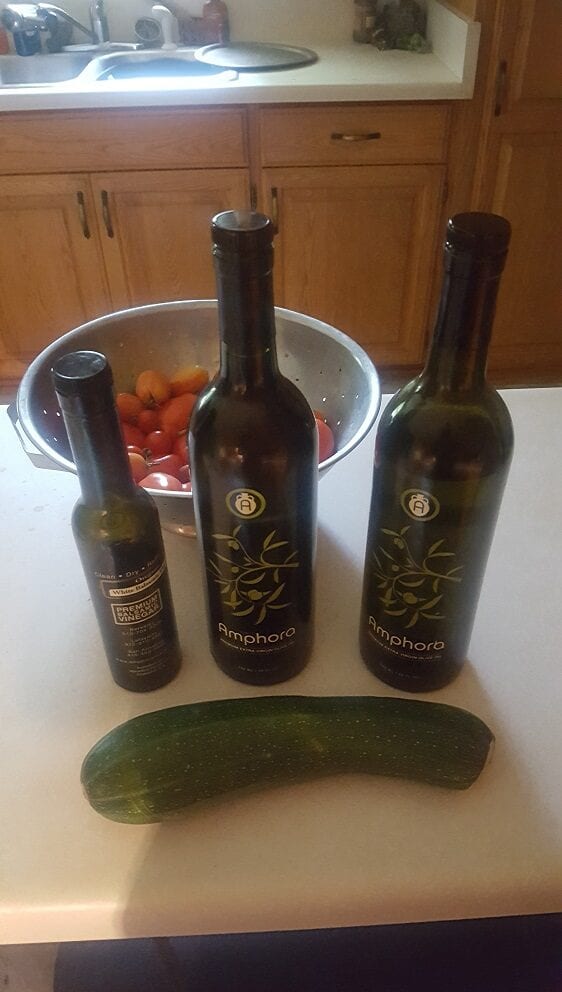 To fully understand the chemistry of the particular Olive Oil, you should really head on over to their Our Story, then click Chemistry. There you will find the explanation as well as the acceptable values and percentages of the chemical makeup. This will help explain the information you will find in the Premium Extra Virgin Olive Oil product pages.
They send every oil they carry to an accredited 3rd party lab to test and to come back with a full chemical analysis. (Free Fatty Acid, Peroxide Value, Polyphenols, Oleic Acid)
Each Olive Oil product at the top of the webpage posts the harvest date and chemical analysis. Love the transparency!!!
Amphora Nueva has been testing their Olive Oil long before anyone even cared about this information, how is that for quality. They tested to ensure they were selling a quality product. Integrity!!!
They grow olives on both hemispheres to ensure supplies to their customers,  as well as having the freshest olive oil in the world.
Been around as a family business for almost 100 years!!!
Delicious balsamic kinds of vinegar as well. Easily beats anything I have tasted from a supermarket.
Amphora posts the intensity of the flavor, as well as flavor notes and country of origin.
Have three available sizes in which you can order. 750ml (Wine Bottle Size), 375ml, and 200ml. I highly recommend getting the 750ml if you're ordering online once you know the flavor you like. This will save on shipping in the long run.
They give recommendations at the bottom of the page if you like particular olive oil that is similar.
They have an Amphora Club to join to learn when they receive new olive oil or for discounts.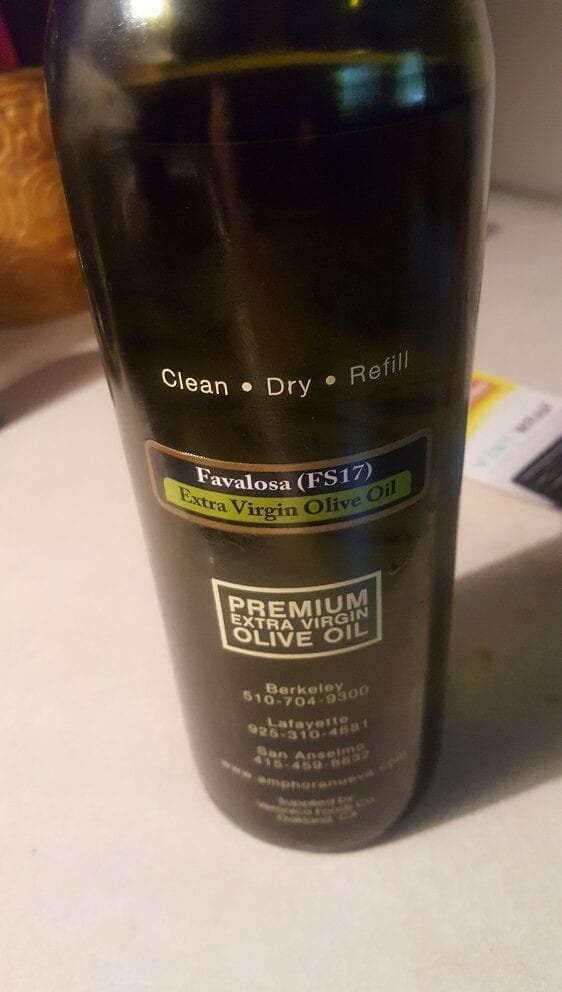 Final Notes
I highly recommend searching out a quality EVOO, as I personally recommend Amphora because of its transparency and quality. Plus it tastes fantastic, as well! You just haven't tasted real olive oil until you taste theirs!
Also, check out my webpage on What Is The Best Vegetable Spiralizer? The reason I put the vegetable spiralizer page here is that it goes excellently with fresh olive oil and is a really healthy way of consuming it.
If you are unsure, I would contact the company and ask questions, as they are accommodating and eager to explain the olive oil business. Very helpful!
Amphora Nueva: Berkeley Olive Oil Works
2928 Domingo Ave.
Berkeley, CA 94705
(510) 704-9300
Nate Bradley (Owner) nate@amphoranueva.com
Amphora Nueva: Lafayette
7 Fiesta Lane
Lafayette, CA 94549
(925) 310-4681
Nate Bradley (Owner) nate@amphoranueva.com
Amphora Nueva: San Anselmo
429 San Anselmo Ave
San Anselmo, CA 94960
(415) 459-8832
Claire Bradley (Owner) claire@amphoranueva.com
---
Questions? Comments? Recommendations? Would love to hear them.
Share This: