Share This:






Strong Lean Muscular Body
Are you wondering what Kinobody is about?
Are you looking to find out more information about the Greek God program?
I hope to impart some of my own knowledge about this program to better help you determine if this is the program is right for you.
Before we get started if you are unsure what Kinobody program is right for you, take this Super Quick Kinobody Survey.
So, let's get started with the Kinobody Greek God Review.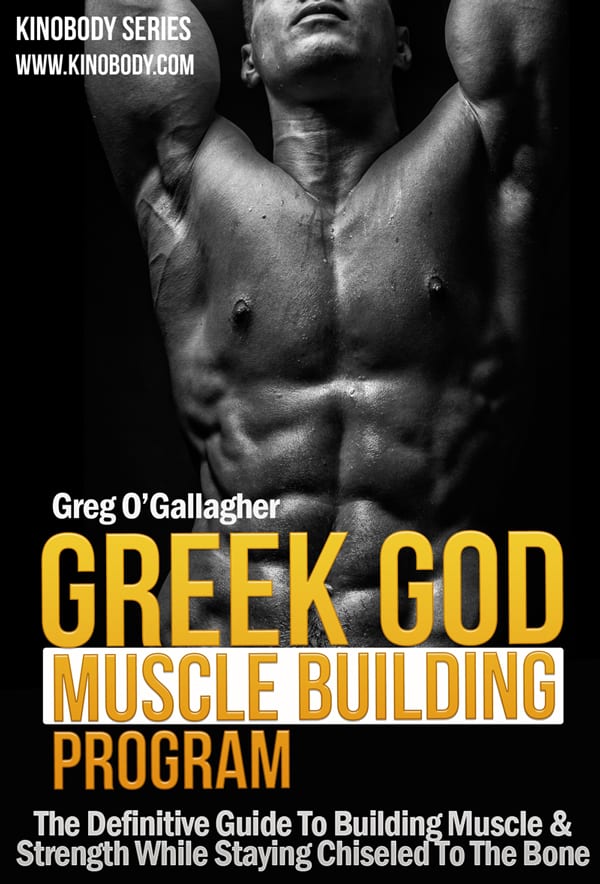 What Is Kinobody Greek God Program About?
Kinobody main focus is to help you get the desired physical look you want. As Kinobody bases their programs on the end result and desired look.
Shooting for the aesthetically pleasing look, but also and very importantly to become relatively strong to your bodyweight. This is called relative strength. These two go hand-in-hand according to Greg, and I would say he makes some really good points on the matter. Both well-defined muscle and strength.

Is Greek God Is The Right Program For You?
Still unsure? Let me try and help.
As far as aesthetically looking compared to the other programs, Greek God is the program in between the other two main programs, Warrior Shredding Program and SuperHero Bulking Program.
Warrior Shredding Program is a more designed for a slightly more leaner look and more definition and achieving the lowest body fat out of all the programs. You can read my in-depth review of the Warrior Shredding Program here, Is Kinobody A Scam?
Greek God Program is achieving dense muscle but evenly proportion with a pretty decent amount of definition.
SuperHero Bulking Program is with bigger muscles but still maintaining a lean waist. This allows for slightly more body fat but still with muscle definition.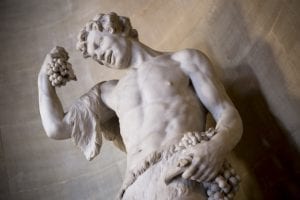 About Greg
I forgot to introduce the creator of Kinobody before I named dropped his name earlier, the creator and author of the all the Kinobody programs, Greg O'Gallagher.
A little information about Greg to help us better understand the GGP. You can't talk about GGP without talking about Greg. Greg has been interested in building his body from a very young age. He has built his own fitness empire by the age of 24, after many years of experimentation and refining…he built Kinobody.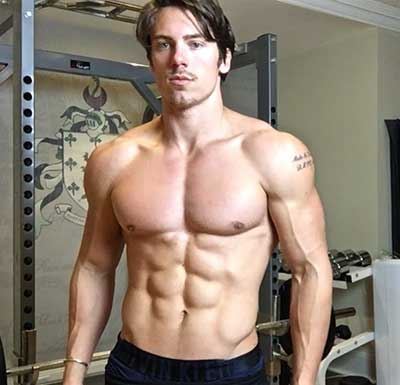 GGP Info
Enter the Kinobody Greek God program…and you guessed it, it's to look like a greek god chiseled from stone, like the statues from Rome we all have seen in museums.
So, what is Greek God Program?
Out of all of the programs Kinobody offers, Greek God is probably the most universal aesthetically pleasing physique to look at. Having just the right optimal proportions, muscle, and low body fat to make you just pop.
What is the ideal look best described?
To help even further along, Greg gives a couple of example of celebrities and from what movie of how their bodies look, like Brad Pitt in Troy and Daniel Craig in Casino Royale. All amazing…right?
So, if you're looking to look your physical best…here is the program that will help you reduce your body fat while putting on dense solid muscle all the while just having all the right proportions.
Why should you believe that you could get the greek god look by following this plan?
By implementing the program and following the diet, you should gain muscle all the while losing fat. There are thousands of testimonials and before and after pictures that tell the story of Kinobody Greek God program works.

Key Points Of The Greek God Program
Maintaining an 8-10% body fat.
Great proportions. Like, slim waist, wide back, rounded shoulders.
Visible definition.
Looks good in clothing.
Probably overall, the most attractive body type to females.
What Is All Include When You Buy Kinobody Greek God Muscle Building Program?
A 70-page Complete Greek God Manual ebook.
6 Month Workout Routine
Complete Diet & Nutrition Guide.
Full Workout Training Video.
Access To
4 Bonus Routine

MEGA Training Routine
Private Online Forum
Greek God FAQ Guide
3 Day Workout Split Program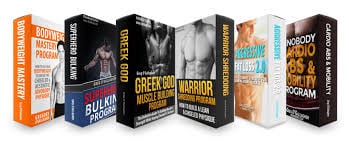 How Is The Workout Tailored To Give The Desired Greek God Look
What is the special magic sauce? It is the combination of a proper nutrition program to sculpt and define your body as well as the workout, that will transfer you into some say, into the most ideal of all the body types.
Probably the most important is training for strength for lasting lean hard muscle. As the Greek God Program refines its key muscle movements to just a few exercises in which to progressively attain strength gains on. The basic four exercises are:
Chest – Incline Bench Press – Greg loves the incline over regular bench pressing because of it builds the upper chest out, thus squaring off the shoulders and being very aesthetically pleasing.
Back – Weighted Chin-Up or Pull-ups – Greg believes in weight chin/pull-ups, just watch his videos. Believes nothing builds a stronger back.
Standing Press – This is the preferred method over the seated military press.
Sumo Deadlifts – Another method for building strength without overbuilding the leg muscles but also increasing strength. This is a new exercise for me and found this exercise very refreshing.
GGP also uses the reverse pyramid training to train at high intensity with low volume. Lifting heavy on the first set, to stimulate maximum muscle growth then back down on the weight on the next set.
Greek God Diet & Nutrition
The nutritional part of the program is very well laid out and explains in detail what is required. As staying lean while building muscle takes using just the right combination of calories consumed while still providing nutrients to gaining muscles.
The slimmer your waist is, the wider your shoulders and back appear. Giving you that very pleasing classic V taper upper body.
How does Greg accomplish this? Simply by cycling calories. Just by consuming slightly more calories on training days then dialing it back on rest days. So, it's important to count calories. I wrote a page about the best calorie counting apps out there as they just make it exponentially easier to count calories. You can find it here, The 5 Best Calorie Counting Apps For Android.
What I Like About Kinobody's Greek God Program
Allows you to make up your own eating times that best suits yourself. Kinda pushes intermittent fasting as a good idea but the decision is yours.
Not heavy on cardio. Ohh what a relief…don't get me wrong, I like cardio mixed in there just not inundated with it.
The program is built around building up relative strength. As muscle follows strength.
Refreshing and slightly different approach to workout and diet program.
Alternating workout routine, an A, and a B routine, to keep the muscles guessing.
Reverse Pyramid Training. If you're not doing this you're wasting your time.
A workout program designed to look good…not some bodybuilder physique, excesses muscle and such. Much more pleasing to the eyes, a classic look.
Doesn't mislead you into believing achieving results instantly. Takes time, 6 months minimum and longer.
A minimal approach to working out. Get this, just three times a week and under an hour. Wow! Right?
Eat KING size meals leaving you feeling satisfied and without hunger.
No risk of overtraining.
His cycling calories on rest and training days make a whole lot of sense.
Allows for rest, which is uber important to gain strength and allow for muscle recovery.
Streamlined exercise – you won't be performing tons of sets or exercises.
Budget-friendly nutrition strategies to get you building muscle and minimizing fat gains.
You are able to enjoy the foods you love.
100% Money Back Guarantee.
Proven Results
To tell you the truth, I have embraced the Kinobody ethos and programs. Greg has chiseled out amazing program after amazing program, that is designed to work and give results. You can see the many positive results of people using his system on his website. It's amazing the number of people transforming their normal selves into gods. You can too. As I have found his program are amazing and most importantly they work.
I would like to also mention if you find you need to update your style or clothes with your body transformation. I highly urge you to check out another of Greg's successful program, Kinobody Style Guide. This will help you look even better and more refined.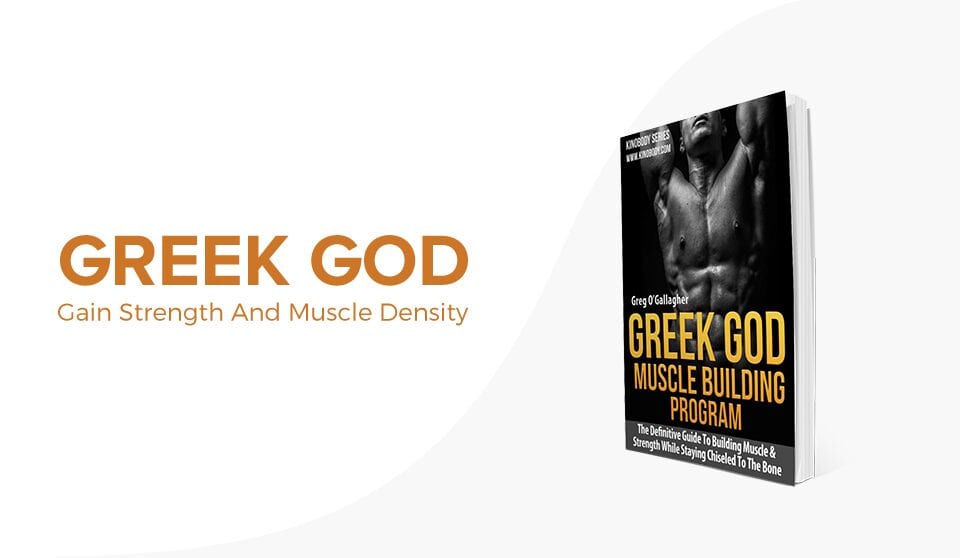 ---
Feel free to drop me a question or comment below.
Share This: