Share This:






Nothing is like your favorite flannel shirt. You know the old go-to in a pinch, either for a casual get-together or for just hanging around the house and looking sharp. Flannel over time will fade or slowly get thinner, these are the facts of life but you greatly increase the lifespan of your flannel shirts with a few simple tricks. I hope to share how to care for flannel shirts & tips to go by in this post.
Some Of My Favorite Flannels
Before we get into it, I would like to share where I like to get my flannels from. My new favorite Flannel company is Dixxon Flannel. This is for a bunch of reasons but mainly they just make cool flannels. Flannels that are unique and good-looking. Check out my post on Best Place To Buy Flannel Shirts – Dixxon Flannel Reviewed to read more about it.
Some Key points of why Dixxon Flannels Rock!
They fit great and have a great cut to them.
They are not supposed to shrink when washed, as long as you follow the instructions.
The colors don't fade!!!!
The attention to detail from the microfiber eyeglass cleaner on inside corner to hidden collar-stay buttons under the collars. Lots of attention to functional detail.
Flannels won't wrinkle.
Uniqueness and limited runs.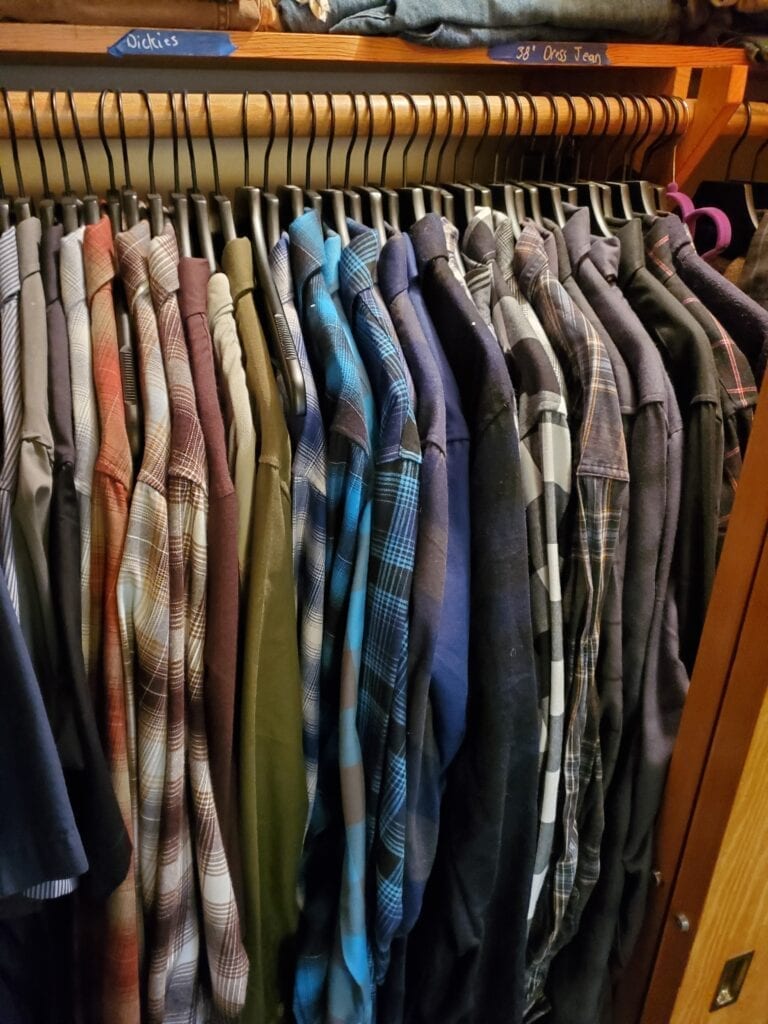 Follow The Label Brah!
It is always better to lean on the side of caution when washing and drying your flannel. So, read the care guide label that is attached to the flannel shirt first, take note of it and adjust accordingly.
Fabric Shaver
You can bring an old pilled flannel back to new again, using a simple fabric shaver. These are cheap devices that are usually battery operated that safely remove pills. They shave the pills off and catch them for disposal.
Highly recommend getting one of these for keeping your flannels looking clean and new.
Lint Roller
Another way to keep your flannel shirts looking clean and crisp is to lint roll them. These can be purchased just about anywhere and are very simple to use. Lint rollers will grap stray hairs
This is especially helpful if you are a pet owner. I know I had a Shiba Inu dog and he shed twice a year and it got everywhere but a lint roller really helped to keep my shirt's hair and lint-free.
Use A Quality Hanger
Depending on how you store your flannel shirts, whether you hang them in a closet or just fold them I would suggest hanging them on a quality hanger instead. Cheap hangers can offer mixed results, either sliding off or just not sitting right on the hanger. This can lead to a sloppy appearance of the flannel in the long run. It is better to store them properly.
What Hanger I Use & It Is Cheap & Quality
I recently went through my closet and threw out all of my cheap junky hangers, I kept the nicer ones. I then figured out how many new hangers I needed and ordered some extras too. What I was left with was a clean and neat closet that was refined and orderly. This really transformed my closet.
Get some nice hangers and transform your closet.
Never In The Dryer…Never!
I never dry my flannels in the dryer despite what the care guide says on the label. I would rather not take my chances with drying in the dryer. I usually just put it on a hanger and hang it to dry, then when dry, hang in my closet. This avoids the possibility of shrinkage and pilling. I want my clothes to look new for as long as possible and take efforts to ensure this.
Turn It Inside Out When Washing
Another simple way to prevent pilling is to turn the shirt inside out and button it up (if possible) when washing as friction can cause pilling. It might pill on the inside but at least everyone won't see it. Also, be sure to put it on a gentle cycle for washing.
Keep Out Of The Sun When Possible
To keep the colors looking sharp try to keep unnecessary sunlight on flannel because over time the sunlight will eventually fade the colors.
Hope These Tips Help
Buying quality flannels from the start, really help with the longevity of the shirt. A cheaper shirt no matter how well you handle will quickly fade and wrinkle despite your best efforts.
Got any tips yourself? I would love for you to share them with me in the comment section below.
What Is Your Favorite Flannel? Share a pic or comment below. I always love finding new flannels companies.
Share This: