Share This:






Are You Looking For A Good Spiralizer?
In my recent steps to become healthier, I have cut out bread entirely and most kinds of pasta in my daily meal consumption.
Instead, I will only have them as a treat once in awhile. So, I have been cutting out pasta and since I've started growing a garden in my own backyard within the last two years (also in an effort to become more healthier), I have been searching for alternatives to pasta.
Enter The Spiralizer
This is a Godsend!
This will help sustain the abstinence from pasta, all the while allowing you to fool your belly and taste buds while still eating "pasta like" meals.
It's quite amazing…really!
A healthier alternative to pasta is you guessed it…spiralizing vegetables.
After successfully growing a couple of ripe zucchinis in my humble little garden. A most recent trip to the local a department store with my wife to find a quality spiralizer, we were a little confused. As they had a variety of spiralizers, they had two bigger units and a small handheld unit. Instinctively, I wanted to go with one the bigger spiralizers. But in hindsight, I am really glad we didn't buy the bigger spiralizer.
But my wife kept saying but it will take up so much room in the kitchen. I was like, yeah…we are running out of storage space in the kitchen, let's go with the small handheld spiralizer.
Forget About Them Clunky Spiralizers…Get This!
In this page, I will review the Oxo Good Grips Hand-Held Spiralizer.
So, we purchased the Oxo Good Grips Hand-Held Spiralizer and it was about $10.00 cheaper than the bigger unit contraption. Hell yeah…and I am so glad we did, as I will highlight below.
I knew Oxo was a good brand and could be trusted to deliver a quality product that worked. This model is for the spaghetti cut.

Let me tell you that the Oxo Spiralizer works great! Plus, it takes up very little space in the kitchen at being less than 3 1/2 inches tall and a little more than 3 inches wide, it will fit into the smallest of kitchens.
While researching this product I also saw Oxo also has a three pack of this version with different cuts: Spaghetti, fettuccine and ribbon cuts called Oxo SoftWorks 3 Blade Hand-Held Spiralizer Set. While this will take up a little more room in your kitchen it is still not as big and cumbersome as the other bigger spiralizers. Still really compacted and easy to store.
How Did The Oxo Hand-Held Spiralizer Perform?
The Oxo performed great!
It reduced a regular sized zucchini to a heaping pile of noodles in just a couple of minutes. Plus, it was fun as well. My wife and I took turns about halfway through the zuch.
For such a small device, it is amazing how well it worked. When we were done spiralizing, I was immediately satisfied with our purchase and I was so glad that we didn't buy any of the bigger spiralizer.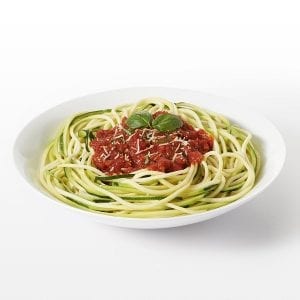 You just use your hand until you get to the end of the vegetable/fruit you should switch and attach the handle to the vegetable fruit to avoid cutting your hands. There should be no wavering on this, as safety is paramount.
You didn't have to apply much pressure to make long glorious healthy noodles. The handle is easy to grip as well. Making noodles doesn't take long and with little effort, you are done.
For such a small unit, I couldn't ask for any better performance.
What Vegetables Can You Use?
What kind of vegetables can you use with a spiralizer?
Carrots
Squash
Zucchini
Cucumber
Jicama
Sweet Potato
Beet
Squashes (many varieties)
Turnip
Potato
Rutabaga
Parsnip
Onion
Apples
many, many, more to list.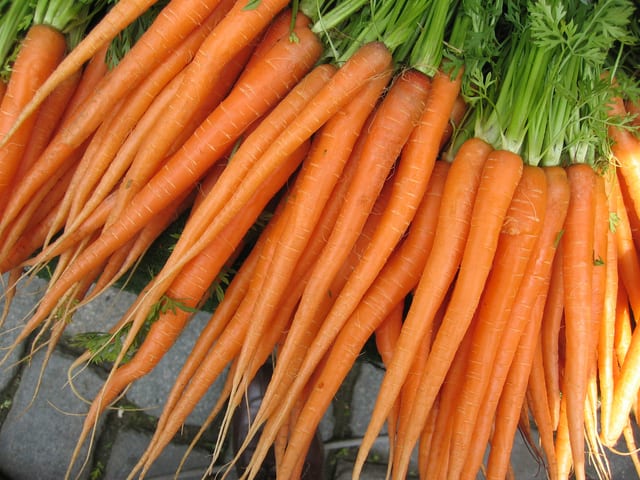 Avoid any vegetable or fruit that isn't firm and solid. Avoid juicy fruits or veggies as these will only make a squishy mess, or won't cut at all.
Benefits Of Using A Spiralizer 
No bloating feeling, like you, feel after eating a lot of pasta. You'll feel a lot lighter even after a big meal.
Consuming more vegetables into your daily diet.
Allows you the option, depending on the vegetable/fruit to eat it raw or cooked.
Fast, able to reduce a decent size zucchini to spirals in just minutes, with little effort.
Healthier!!!! Much more healthier than pasta.
Adds a level of excitement to old food staples.
Taste good. No real sacrifice in flavor. I think it actually adds flavor.
Lose Weight!!! Promotes healthy weight loss and weight maintenance.
Low low low calories compared to pasta.
Able to consume the same amount without the worry of calories.
Ummm. Gluten-free, vegan, vegetarian, and Paleo.
Allows you to be more creative in the kitchen.
It is also fun to do, yes either an adult or to have the kids help you. Yes, under your watchful eye, of course.
Tips On Cooking Spiralized Vegetables
Pat your vegetables with a paper towel when you finished spiralizing them. This will help to reduce the amount of water you will have when you are cooking them.
Read and follow the directions provide with your spiralizer. Why? The tips of your fingers will thank you, as you can cut your fingers on these very sharp blades.
Try your vegetables noodles raw! A great alternative to cooking them.
Always be mindful of the really sharp blades when unpacking, using, cleaning and storing any spiralizer.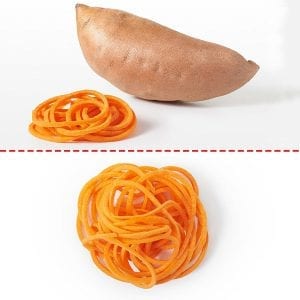 Get a cookbook specifically dealing with spiralizing vegetables and cooking with them. As it requires a different approach to cooking them compared to regular pasta. As to get the optimal consistency and texture really helps enjoy the meal to the fullest. As the noodles usually only take 2 to 3 minutes to cook.
Cut your noodles into manageable lengths. As the spiralizer will cut really long unmanageable lengths noodles. So, it's always a good idea to make sure the noodles aren't too long.
Invest in a quality olive oil. This will boost the freshness level as well. As you can't trust the majority of olive oils on the market. As olive oils are routinely mix with lower quality oils and passed off as 100% extra virgin olive oil. I really like this company, Amphora Nueva: Berkeley Olive Oil. They have the freshest, olive oil I have ever tasted. It tastes different and better from probably what you're used to from the supermarket, trust me. They also send every batch of olive oil out to be tested by a separate lab and post their results on their page. Dr. Rhonda Patrick highly recommends them you can see other products she recommends them here on my webpage, Dr. Rhonda Patrick Recommendations.
You can also read my page on, How To Tell If Olive Oil Is Real.
Make herbs, your best new friends. Rosemary, thyme, basil, mints, or whatever. Grow these in your house on a windowsill or in a little herb garden outside and add them to your spiralized vegetables and you will thank me later. With garlic and some freshly squeezed lemon, with a sprinkle of some parmesan. OUT OF THIS WORLD DELICIOUS!!! Guaranteed to please anyone. Plus they are super healthy to boot. Win-win.
Wrap Up
This little spiralizer is sure to please with performance and storage.
I am so glad I don't have to haul out a large unit out of the cupboard anytime I want some pasta like noodles. I highly recommend it!!!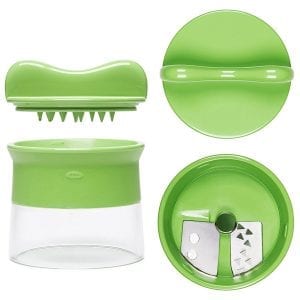 ---
Would love to hear what you like to spiralize and what you like most about spiralizing? As well as any thoughts or comments.
Share This: