Share This:






Trouble With Sleep?
This is a breakdown of Tim's newest video pertaining to his evening routine. As this provides some of the products and tools he uses for optimal sleep. As Tim is a lifelong sufferer of insomnia. He is always on the lookout for products and procedures to help alleviate the debilitating condition.
I enjoy Tim's outlook and positivity, from his podcast and multiple endeavors. As I have also written and referenced his other procedure as I think his mind is amazing and I believe many of his body hacking skill would benefit others. As he has the time and resources to find what works for him, and this might translate to helping other individuals. He is very open and sharing of what he discovers and this is greatly appreciated.
The other post I have written about Tim is Tim Ferriss Tips To Sleep/ Best Ways To Fall Asleep and Tim Ferriss Smart Drugs. These articles pertain other important tips and products to further improve the human condition and worthy of a look-see.

This page is for people to quickly reference what Tim brings up, either products or programs in which might help other people. This is mostly about products that he travels with. Things that are small enough to easily travel with without the problem of lugging around bulky objects.
What's with Tim's hat? I don't know, but it is kinda weird…don't you think?
Products Tim Uses
The first product Tim references but doesn't really go into all that much is the ChiliPad Cube Cooling and Warming Mattress Pad. Even though this isn't his travel device as it is way too big to travel with, Tim talks about it likes he uses it at home. He even references and name drops celebrities that also uses the ChiliPad, Rick Rubin, Laird Hamilton, and Kelly Starrett all use it and find relief using it for improved sleep.
I mean who at one time or another hasn't wished their bed was cooler or warmer at one time or another. This is my first time of hearing about the ChiliPad and I believe this product would effectively regulate this.
Also sometimes called PS. The direct brand Tim shows use in the video is GNC Phosphatidyl Serine 300 MG. I am sure a substitute brand would work just as good. This product Tim claims bluntly the release of cortisol, a stress hormone at the time of going to bed. This, in turn, blunts the glucose release, which is the energy jolt during the night.
Tim states he doesn't use this regularly as this would constantly block cortisol, which is a very important hormone. Tim uses it to settle in on the first day of travel and probably not at all after that.
Bragg Organic Raw Unfiltered Apple Cider Vinegar
This should be nothing new to regular listeners and followers of Tim, as he is a firm believer in the benefits of Apple Cider Vinegar for the relief of insomnia. He consumes this twice a day, once in the morning when he wakes and before bed. The dosage he uses is one to two tablespoons.
He is baffled about how or why this works, chemically. But states this does work. I can also back this up from my own personal experiences as well.
He also states he uses this for two reasons, immune support (morning) and for sleep problems (at night). He states in the morning he takes Bragg Apple Cider Vinegar with whey protein. While at night he drinks as a tea with hot water with a tablespoon of unfiltered raw honey.


Freo Slant Wobble Board
Tim does a slant board workout but states it not really a workout. The Freo Slant Wobble Board is designed by Eric Orton of the famous book Born To Run. You can find the Freo Board at FreoGear.com Spends 30 to 60 seconds improving the stability of his lower leg muscles.
An important note here is the book The Cool Impossible (found on Amazon) in conjunction with the Freo Slant Wobble Board is required for instructions on using the device, as per the FreoGear website states.


Rad Roller
This is the first product to use on soft tissue to downregulate right before bed to help with sleep. The actual model and name are the RAD Helix I High Density Foam Myofascial Release Tool I Self Massage Mobility and Recovery Roller.
This product is mainly for the back, but also for the legs as well. This would be kind of a massage before bed, allowing the muscle to become untightened and more relaxed. With any of these rollers, he does uses these products a half hour before bed. Also a note here, he doesn't use all of these products every night just usually one or another.

RumbleRoller Beastie Bar and Stands
Tim uses this particular product for the IT Band, aka runner's knee and for the vastus lateralis. Tim also rolls out his hamstrings and thighs with this roller.


An inflatable ball
This would be an inflatable ball that you could blow up with your mouth, due to this being a traveling product to help sleep recommendation. But a small ball of any type could be used at home. Doesn't give a product brand or anything with which to identify.
This product is for laying on your stomach with, while it is pressing on your abdominal cavity. This is for psoas muscle, which he states is very painful to have massaged or worked on. He states that once this muscle is relaxed it greatly turns down the body, thus it is optimal for preparing for sleep. He states that this exercise is short to get the benefits, only 30 to 60 seconds.
This is an app from Apple iTunes store is an app for free diving. Although Tim doesn't free dive he uses this to relax. A secondary component of this app is increased lung capacity. He uses this for 5 minutes of breath work and states is a nice alternative to meditation, if you are opposed to meditation.
Refer to the video for usage. The app cost $2.99 to purchase.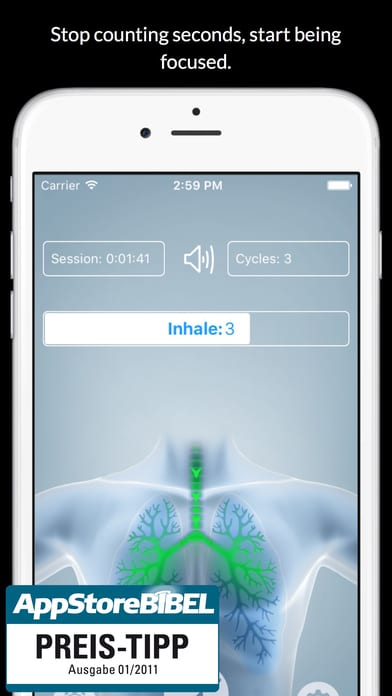 Conclusion 
This is in effect Tim's travel kit to help him wind down when traveling but this could also be used at home as a pre-bed ritual well, to help Tim to fall asleep. This I think would help anyone with problems falling asleep or any other kind of sleep disorder, like insomnia.
---
Any comments or question? As always would love to hear them.
Share This: