Share This:






Goodbye Stiff Muscles
This is my first experience with a massage gun, as I reached out to this company and asked for their product to review. Opove responded by sending me their latest model in exchange I would write an honest and detailed review of their product here in my post, Opove M3 Pro Max Massage Gun Review.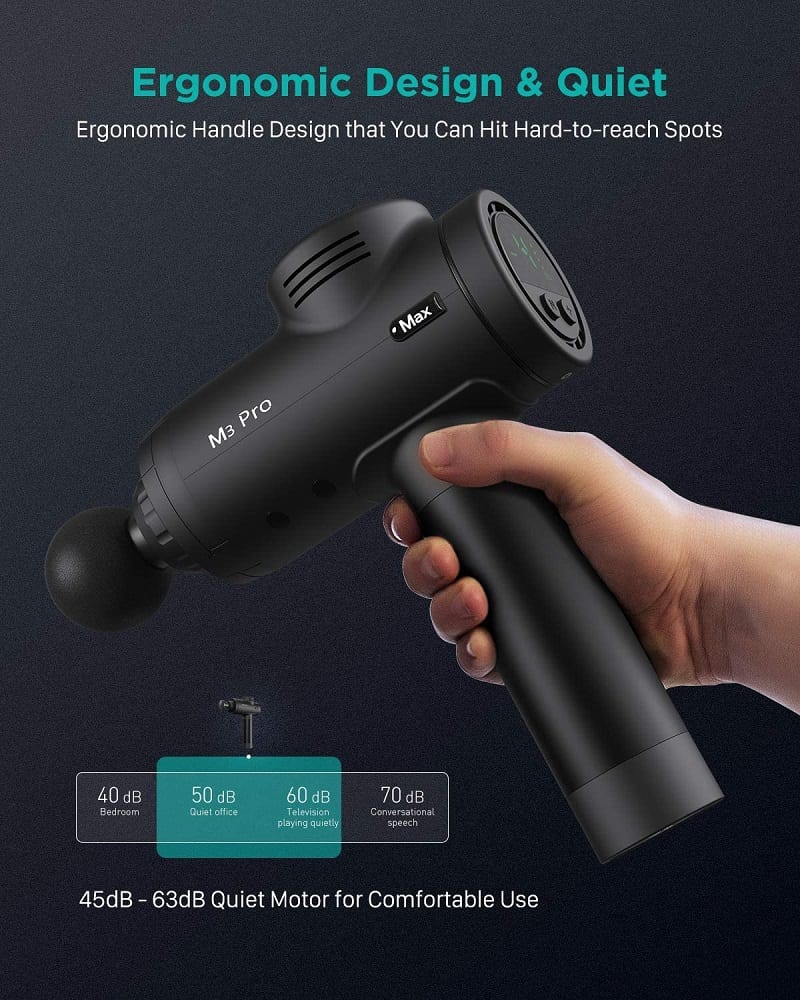 This massage gun turns out to be the best-selling massage gun on Amazon. Umm, yeah and it has like over 9,000 reviews and it also has a 90% of buyers gave it a five-star rating.
Interested? I am…
What Is The M3 Pro Max?
Got stiff muscles? Want an alternative to a foam roller?
If a cordless driver and a massager had a child this would be the offspring.
Then the Opove M3 Pro Max Massage gun is right down your alley as the M3 provides a localized deep tissue massage to help promote healing and therapy and to loosen up the tightness in your muscles. This can be done by yourself or by a friend or loved one.
The M3 Pro Max does this by applying a back and forth motion from the business end of the gun that provides varying massaging speed and force. This helps relieve muscle pain, tightness, and soreness. Different speeds and forces can all be easily controlled by the settings on the back of the gun.
What Is All Included?
For the Opove M3 Pro Max model, it comes very neatly packed in its own molded portable case for easy storage and travel. Was pretty impressed with the packaging, a sleek black, and well thought out layout. I know this sounds dorky, but it is my honest impression, it is just packaged well.
1 – Portable Black Travel & Storage Case
1 – Opove M3 Pro Max Massage Gun
5 – Various Attachments For Different Muscles Groups & Areas
1 – Charging Cable
1 – Instruction Manual
1 – Pamphlet Trigger Points Therapy For Myofascial Pain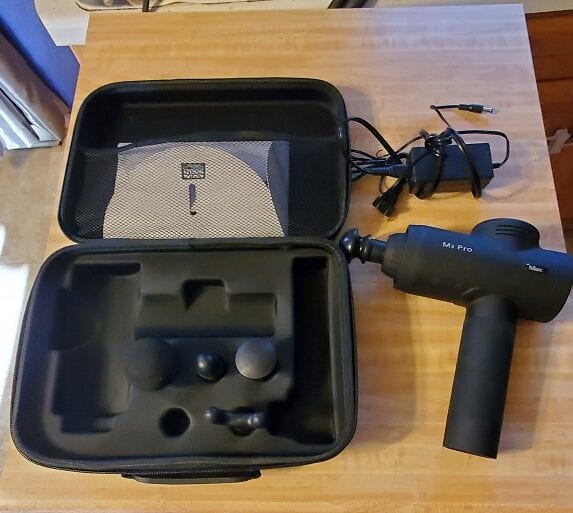 Features Of Opove M3 Pro Max
Lightweight just 2.3 pounds
Automatic Shut off after 15 Minutes
5 attachments
4 speeds to choose from 1500/min, 1900/min, 2600/min, 3300/min
4 hour run-time per charge
Quiet motor
What Are The Benefits To Using The Opove M3 Pro Max?
So what are the benefits I can expect from using this? Some possible benefits and relief:
Myofascial releases
Increased recovery & muscle repair
Back pain relief
Feet pain (plantar fasciitis)
Increase blood flow
Muscle know removal
Does It Really Work?
Does massage work?
I would say yes it does. My Mom was a massage therapist and often helped with painful back episodes with massage therapy. Providing relief and increasing movement. Then by all means the Opove should work just as well as having a massage.
Right?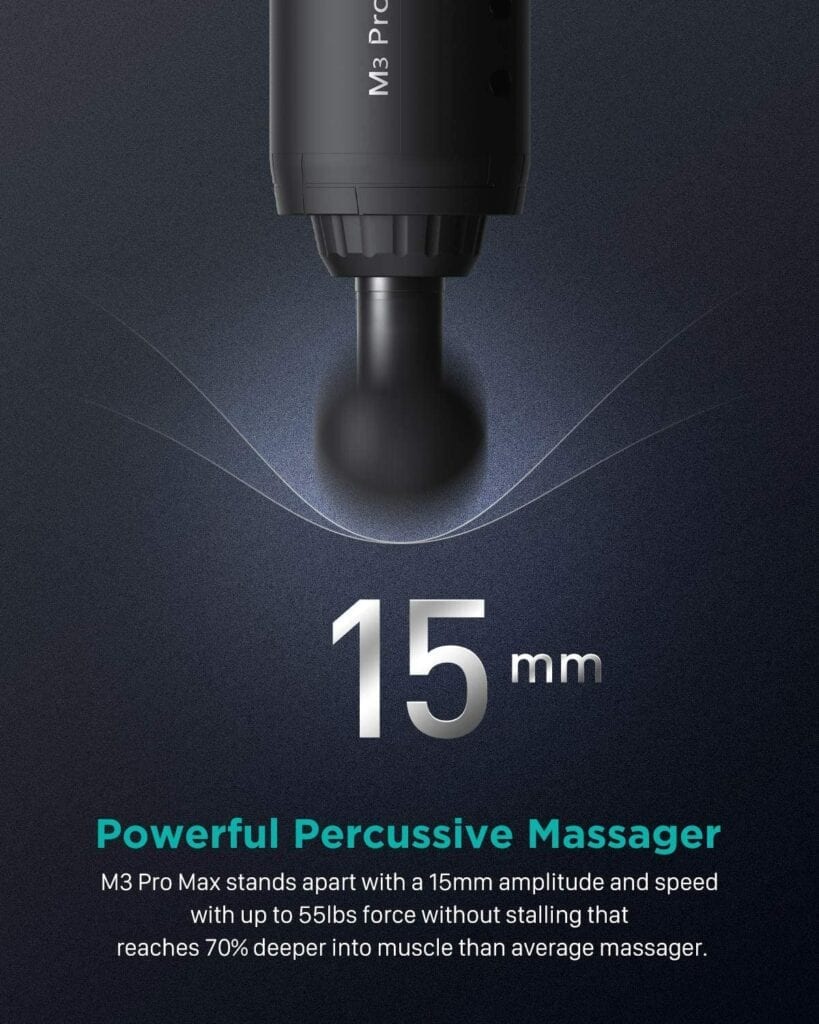 Yes, it can really get in there on those locked knotted muscles or provide relief on tired feet by relaxing the muscles and increasing blood flow. Been using it on my aching feet after my 11-hour shift at my full-time job, where I stand on concrete all night long. It definitely brings relief.
Final Thoughts
The build quality is pretty damn good and a lot of care went into its design just with quickly looking at this and using this device. It impresses. I have seen cheap cordless screwdrivers over the years and this Opove M3 Pro Max doesn't feel, perform, or look cheap.
I appreciate the option of having softer settings as well as harder faster settings, as different areas on the body have different pain levels and a fast setting just doesn't feel good or beneficial. The 5 different attachments also cater to this thought as well, as some are softer and some are designed to really get in into deep knotted muscles.
It is also more convenient to use as compared to a foam roller as well and it is quite too. I am really impressed with this device and will be reaching for it when problem areas on my body need addressing.
Where To Purchase
You can purchase authentic Opove products from their website.
Or purchase from their Amazon Store
Share This: