Share This:






Gotta Love Simple
We all know how great wild salmon roe (it is also called Ikura) is, but it's kinda limiting on how you can eat it. At least this is what I found being new to this delicious and highly nutritious seafood product.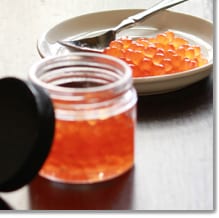 Although I do enjoy just eating it on a nicely toasted piece of buttered baguette, I want to explore more recipes to further enjoy one of my newly found favorite and healthy foods.  So, what I would like to do is share with you two great easy and scrumptious recipes that I have found to take salmon roe to the next level.
If you don't know how great salmon roe is
I think you will enjoy these.
Quality Source Of Ikura
If you are looking for a quality wild source for Ikura also called salmon roe, I have found the quality to be top-notched over at Vital Choice. This is sustainably harvested from Alaska, and in my opinion the best quality salmon in the world.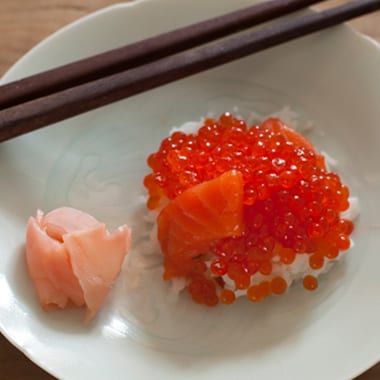 Plus, they have many different sizes to choose from the small 2 oz size to the bulk 2.2 lbs tubs. I just love these big tubs! These tubs come in trays that are divided up into quadrants, which are easily divided up so you can thaw on these at a time. All the Ikura is under the close watchful eye and supervision of Japanese ikura experts. The particular brine they use is only 3%, to allow for the salmon roe taste to better come out and also to have a lower salt quantity.
They have two types of Ikura as well, a wild Northwest Pacific Keta salmon and an Alaskan Sockeye Salmon. Both are great.
Use this Vital Choice Seafood Coupon Code for an additional 10% off – VCAF10
This is good for anything they sell and is a sitewide coupon code.
Salmon Roe (Ikura) Avocado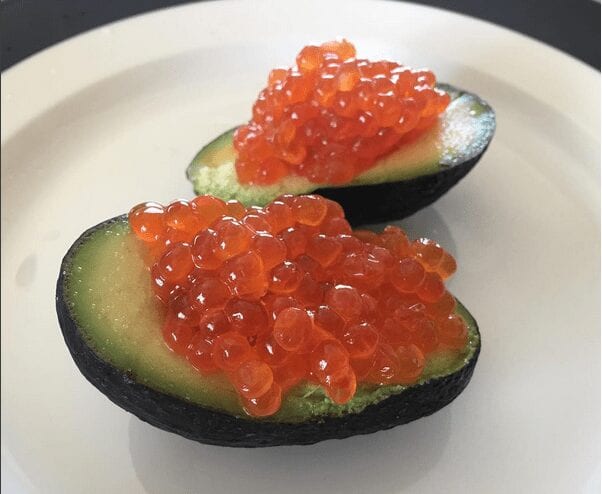 How easy is this recipe try three to four ingredients? I did say simple, right? Try avocado topped with wild salmon roe and lemon juice.
Ingredients
1 – Ripened Avocado
1 – Salmon Roe (Ikura) tablespoon
1 – Lemon Wedge
Pinch of Sea Salt
Optional Ingredients
Tabasco Sauce
Wasabi
Red Pepper Flake
Directions
Cut avocado in half, remove the unusually large avocado seed. Scoop copious amounts of Salmon Roe and apply into the center of avocado halves. Squeeze lemon over both halves and add a pinch of sea salt. Boom, done…For additional flair or kick add your favorite hot sauce, wasabi or red pepper flake.
Scrambled Eggs With Salmon Roe Recipe (Double Egg)
This recipe will add a new and interesting twist to a standard scrambled egg breakfast. This is the reason I chose this because this just bumps up a standard meal to Super Saiyan meal. It is sure to impress.
4 – Large Organic Eggs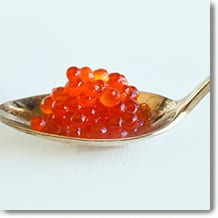 1 – Tablespoon Of Heavy Cream
3 ounces of Salmon Roe (Ikura)
1 – Tablespoon of Butter
Salt & Pepper to taste
Release the eggs from their shells into a stainless steel bow. I find a stainless steel bowl you get more fluffy eggs and thus a better end product. Beat the eggs with a whisk. Add the heavy cream and quickly whisk into the eggs.
Heat a skillet over medium heat. Add the butter, melt and wait til butter bubbles. Pour eggs into the pan. Stirring the eggs when they start to set and cook until the eggs are no longer runny. Careful that you don't overcook them huevos. When eggs are done, plate it. Once plated spoon the raw salmon roe over the eggs. Consume…

---
Any comments or questions? Always, welcomed at HoneBodyMind.com
Share This: