Share This:






Super Convenient Tea, Anywhere Anytime…
I have enjoyed tea since I was a young boy. Having grown up drinking unsweetened sun brewed Lipton Iced Tea and various herbal teas, like pineapple weed and yerba santa teas. Thanks in large part to my mother, who often shared her herbal knowledge with me and making tea from various herbs, as well as store-bought teas.
So, I jumped at the chance to review Pique Tea Crystals after being contacted by a representative to try their product and help spread the word about this unique tea company.

Well, what makes this unique and something I can really get behind?
Well, quite a bit of reason, the benefits are many, so please read on…
This tea comes neatly packaged in a well-designed box; the box contains 14 easy to open sachets. Great for taking with you to work, gym, traveling, or wherever, as this easily fits into your pocket or purse for easy accessibility.
What Pique has done is to brew the best leaves from quality farms, all their teas are 100% organic, by the way.  They bring the tea to the exact right temperature and time, they take out the leaves and then distill that tea into tea crystals. Removing the need to properly steep your tea, making it very time saving and convenient for the tea drinker. Allowing tea drinkers, to have instant access to quality tea by just adding water.
The instant teas can be mix with either hot or cold water for the green teas, while the black teas should be mixed with hot water. I've been putting these into my lunch box for work, for a quick and natural pick me up. As well as an alternative to just drinking water.
As a side note here, if you are drinking regular tap water with your tea, I highly recommend you invest in a Reverse Osmosis Filter or a Home Water Distiller. I have written two posts recommending the best for both methods of filtering your water here: Top 10 Water Distillers and What Is The Best Reverse Osmosis Water Filtration System. You can't believe, what is regular tap water and what you are consuming.
Just simply TEAR, MIX, and DRINK. Simple, right?
What I Like About Pique Tea Crystals
There are many advantages of using this instant tea and much to like about their products. You can read more about Pique Teas on their website: Pique Teas.
Well first off, all of their premium teas are certified 100% Organic. Grown on quality farms and harvested just at the right time, to ensure the maximum amount of nutrients and taste.
Wait…wait, it even gets better, as their patented crystallization process produces six times the antioxidants of one regular tea bag and 20 times the antioxidants of bottled teas, all within one tiny sachet.
I love Pique Tea for a natural pick me up during the day. I regularly add this to my reusable stainless steel water bottle when I'm at my regular job. For both energy and clarity, which is great and reliable when I need a boost, plus it's a healthy alternative to drinking sugar-laden soft drinks. I am shocked at the people I work with and the consumption of the amount of s0da they drink they drink every day, I fully support any company that offers a healthy alternative to drinking any cola.
I love the amount of variety of flavors Pique offers and it's sure to please just about every tea drinker out there.
These teas also balance the immune system, along with aid in digestion and clear skin.
What I Don't Like About Pique Tea
I overall enjoy the taste of their teas, there is a subtlety missing in the taste, as compared to brewing your own loose leaf tea. This isn't a deal-breaker by no means, as the taste is generally good and provides a real convenience with today's lifestyles while enjoying the benefits of drinking tea. It just doesn't taste as quite as good as a good brew of loose leaf tea. There is usually a trade-off in life, while you are getting more antioxidants (6 times the amount) and ease of convenience, the subtlety of taste suffers. Again, not a deal-breaker, just worthy of note.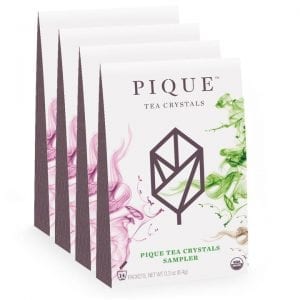 Some experimentation is needed to get the right flavor depending on the container you are mixing with. Generally, Pique recommends you mix eight ounces of water per sachet. Try experimenting with more or less water, to find what ideally you prefer.
Promo Code
If you are interested in trying out Pique Tea, I have a unique promo code that you can use at checkout to save you an additional 10% on your first order. On top of their already 20% off, so you can save 30% total with the code listed below.
Promo Code for 10% off – DAN
WhatFlavors Of Pique Tea Crystals Are There?
Pique Tea Crystals has currently a total of eight distinctly different flavors from which to choose from. They also have a total of six various bundled packages, which I will also list below and a great way to explore all of their flavors. I really recommend you pick up the Pique Starter Kit, as this has all the flavors Pique has to offer and is a great way to explore all of their teas.
8 Tea Flavors
Hibiscus Mint Herbal Tea
Sencha Japanese Green Tea
Mint Sencha Japanese Green Tea
Jasmine Green Tea
Passion Fruit Green Tea
Peach Ginger Black Tea
Earl Grey Black Tea
English Breakfast Black Tea
6 Bundled Options
Limited Edition Lovers Tea Crystals
Best Sellers Bundle 5 Pack
Pique Collection 8 Pack
Pique Starter Kit 8 Pack + Pique Cup ***Highly recommend this one***
Green Tea Bundle
Black Tea Bundle
Pique Tea Crystals allow you to have tea anywhere, at home or just on the go with these cool little packets. I highly recommend you check them out.
Have you tried Pique Tea Crystals? Would love to hear your feedback or any questions and comments.
Share This: