Share This:






Does It Work?
When I first heard of the Chi Machine, I thought to myself, "What is Chi Machine?" I have been into martial arts since I was a young kid and I am aware of what Chi is, from a martial arts perspective. Its the universal life force that flows through everything. So, naturally my ears perked up when I hear Chi Machine and I wondered about the benefits of using this machine. My Mom is a massage therapist and she recently bought a Chi Machine for her business. I naturally had to try it out and was pretty amazed by the experience.
If you are unfamiliar with the word Chi I would like to explain a little bit about it. Chi is this mysterious subtle energy that many ancient cultures believed existed is often called many different names like Qi, Ki, Prana, and even recently energy work.
The Chi Machine was designed to work with the body's natural unique rhythms by its figure 8 goldfish like movement. Where you lay down and rest your feet on the device and relax. Dr. Inoue found the 140 cycles per minute to be the most beneficial.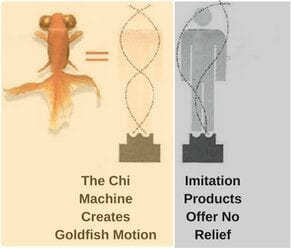 The Story Of The Chi Machine
The Chi Machine was invented by a Japanese scientist named Dr. Shizou Inoue. This is really a very interesting story behind his invention, which he spent 38 years developing. Apparently, Dr. Shizou Inoue was meditating on Goldfish. When he came up with the idea of having people move like a goldfish, which is a figure-eight movement. He spent his life promoting the theory of oxygen deficiencies were the causes of many diseases. He and other researchers came up with the Sun Ancon Chi Machine, to emulate the gentle movement of the goldfish to provide a passive aerobic exercise while providing a substantial oxygenation with little effort.

Chi Machine Benefits
Relieve muscle tension and discomfort.
Temporary increase in blood circulation and oxygen through its movement.
An increase in energy.
Better mental focus.
Improved circulation. (Swelling in the legs)
Complex pain syndromes. (Fibromyalgia, spine pain, hip pain, & neck pain)
Relaxation.
General Health.
Promotes lymph drainage.
Induces Alpha waves for relaxation.
An amazing experience.
A deeper sleep.
Increased metabolic waste elimination.
Specs On The Chi Machine
An important note here on the speed, other similar devices have variable speed settings. The Chi Machine does not, it has one speed. Dr. Inoue specifically choose140 oscillations per minute based on heart rate, spinal alignment, and blood pressure. He felt this was the most optimal setting.
Specifications Sun Ancon Chi Machine:
USA 120v-60Hz, 28w (220v available by request).
Weight: 15.5lbs / 7kg
Dimensions: 10.5 x 13.5 x 8.25
/ 33.7cm x 30.2cm x 21.2cm
Swing Frequency: 140 oscillations/minute.
Swing Travel: 1.5 inches / 37mm
Self Timer: 2 to 30 minutes,
(15-20 mins max recommended).
One speed only as designed by Dr. Inoue.
Colors: White and Grey.
2-year warranty.
How To Use The Chi Machine
The first thing to do is drink a small glass of water before using the machine.
Lay down and position your legs on the cradle, just above your ankle bone where your feet can freely move.
Arm positions – There are three variations of this Stretched back Position – (arms extended above your head), Mid Position (hands placed underneath head), Goldfish Position (Both arms at your sides on the floor).
Set timer for the amount of time you want to use the machine. Start slow(2 to 3 min.), especially if you are in poor health (1 min). Increase time 2 minutes at a time.
Stay relax, surrender to the movement. Don't resist going with the movement.
After the timer has gone off, continue to remain on the floor for 2 to 3 minutes.
Drink a full glass of water.
It is really imported to just lay there for a few minutes after the machine has run to the time which you have set to achieve the most benefits from the Chi Machine. ***Don't skip this step, enjoy the feelings and continue to lie there.
My Personal Experience
I found once I relaxed that I felt like a fish or a tadpole. Quite the feeling! Because you just need to relax and surrender. That the movement brought up old forgotten instincts or DNA or something, as the swimming sensation was not that foreign of a feeling. I found it highly relaxing, soothing and just as the product name implies a definite sense of energy movement when I was done.
My back was not hurting at the time but I would imagine a stiff or sore lower or upper back would benefit from using this machine, as it just slowly worked at relaxing the stiff muscle and allowing for movement. As I have been plagued by lower back pain throughout my life, I know this would help. Luckily, I haven't suffered a back pain attack recently but I will use the Chi Machine if the need arrives. I just have a sense it would greatly help tight muscle.
I also felt the weird and unique sensation of energy running through my body. I think it weird because this happens from just laying there with no physical effort. But you also feel like you did some sort of workout.
What The Chi Machine Will Not Do

Sometimes it's just as important knowing what a product won't do, as compared to what are it benefits, to understand how it works.
It does not build muscle.
It is not for weight loss, it for other purposes.
Chi Machine Alternatives
There are often with all things, copycats that many emulate the originators. The Chi Machine is no different in that respect. Competitors want to make competitive alternatives, which may provide a better product with different or more options than the original.  There is more than one alternative to the Chi Machine but I think this model is the best compared to the other alternatives.
My advice is to spend the extra money for an Original Chi Machine because 38 years of research went into the design of with quality components. A lot of the cheap alternatives have cheap parts as well as undesirable effects.
Original Chi Vitalizer Machine – As rated on Amazon a 4.2 out of 5 stars, which is pretty good.
The main advantage over the original Chi Machine is two reasons.
Cheaper Price -$249.95
Variable Speed Settings – Chi Machine has a one-speed setting, while the Chi Vitalizer Machine has multiple speed settings that adjust for your optimal size and own personal comfortable setting.
Where To Purchase Chi Machine
In progress…
---
If you have any experience using the Chi Machine or if you have any questions would love to hear them. Thanks!
Save
Share This: