Share This:






Soap For Men
Dr. Squatch soap is specifically for men, having manly natural smells. No girly smell here, boys!
I've recently had the pleasure of acquiring three of Dr. Squatch soaps. The soaps I got are Cedar Citrus, Pine Tar, and Gold Moss Scrub. I had to run to my computer and start typing after using the Dr. Squatch Pine Tar soap in the shower.

Yes, with a towel around me and still dripping wet.
Why?
Well…I really enjoy using their soap. I started out using their Pine Tar soap, as I have been exposed to other Pine Tar soaps before in the past and how do I say this…oh, yeah…they didn't smell the best. They usually smelled like medicine and slightly of pine. Not very appealing to the masses.
So not the case here. The pine scent is toned down and with no medicine smell. I actually wished there was a slightly more pine scent to it. But It still smells good.
As I used this coming home from work. (Yes, I have a full-time job on top of the 4 websites I own and operate) As I had grease and dirt on me from my various stainless steel jobs I perform at my place of employment. The exfoliating materials in the Pine Tar soap easily knocked down the grease on my arms, which normally sometimes doesn't completely come off with your standard soap. (shhh…I'm referring to Ivory) The exfoliating materials used in the Pine Tar soap is built for men, working men. The Pine Tar Soap has two exfoliating materials oatmeal and sand and these two duos kick butt on any dirt or grease.
I just love it, it is so my after work soap now.
What Scents Do They Have?
The soaps are pretty much squares coming in at the dimensions 2 7/8″ X 3″ X 1″ and weighing in at 5 oz.
Pine Tar
Gold Moss Scrub
Nautical Sage
Bay Rum
Cedar Citrus
Spearmint Basil Scrub
Eucalyptus Greek Yogurt
Cool Fresh Aloe
Deep Sea Goat's Milk (weird right?)
Having tried only three of their soaps, all of the scents are great. But my favorite is the Gold Moss Scrub soap then Pine Tar and then Cedar Citrus.
Gold Moss is pretty freaking amazing! I will be ordering some more soaps to try their other scents in the future.
What's In The Soap?
It's important to note that all the ingredients that go into the Dr. Squatch soaps are natural. No hard to pronounce scientific names here. As each soap has its own unique smell and ingredients.
Here are the ingredients that make the base of the soaps.
Saponified Oils (Coconut, Olive, Hemp, Non-GMO Soy)
Shea Butter
Lye
Water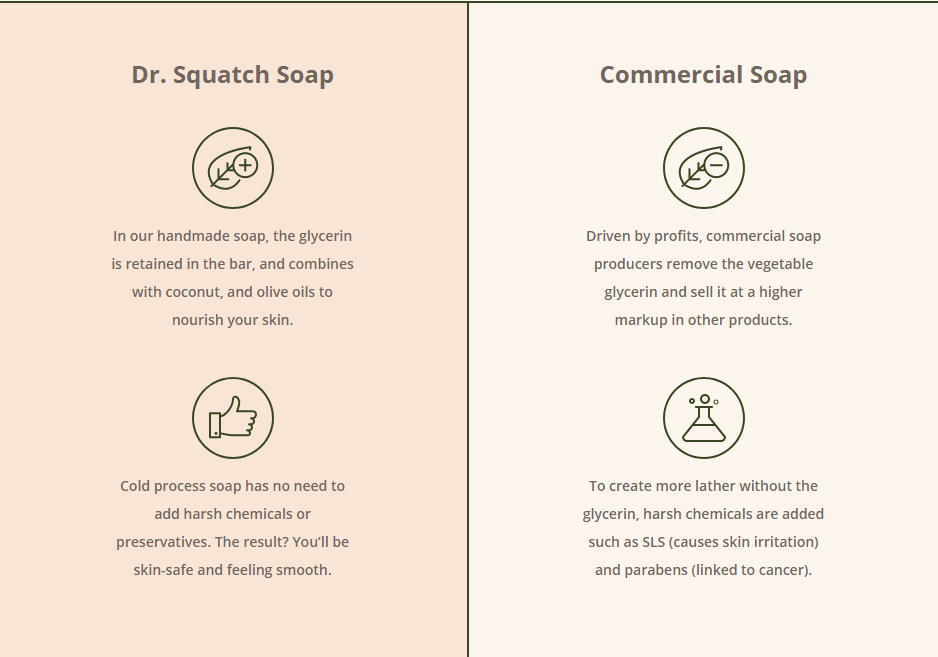 How Much Do The Soaps Cost?
The Squatch soaps are $7.00 per bar of Soap.
You can save some money (15%) by subscribing to the Soapscription service where the soap is delivered to you automatically. It's really simple, choose how many soaps you want 1, 2, or 3. Thus dropping the price a dollar for every bar of soap with the subscription. $6.00 for 1 $12.00 for 2 and $18.00 for 3.
So, you can save some money ordering the soaps through their subscription but I would always first recommend you try a few before going deep with a subscription.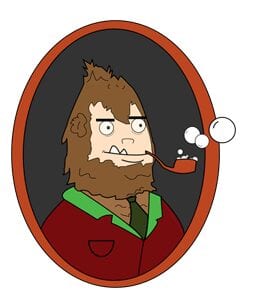 Promo Code Dr. Squatch
You can save an additional 20% off orders of $20 or More at Dr. Squatch by using the code DSCBRICC20 at checkout.
Simply use this code at checkout to save yourself 20%. Easy.
What I Love About Dr. Squatch Soaps
Soap for men that have a natural scent, I think it's an undeveloped market and I applaud Doctor Squatch for addressing this. I appreciate it.
All-natural ingredients.
No harsh chemicals.
Handmade soap.
The soap rinses very clean.
Didn't dry my skin out.
The bar of soap has never slipped out of my hand unto the bottom of the shower.
Great scents, just enough subtleness not it to without being overpowering but still there invigorating your sense of smell.
Cleans amazingly.
Felt like a freaking man-beast stepping out of the shower. Fully Rejuvenated.
Love the exfoliators added to the soap (Depending on the soap, as some soaps don't have it.) Example: oatmeal, sand, and sea salt.
They list the bar Size (in ounces), Scent Strength, and Skin Types (what types of skin a particular soap is good for, like for example: good for oily or dry skin), as well as all the ingredients that go into making the soap. Thus giving you a clear enough picture of what you're getting.
A thoughtful company. Why is that you say? Well…coming up with a Travel bag to help you enjoy their soaps while traveling and coming up with the issue of making your soap last longer by designing a Soap Saver. Let's not forget about the all-natural ingredients for people that want to avoid all the chemicals that the big companies put into their soaps nowadays. I get a real sense of wanting to please their customers.
Great customer service, both from my own personal experience as well as many others I have read online. If you have a problem let them know, they will try to help.
They also have a subscription service they call " The Soapscription". This is great because I don't always remember to buy things when I run out. Especially if you are a busy person.
Tips On Making The Soap Last Longer
Cut The Bar In Half
A common complaint I see reading the reviews of Dr. Squatch Soaps is that they don't last. Lasting for about a week and a half as some reports say. I haven't used it that many times yet at my house, but I will report back here when the soap is gone. So far the Pine Tar soap is holding up quite well on day three.
***Update, it lasts about as stated above about a week and a half.****
Dr. Squatch says their bars of soap last on average for about two weeks. FYI.
Anyways, a secret I have found to making ANY bar of soap last longer is to cut it in half. This should be done with a soap cutter preferably. A simple wire strung between pieces of wood, works great. Sometimes heating the cutting edge is the way to go depending on the soap.
This will extend your soap life greatly, as you lose soap excessively every time it gets wet. When you cut the soap in half you are reducing the amount getting wet and thereby saving yourself money and extending the life of your soap. As most of the soap just melt away down the drain as you shower.
Splitting up the soap will guarantee longer life and with the already wide Dr. Squatch soap. So, you might find it easier to grip as well for your smaller hand friends.
Soap Saver
Dr. Squatch has addressed this issue as well, as selling a soap saver that they claim will extend the life of the soap up to 2x. This shows awareness of the problem of making the soap last longer and Squatch addressing this problem. As they aren't burying their heads in the ground, they are addressing the problem with possible solutions.
Having all-natural soaps has some drawbacks and maybe soap life is one of the drawbacks. But if it smells this good and works this good and I enjoy using it more…I will sacrifice a little extra money as well as convenience.
Their Soap Saver is simply made from 100% Cedarwood and is slotted and grooved to allow adequate ventilation, which allows the bar of soap to properly dry completely.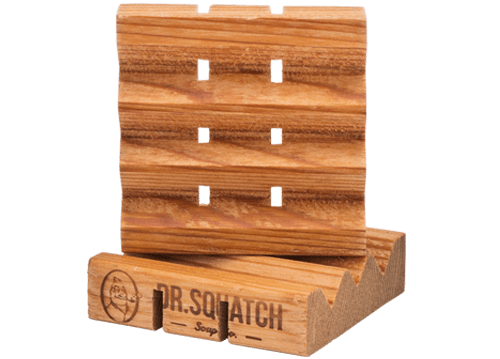 Very Happy With My Order From Dr. Squatch
This product exactly delivers what they say. Natural simple soap for men that smell great! My favorite by far and away is the Pine Tar Soap, better smell better performance.
Makes a great gift as well if you're hard-pressed for ideas on what to give. Because everyone uses soap, at least I think everyone does. But they also have Gift sets that are presented in cedar cigar boxes that are really nice. They also have colognes and a shaving kit.
So, if you're looking for something different from the same old boring soap and noxious fragrances of shower gels give the Dr. Squatch a try.
I highly recommend the Pine Tar Soap!!! The best working man soap out there, that I have found. Don't forget to use the promo code DANNAGEL15 for 15% off.

---
Please feel free to comment or ask questions below.
Share This: