Share This:






Kinobody Warrior Shredding Updated
On May 15, 2018, Greg O'Gallagher released an update to his most popular diet and exercise program the Kinobody Warrior Shredding Program, The Warrior Shredding Program Version 2.0.  Greg is the owner and creator of the very popular Kinobody Fitness program, as it has around a total of nine results-producing different programs, each of which targets a specific look the individual is looking to attain.
The Warrior Shredding Program is by far the most popular program in which he sells.
On top of that Kinobody offers fitness equipment and now a new emerging supplement line. Expect a review shortly from me some of the supplements, after I get a chance to use them.

Greg O'Gallagher
It was with this update; I thought it was a good time to also update my review of Kinobody Warrior Shredding review. My original review found here, Is Kinobody A Scam? This details the WSP program version 1.0 and provides a good understanding of a lot of key features included with the older version, which is carried over to the newer version but also is more refined.
I am already a self-admitted fanboy of the Kinobody programs and always looking to share and promote their products.

Why?
Well, when I was struggling to lose weight and getting ever so frustrated with the lack of results, I happen to stumble on Kinobody. I purchased the program, and it has changed my life. Allowing me to become healthier, lose weight, allowed me to gain control over food, and yes…to look better. It is with my success that I gladly promote a working system that has helped me.
What Is Kinobody Warrior Shredding Program?
This is a diet and exercise program that you purchase online and access online in order to lose weight and attain a warrior physique. This program offers a specific diet and exercise program for the desired look, a warrior physique. As Greg has a total of nine programs, each program is for the individual personal goal and what body type he or she is looking to attain.
It focuses on losing body fat and gaining muscle. There is no supplement needed to buy to follow the program. As far as the diet is concerned, it is simply altering your food and (more importantly) the times that you eat food. Kinobody WSP uses intermittent fasting
Unsure what physique you want? Take the short Kinobody survey to find out. Kinobody Survey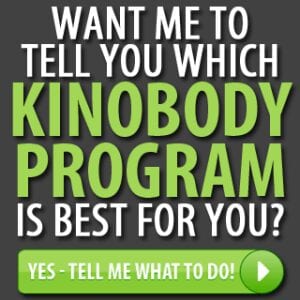 This Changed My Life
I was depressed and overweight. I was 270 lbs at 6'1″ and coming out of a horrible job with miserable people (extreme negativity and a thief) to work with. It was shortly after I moved and found a better job than I stumbled upon Greg's Kinobody. My life was really improving and Kinobody was the next step up in my personal life. I shortly lost over twenty pounds in just a couple of months and loving it. I am down around 225 lbs and this is for me my ideal weight, so I just maintain.
I got overweight by overeating to make myself feel better in the short term.
The good news if you purchased the older version of the WSP program, you have access to the newer 2.0 version automatically. I find this good in two ways. First Greg is trying to further refine his programs and not just sit back. Always looking to improve upon his success and refine to help people succeed without charging again for an updated program. Second, it shows he cares and wants the most for people that have already purchased the program by giving them access to the improvements.
Enough of that, let's get into the meat and bones of the program…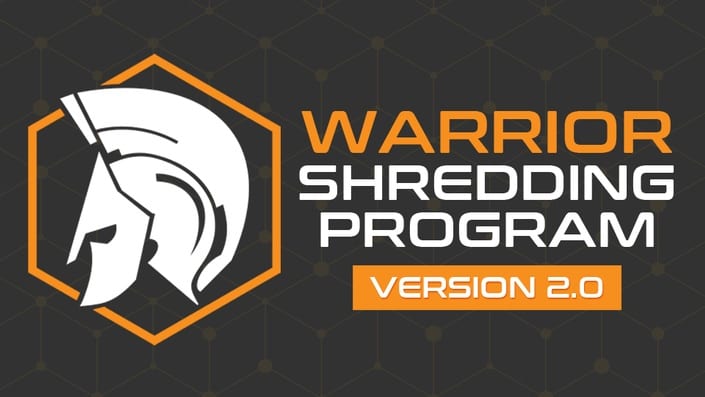 What Kinobody WSP 2.0 Claims It Will Do For You
Lose Fat and attaining a low body fat physique WHILE still putting on muscle.
Gain Muscle
Attaining a chiseled warrior physique look.
All the while making dieting easier. ***Important Note here, this is so true. If you haven't tried Intermittent Fasting yet? This unlocks the control food has over you, so you actually have control over food. Believe me, this works and is totally sustainable. YOU WILL NOT BE MISERABLE ON THIS DIET!!! Hard to believe but true.
To get stronger. Yes, if you lift weights, you'll get stronger. But within the WSP 2.0 program, you won't be chasing the pump. You'll be specifically getting stronger, as the workout program is designed to get you stronger.
To work for people that have struggled with

Losing fat.
Unable to stick to any diet.
To gain muscle while still leaning down.

To work regardless of your age. The 20s, 30s, 40, 50s, and yes even 60s.
What Is All Included With Warrior Shredding Version 2.0?
This is a diet and exercise program that you access through their website once you have purchased the program. This contains videos and written details of the program to follow, where everything is explained. There are no hard copies in which to download or receive in the mail, everything is on their website.
To help you best decide if the program is worth buying, I would like to show you everything that is included, so you can make the most informed decision on whether or not to purchase the program. You can just take my word for it or better yet learn as much as you can for yourself, which is the better option.
So, I will present what is all included without giving away the whole enchilada. The program breaks down into nine categories.
So what are the categories? Glad you asked.
The Warrior Shredding Program 2.0
Welcome to the (New) Warrior Shredding Program (2:46)
What Is The Goal Here? (5:20)
Nutrition & Dieting For Getting Shredded
What Creates Fat Loss (The Cold, Hard Truth) (4:02)
Why Fat Loss Is So Hard (And How To Make It Enjoyable (2:50)
Enter Intermittent Fasting (8:46)
Setting Up Calories And Macros (3:39)
The Best Foods To Eat To Promote Leanness (12:20)
What A Full Day Of Eating Looks Like
The Refeed Day (7:26)
The Muscle Up Phase
Moving To Maintenance
Applying The Nutrition Plan
Putting The Whole Diet Plan Together
How To Guarantee Results With The Nutrition Plan
Troubleshooting Tips For The Diet Plan
Strength Training For Warriors
Building The Warrior Physique (6:53)
The Key Lifts For The Warrior Physique
The Two Most Powerful Methods For Building Muscle
The Warrior Shredding Workout Program
Phase One: 8 Weeks
Phase Two: 8 Weeks (Chest Focus)
Phase Three: 8 Weeks (Shoulder Focus)
What About Cardio & Abs? (7:43)
The Bonus Warrior Shred Accelerator
The (Optional) Saturday Cardio Workout
Warrior Shredding Supplements
Recommended Supplements For Faster Results
Time To Get Started
Words Of Wisdom – And Your Next Steps
Bonus Resources
Warrior Shredding Program Quick Start Guide
The Warrior Shredding Nutrition Action Plan
Developing The Warrior Mind (12:29)
Join The Kinobody Community
Exercise Video Walk-Throughs
Key Movement #1 Incline Bench Press (6:51)
Key Movement #2 Standing Press (1:36)
Key Movement #3 Weight Chin-Ups (4:14)
Key Movement #4 Front Squat & Bulgarian Split Squat (2:34)
Key Movement #5 Romanian Deadlift (1:19)
Weighted Knee Raises (1:34)
Lateral Raises (3:23)
Access The Full Exercise Tutorial Vault
My Opinion On WSP 2.0
Kinobody was one of the first available diet/exercise programs that used the increasing ever more popular intermittent fasting. Since writing my original review of Kinobody, there have been quite a few other intermittent fasting programs to hit the scene. Now it is becoming all the rage and for a good reason. The program is more dialed in than ever, as it clearly states and gets you understanding how it all works. You will be an expert on intermittent fasting after reviewing the materials!
But not just the nutritionally side of things is what makes Kinobody WSP a winner. It's the workout as well. As it takes a minimal approach to working out.
How minimal? Well, just three times a week and sessions lasting about 45 minutes. This allows your body to adequately repair itself which leads to strength.
Strength is what Greg highly stresses and the program is designed to get you stronger. Getting stronger in each lift progressively is what builds a warrior physique. It is not chasing the pump, as some people suggest.  Greg's method builds dense muscles that always look good.
Pros & Cons Of The Program
Pros
Uses Intermittent Fasting!!! If you haven't heard about or used Intermittent Fasting before this is a real game-changer.

Allows you easily to eat a caloric deficit (dieting).
Allows you to gain control over food.
Allows for foods you wouldn't think you could eat while dieting.
Allows for bigger more satisfying meals.
Is sustainable over long periods of time. Greg has been using IF for over six years and going.
Increases cognitive function.
Reduces the risk of Alzheimer's and Parkinson's disease.
Increases health marker for longevity.

Makes dieting feel like your not dieting. This is super important, and this program will show you how.
After eating meals, you will feel full and satiated.
A hell of a lot more thorough and much more information provided than the previous version. More explanations and tips provided.
Better video presentations.
Doesn't demonize any of the macronutrients, fats, and carbs. Just a healthy approach and balance to this.
Improving on an already working and popular fitness program shows real passion. Greg's passion for fitness is undeniable!
People that already purchased the older version of the Kinobody Warrior Shredding Program in the past have access to the newer version.
Goal setting. Often a glazed look comes over somebody's eyes when the mention of goal setting gets brought up, but it is soooo freaking important.
Targets and focus on having muscle in the right areas, to really stand apart. I love this focus, keying in on very specific body parts to attain the warrior look.
Sets parameters and defines the different levels of leanness to fit your needs and desires.

Shredded – 6 or 7 percent body fat
Chiseled – 8 to 10 percent body fat
Cut – 10 to 12 percent body fat

Allows for slight weight fluctuation throughout the year, depending on the season and desire to keep it fun and interesting.
Lack of some motivation. Listening to Greg, his passion and excitement is CONTAGIOUS.
Breaks down and easily explain the facts of weight loss.
Refeed Day, you're allowed to eat more calories once a week! I mean come on, really…yeppers! Essentially a kind of a cheat day.
Destroys regularly accepted myths surrounding eating and dieting. Like for example, breakfast is the most important meal of the day. Wrong!
Plenty of tips to extend your fast and make it more enjoyable.
Practical tips on what foods to eat, addressing foods that keep you feeling fuller longer.
Examples of what your meals should look like along with the recommended specific proteins, carbs, and fats.
Flexibility in the nutrition plan, from eating out at restaurants, to calories, to even having some chocolate.
With the workout program provided, you won't be needing to spend countless hours working out. A very minimalistic approach for sure.
Cons
In the beginning, you will experience either one to seven days of discomfort, where your body will feel like it is hungry when first starting the program. I had two days of mild hunger, but after that, it went away. Your body will quickly adjust. You can also slowly integrate the Intermittent Fasting by eating a banana or something small then slowly wean yourself off in the morning.
No hard copy of this program. This is all available just through the Kinobody website.
Tips To Using Kinobody Warrior Shredding 2.0 Program
Take the time and read through the entire program and watch all the videos. Many of the questions and concerns can be answered by the program.
Join the Kinobody Community Facebook Group.
Be honest with your diet. This means following the calories requirement and macros as laid out for you in the program. If you're not losing weight, dial in again and track the calories very closely and pay attention to the macros. It's that simple.
Consistency is the key to success. The longer you can stay consistent with your diet and exercise program. The more results you will see, end of story.
Tips to extend your fast. Drink black coffee, sparkling water, tea, or just plain water. I great tip I've learned if your drinking just water is to sprinkle some sea salt or Himalayan salt into the water. This provides some micronutrients which helps fool the body in prolonging your fast.
Also, Greg drinks and recommends his own product Kinobody Octane, later in the fast. Octane is a supplement you can purchase which has 0 calories so that you won't be breaking your fast. This is a performance enhancer and should be taken before a workout.
Don't believe the program works? Check out Greg O'Gallagher's many social media pages, where he routinely shows before and after pictures of people that have purchased the program and sent him the photographic results.
Bone broth is suggested for having a low-calorie snack to help prolong your fast if that is a problem. Bone broth is amazing, as it provides nutrients you normally don't get from eating meat which helps repair joints and other parts of your body. You can now start to find bone broth at your local grocery store or order it online. Just make sure it is a quality bone broth. I've written an article about Kettle & Fire Bone Broth which can be ordered online in both a one-time purchase or a subscription found here, Kettle & Fire Bone Broth Review.
This Is A Real Winner! If You've Struggled In The Past…
This program will awaken the shredded warrior within you. Trust in it and follow it and results will surely ensue.
I am really glad to see this get a shot of refinement and rejuvenation. Not that the original program was lacking all that much, to begin with. These improvements are in the end helping the person purchasing the program after all. The number of tips and
I have personally purchased and followed this program…and still, do. This has changed my life for the better and it is why I can highly recommend it.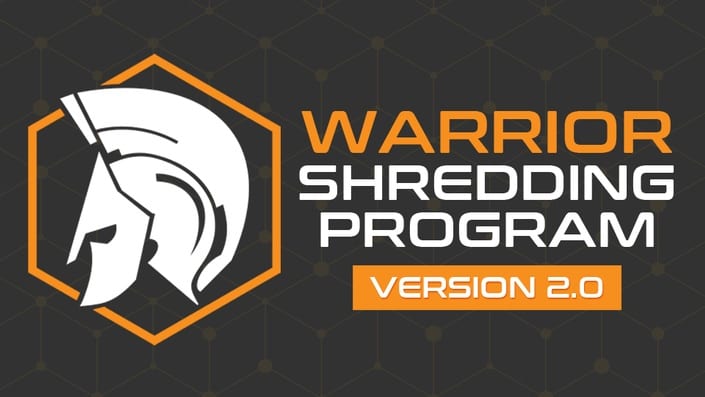 Share This: