Share This:






Quality Hair Products
As I set out on making my website, I wanted to bring quality products to share with my readers that improved upon existing products that were similar but performed better.
I kept telling myself I have to share this on my website. I have too. It's that damn good. So here we go…
Lockhart's Authentic is one such company. This company exemplifies these qualities and rises above even that in my eyes. This is by far and away the most pleasing line of hair care products for men that I have purchased and use. This is always my go-to hair product when I need to look my best. I wish this company was around while I struggled with hair care.
Why is this? Well, I think it all starts with the owners Steve and Nicole Lockhart, as they listen to their customers and work tirelessly in an effort to fill the gap people want in hair care products without compromising. Spending endless hours perfecting scentS, as well as the experimenting for that specific hold to be just right and they do get it right!
Their products are microbrewed in their home state of Michigan. I just love their mission statement and it pretty much sums them up:
TO EXCITE AND INSPIRE OUR CUSTOMERS, BARBERS, AND EMPLOYEES BY CONTINUOUSLY CRAFTING PRODUCTS THAT PRODUCE SUPERIOR RESULTS FOR ANY PERSON OF ANY WALK OF LIFE.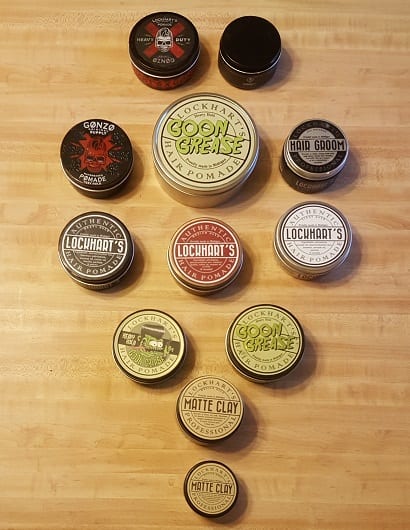 Specific products for a specific job. As their product line spans and customizes to meet the many different styles of hair and holds that are guaranteed to meet anyone's need.
Why Lockhart's?
First and foremost, most products are homebrewed with Steve's & Nicole's own formulation. The Matte Clay is outsourced to save money and make it more reasonable, but the formulation is 100% their formulation. This basically means they put in the work, oversight, and love into their product line. Keys to having a winning product that customers just can't live without.
Scent – I just freaking love their scents!!! This is one of the reasons why I am so enamored with Lockhart's products. Great amazing smells. Steve is a self-confessed collector of scents. Compiling a huge collection of available scents and he is always looking new scents to add to his products. You can regularly find on Lockhart's Authentic website a scent of the week, where they have a different scent every week. They are soon to be starting in a few days "Any Scent Any Hold", where it sounds like you can get any scent with any of their various hair pomades.
Special Note: This December Lockhart's is running a special sale Any Scent Any Hold. Where you can purchase any of their pomades and pick from the 23 amazing scents they are offering. So keep your out for this in December.
The scents are not overbearing and they last awhile as well. Often blending and complementing nicely, if you match your cologne to them. Or they can be used as a stand-alone fragrance that will make you appear fresh to the nose.
Customized Scents – The ability to change up your hair product scent is so customizable. Some days I feel like a certain scent so I grab that tin of clay or pomade. This is what really sets Lockhart's apart from most other men's hair care product. The ability to have and use different scents with the product you love, as most companies you buy their product and if like the hold but don't like their scent you're stuck. With Lockhart's, you can almost be guaranteed to find a scent that you'll just love the hold you demand.
Some of my favorites fragrance from them are:
Sandalwood
Sandalwood Vetiver
Citrus Cologne
Heart of Darkness
Crisp Cologne
Lemon
Mirkwood
and the smell of the Matte Clay.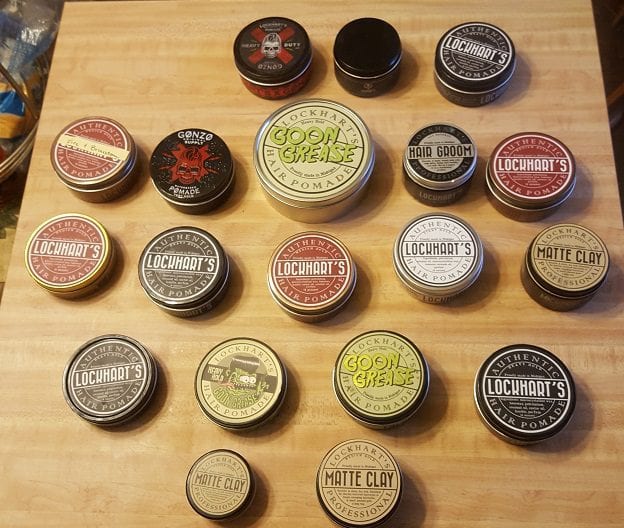 Quality – Strict sanitary measures are in place to ensure your product is cared for properly. Quality of ingredients is super apparent when using Lockhart's Authentic products. As it certainly leaves your hair healthier. As I have had chronically dry hair for most of my life, using their products has left my hair replenished and healthier.
Performance – Along with sanitary methods, their line of products, how do I say this? THEY FREAKING WORK! Easy to wash out. Giving you the all-important great hold you want and ease of use. I've tried a lot of other companies products out there and haven't found one that matches up to Lockhart's. Not saying that they are not out there, it's just I haven't found them yet… But I have tried a lot of products, only to get them and try them and to be like ehhh.
These products hold and perform like you want them to perform. Giving you the needed hold in which the product you purchased.
Collaborations – They often embrace working with other competitors to bring new and exciting collaborations to their customers. Instead of hoarding and being super defensive with their line, they love to work with other hair product companies and bring a level of excitement as well as the introduction of new products. This is super refreshing to witness and experience.
Lockhart's Hair Product Line
So, you're probably wondering what products they carry? Here I will list them to get a better idea of their product line and understatement of the company.
Note: They also have mega tins and travel size tins available for purchase but they often sell out rather quickly. The travel size is a great way to explore and experience Lockhart's products without spending much.
Goon Grease – Their probably most popular product they have. Heavy to firm hold with a high shine. One of my favorites!!!
Lockhart's Professional Matte Clay – Medium/Firm hold with an obvious matte shine. THE BEST CLAY I HAVE FOUND! This is my go-to when I need to dress up and look scary sharp.
Lockhart's Heavy Hold Pomade – This is their heavy hold pomade that has a low shine. Another great product.
Lockhart's Medium Hold Pomade – Looking for a medium hold, this is it. As the hold is medium with a medium shine. Middle of the road.
Lockhart's Light Hold Pomade – Light hold with a high shine.
Lockhart's Water Based Hair Pomade – Medium/Firm hold with a medium shine that is water-based. As their customers wanted a water-based pomade and they delivered.
Lockhart's Hair Groom – A rejuvenating hair balm with a light natural hold and high shine. I use this about once a week to help repair my hair but it also has many uses.

Styling cream
Beard Balm
Can be used as a topper to add shine.
Leave in conditioner.
Degreaser
Refresher

Transcend Wax Clay Hybrid – High hold with a matte to medium shine. This is one of the collaborations.
Limited Edition Kush Rose Gonzo Pomade – Another collaboration with heavy hold and medium shine.
Gonzo Super Slick Pomade – Very heavy hold with a medium shine that is another partnership with another company.
Lockhart's X Gonzo Heavy Hold Pomade Collaboration – Heavy hold with a medium shine. Love the scent on this one.
More products surely to come in the future – Fuck yeah!
Lockhart's Delivers!
As I have tried and bought over 18 tins of their various products and have been using them well over a year now, I can confidently say they have great hair products that I use almost daily. They also have a stellar reputation in the hair community, with many reviews and videos stating how great their products are.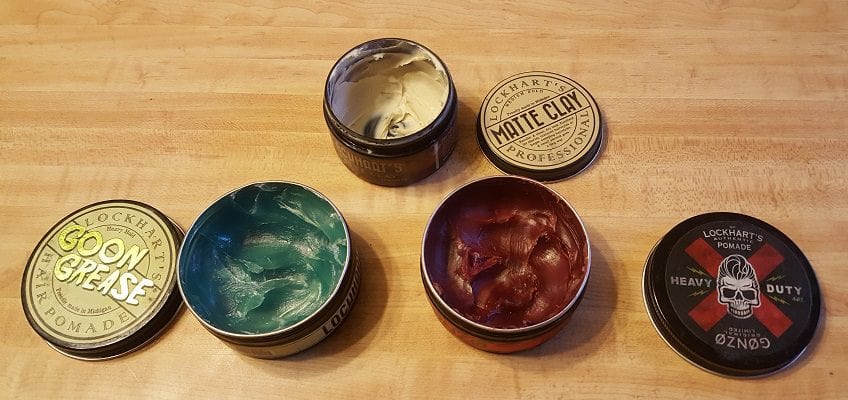 Whatever your hair styling needs, Lockhart's Authentic has you covered. From thin fine hair to thick unruly curly hair, they surely will have what you need. That comes in a great and cool tin.
These products deliver what common store bought hair pomades and clays don't. Both in the hold, ease of use and scent. If you're looking to try a pomade or a clay that has these qualities you must definitely need to check out Lockhart's Authentic.
And yes, it is the best hair styling product for men.

---
Would love to hear your experience with Lockhart's Authentic or any clay/pomade recommendations out there.
Share This: