Share This:






Who Doesn't Like Beef Jerky?
I mean come on beef jerky is amazing.
Little known fact, did you know that you can make beef jerky from ground beef? Or even ground turkey or ground wild game.
Yeppers!
Making beef jerky using ground beef is extremely fun and rewarding. If you haven't made jerky with ground beef yet, you really need to give it a try. As I myself have made only three batches so far and I wonder why in the hell haven't I done this sooner.
It's not that hard to do and it tastes great. Along with that, it is a healthy snack, especially if you know everything that went into the jerky spices mix.
Most people and I included until recently thought you could only make jerky from whole roast or cuts of meat. But in fact, making jerky from already ground meat is a whole lot simpler than the strip of meat way.
There Is A Problem, The Number One Problem With Jerky Is…
The number one problem with jerky is that it doesn't last long around the house, it is gone usually within a couple of days to a week.
Why?
Because it's so damn good and convenient.
A batch of jerky at least in my house isn't around more than 2 to 3 weeks.
Reasons For Making Your Own Jerky
Making your very own ground beef jerky is very rewarding and offers many benefits. Listed below are some of the obvious benefits.
It a lot cheaper to make your own than to buy it at the store or gas station.
It is simple and easy to make jerky from ground beef.
Using ground beef over a roast is a lot cheaper.
It's so much easier to chew than regular jerky.
You can add your own ingredients if y0u want or go with the convenience of already package seasoning and cures.There are hundreds of different kinds of spices packs out there for making delicious jerky.
Kids can help make the jerky because it is a lot of fun to make.
Great healthy snack!
Great with people with teeth issues, as the ground beef jerky is easy to chew.
If you are a hunter you can use wild game as well in place of ground beef.
What You Will Need To Make Ground Beef Jerky
An oven or a dehydrator. I was given an Excalibur dehydrator, these are the best dehydrators out there, and this works great, an oven also works for dehydrating but I prefer a dedicated dehydrator.
Ground Beef (the leaner the better 93% lean is probably the best ratio of meat to fat to purchase.)
Food scale – This really helps to get the correct portions of meat to seasoning ratio.
Paper towels for dabbing the excess fat.
Jerky Gun – I bought and use a LEM Jerky Cannon, it works great and has different nozzles for different shapes!
Jerky Seasoning & Cure Mix packages.
1 Gallon Ziploc Bags for storage of jerky.
Let's Get Started
I prefer to buy ground beef which is lean and by lean I mean the 93% lean ground beef. If you decide to go with the higher fat ground beef expect to have your jerky fattier as well. Paper towels work great for absorbing the excess fat during the dehydrating phase. I have also used 85% lean ground beef and it wasn't that much different from the 93% lean ground beef, but slightly more clean up.
I buy the prepackaged jerky seasoning and cure. I personally like hot stuff and Fleet Farm has a Hot & Spicy Jerky Seasoning that I really like. You need to find one you like as there are hundreds to choose from out there, Hi Mountain is another good company for jerky seasoning. Some of the common flavors out there are spicy, sweet, and original.
This is where the food scale is important, as you need to weigh your ground beef and then measure out the correct weight to what the seasoning directions exactly call for. You can usually go by what is printed on the ground beef label as far a weight is concerned, but I like to be precise.
Follow the instructions exactly from the seasoning kit. Going by rough estimates can result in the flavor being off one way or another. It's just easier to measure and follow the directions given in the spice packet.
Combine the ground beef and seasoning and jerky cure and recommend amount of water in a glass bowl. Cover and let marinate for at least a minimum of four hours, or overnight.
After the jerky has had enough time to marinate it is now time to use that impressive looking apparatus, the Jerky Cannon. You can also make jerky without the jerky gun but I find using the jerky gun the most enjoyable and easiest. Select the tip for the jerky, I prefer the strip tip.
Fill the jerky gun with the ground beef.
Don't worry about keeping everything neat and clean, I find this whole process very messy. Just accept it and you will have a better time, just do a really thorough job of cleaning up when you're done making jerky.
Then squeeze the trigger and make strips of meat onto your dehydrator sheets. I try to get them as close as possible without them touching. I try to pack as much into the dehydrator as possible.
Try to keep even squeezes on the trigger as evident in my picture below.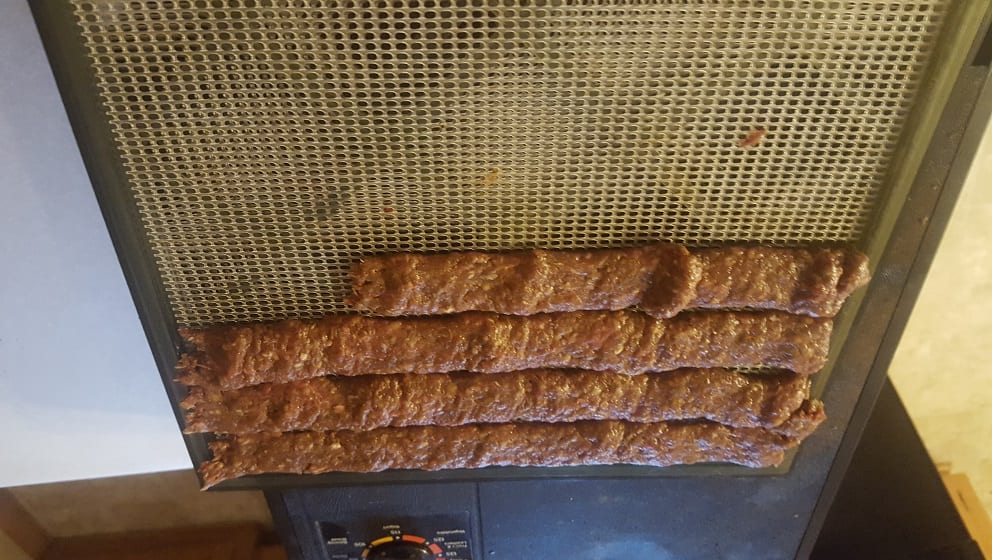 Once the sheets are fully loaded, I place the sheets within the dehydrator.
I set the dehydrator to the jerky setting and in 4 to 8 hours, I have fantastic dried jerky that's ready to be eaten.
I like to store my homemade jerky in a gallon ziplock bags in the fridge or freezer after I am done.
Get Jerky-ing
So, now you know how easy it is, go get the equipment and spices you need and start enjoying homemade jerky.
You'll be glad you tried it.
---
Any questions or comment as always welcomed here at HoneBodyMind.com
Share This: