Share This:






What Is MCT Oil?
What is MCT Oil? What are MCT Oil benefits & side effects?
If you have never heard of MCT Oil, it's quickly becoming a very popular supplement, and here is your chance to learn about this great product and it's many health benefits. Or even if you heard about MCT Oil, to learn more and to start effectively using and reaping the advantages MCT Oil has to offer.
MCT Oil stands for medium-chain triglycerides, it is a type of fat that is found in coconut oil. It is derived from coconut oil by centrifuging coconut oil where the different types of fats are separated and the two medium-chain triglycerides are extracted.  It is 6 times stronger than regular coconut oil meaning you get 6 times the MCT Oil. MCT Oil is a clear orderless and tasteless liquid. These MCT oils have tremendous health benefits.
Unlike long-chain fatty acids (LCFA), medium-chain fatty acids are easily absorbed and quickly converted into energy by your body. Making it more desirable as LCFA are usually stored as body fat.

Why Use MCT Oil?
Well, what are some of the benefits of taking this coconut derived supplement? Would you believe:
weight loss
decreases body fat
increased metabolism
suppression of your appetite
quick used for energy for both mind and body
increase in physical endurance
Very little to none of MCT Oil is stored as fat because it is used for energy so quickly within your body. Your body can burn MCT Oil for energy with your body without any digestive process required. It easily assimilates it into your body.
No wonder in the Philippines, the coconut tree is called the tree of life. With so many uses for all parts of the tree. It's the ultimate survival tree, in how many survival shows do they use the coconut on a deserted island for food, water, shelter, to just name three? Just about all of them that are tropical. The Philippines correctly named this valuable tree and it deserves our total respect.
What Are The Health Benefits of Coconut Oil?
We all love a good quality coconut oil, don't we? It's health benefits and good taste. I can eat coconut oil raw with a spoon it's almost like eating candy and taste great in coffee too. Although doing research on MCT Oil, I found a lot of people do not enjoy the taste of coconut oil. So don't be afraid of any coconut taste in MCT Oil, there isn't any. Totally tasteless.
Studies have been shown that taking coconut oil has decreased the amount of body fat in men and women. Coconut oil is transferred into energy rather than fat storage. Also shown to increase your metabolism rate. It has also been shown to suppress appetite. Possible helps control acne by having anti-bacterial properties. I use both coconut oil and MCT Oil in conjunction and hope to benefit from what both have to offer.
Studies have shown that coconut oil has a positive effect on acne. That the lauric acid has a powerful antibacterial property which helps control acne.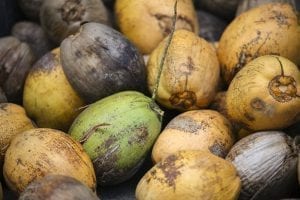 Difference Between MCT Oil & Coconut Oil
Basically, MCT Oil is manufactured and Coconut Oil is naturally. MCT Oil is derived from coconut oil. Coconut oil contains all of the fatty acids while MCT only contains the medium fatty acids.
How Many Calories in MCT Oil?
Surprisingly enough, different manufacturers of MCT Oil vary on the number of calories per serving, but not by much. They range from 100 calories to 135 calories per 1 tablespoon. Below you will find the different companies listed below with their caloric numbers. This is a minor factor and shouldn't determine what product you purchase, as there are other important aspects to consider. This is for informational purposes.
Onnit MCT Oil = 125 Calories per serving of 1 tablespoon (15mL)
Now Sports MCT Oil = 100 Calories per serving of 1 tablespoon (15 mL)
Nestle Health Science MCT Oil = 115 Calories per serving of 1 tablespoon (15 mL)
Viva Labs MCT Oil = 135 Calories per serving of 1 tablespoon (15 mL)
Sport Research MCT Oil = 125 Calories per serving of 1 tablespoon (15 mL)
MCT Oil Benefits Weight Loss
Along with the appetite suppression, the benefits of MCT Oil, you should be aware of the calorie content of your MCT Oil. That is why I posted it up above. This is a calorie-packed supplement and should be cautiously kept track of. Calories throughout the day have a way of sneaking into our diet and MCT Oil is no different. So remember to account for these calories if you are on a diet, as they could be with 4 tablespoons as many as 540 calories through taking MCT Oil alone.
Pros & Cons
Pros
Zero taste & No odor – Some people hate the taste or smell of coconut oil.
Easily digested by the body.
Increase in cognition. I was taking Alpha Brain, a great product btw, Alpha Brain is a nootropic and helps with memory, cognition, flow state (Read my review (What Is Alpha Brain For?) Before I started taking MCT Oil and I noticed a definite increase in cognition and memory with just taking Alpha Brain alone, but after taking MCT Oil in combination, I noticed a definite little bump, an increase in the way I thought. Just a lot sharper mentally adding the two together.
Great for losing weight.
Does not need to be refrigerated but kept in a cool dark space.
Great to be used with bulletproof coffee.
Good & healthy source of energy.
Seems to provide a more steady energy flow while taking MCT Oil. No roller coaster effects.
MCT Oil has been reported by some people noted improvements in dementia and Alzheimer's from taking it.
MCT not stored as body fat but is used for energy.
Greatly helps with acne, as the lauric acid has strong antimicrobial properties. The Onnit MCT Oil has a whopping 30% lauric acid.
Cons
Diarrhea **WARNING! TAKING TOO MUCH TOO FAST WILL RESULT IN DIARRHEA!!**  A case of the right nows, if you are not used to it.
Can cause nausea in some people at first. AKA MCT nausea.
Needs to be taking slow at first. Or a whole host of problems can be encountered.
Most bottles of MCT Oil that I have seen and used do not have a pump attached to them, which I feel would be easier to dispense the oil, consistently.
MCT Oil should not be put in Styrofoam containers as MCT Oil or any oil for that matter, breaks down the Styrofoam.
How To Eat MCT Oil
You can consume MCT oil any way you would like but here are some ways people eat this great supplement. I add MCT Oil to my coffee and I feel it takes the acid taste of the coffee down and makes it more enjoyable to drink while maintaining the benefits of the MCT Oil. A side note here too, I also take regular virgin coconut oil a couple of tablespoons a day just for some of the benefits of using coconut oil. As I want the best of both worlds…
Coffee – Amazing Coffee from Caveman Coffee sold by Onnit.
On top of salads
Drizzled with food
Some people just pour it onto a spoon and consume it that way.
Smoothies
Substituted for any conventional oil, but not heated as it has a low boiling point.
Could also be used for massage oil.
Although MCT Oil is an oil, it is a more watery oil in its nature, than coconut oil and leaves a less oily residue within your mouth when consumed. It is totally undetectable when mixed in smoothies but floats on the top when added to coffee. It also doesn't seem to alter the taste of anything it is added too.

How Much MCT Oil Should I Take?
Now you know the health benefits of taking MCT Oil and how it is usually consumed. We need to know how much MCT Oil should I take in, on a daily basis. The standard dietary supplement dosage is anywhere from 1 to 4 tablespoons (15 mL) a day. Believe me, don't overdo this!!!
You can read below, as to why. Maybe start off with half a tablespoon at first then slowly up from there.
I personally started off taking just one tablespoon per day, usually in the morning. Then I gradually went to two tablespoons after two weeks, Then to three tablespoons after a couple more weeks. I took it slow, allowing my body to get used to it. I'm not a young man anymore and my body doesn't do well with just front-end loading a bunch of new supplements into my system.
I personally had ZERO negative side effects by gradually introducing this to my body. This is the way I would highly recommend you do as well if you plan on using MCT Oil. Allow your body to slowly get used to MCT Oil and also your gut bacteria.
Dangers of MCT Oil
It is generally recommended not to use MCTs during pregnancy or breastfeeding because it is not studied, and effects are not known. Research is not in on the effects on unborn babies and should be avoided until further data is attained.
Probably the number 1 side effect is a severe bout of diarrhea. This is caused by taking too much, too fast. You should be slowly build up to 3 or 4 tablespoons a day of a high-quality source. MCT Oil needs to be respectively taken slowly to allow the body to adapt to this new source of nutrition.
It's not to be used with any Styrofoam and it is not recommended for any type of cooking. Like any oil, it breaks down the Styrofoam and should be avoided. It also has a low smoke point and shouldn't be heated or cooked with. It's okay to drizzle on after cooking.
Where To Purchase MCT Oil?
I buy my MCT Oil from Onnit, as I know it's from a quality source of 100% coconut oil, as some other brands use palm oil. Palm oil is the source for MCT in most brands and the last stands of Palm trees are the native habitat for the orangutans. So their habitat is being destroyed for the sake of obtaining MCT Oils. Not so, with Onnit.
I just trust this company more than other companies and I highly recommend using their MCT Oil. All of Onnit products are from sustainable resources and the best quality they can find in the world. I just trust Onnit. Aubrey Marcus, the owner of Onnit, is truly a different breed of owner. He cares about the earth and people, as I have listened to many a podcast with him as the guest or hosting. It doesn't take long to realize he really cares and has unique perspectives.
I also reviewed a couple of other great Onnit products available for you to read: What Is Total Primate Care? and What Is Alpha Brain For? Both are amazing products.

Is MCT Oil Good For You?
I hope you now have an understanding of MCT Oil Benefits & Side Effects. As you can see there are benefits & side effects of taking MCT Oil. The side effects are minor or insignificant if slowly introduced. While I believe the benefits are truly worth buying and I personally have experienced a positive weight loss effect, increased energy, and more importantly increase in cognition (which was a surprise to me).
---
If you have any questions or comments would really love to hear them. Thanks
Save
Save
Save
Save
Save
Save
Save
Save
Save
Save
Save
Save
Save
Save
Save
Save
Save
Save
Save
Save
Save
Save
Save
Save
Save
Share This: