Share This:






 Meet Total Primate Care
What is Total Primate Care? Also known as TPC, for short. Well, let's face it, our days as modern humans are complicated. We are doing more than ever in human history, balancing, job, family, friends, exercise, nutrition, etc, etc, etc…
So, we have to become good or better, at multi-tasking. Multi-tasking is the norm, nowadays.
Enter The Total Primate Care.

Imagine trying to put all of these supplements together by yourself?
Forget about it, right?
Who has the time?
Well, in order to save more time and energy and also to make it a hell of a lot more convenient, the people at Onnit have decided to combine all of their human optimizing ingredients together to ensure you are allowing your body the most beneficial nutrients available. They create an "all-in-one" supplement.

Great idea, right? Most of these ingredients you will not get with even a well-balanced diet. That is the beauty of Total Primate Care. It supplies you with an easy way to, if I may borrow a late-night infomercial slogan, Set it, and forget it approach. Thereby freeing time while optimizing your true human potential.
Total Primate Care is a supplement pack. A packet for the morning and a packet for the night. The Day Pack is optimally designed to work during your active time and the Night Pack is designed to work when sleeping. Both the packs contain Shroom Tech Immune, Krill Oil, and Spirulina & Chlorella. Each of the different Packs is designed to optimally help you during specific times of the day.
Onnit Total Primate Care will give you the best results with the least effort.
Saving you the guesswork. Saving you the time to research. As stated on their webpage, Less Than 30 seconds a day to fully optimize your self.
What's In Total Primate Care?
Alpha Brain –

Day Pack. I love Alpha Brain, my favorite supplement at Onnit! With various nutrients that help cognition, focus, memory, and energy.

Shroom Tech Sport –

Day Pack. This supplement helps fight fatigue, increases cellular energy, and most importantly cardiovascular endurance.

Stron Bone –

Day Pack. This is for stronger bones and more flexible joints. Reduce the risk of fractures and breaks and increase joint mobility.

New Mood –

Night Pack. Stress relieving and to help improve mood and optimize your sleep.

ViruTech –

Night Pack. This works overnight to aid your immune system and aid in your body's antioxidant response.

Coral Calcium –

Night Pack. This provides essential calcium, magnesium, and various trace minerals (which most people lack).

Shroom Tech Immune –

In both packs. Boost your immune system to stave off possible attacks from colds.

Krill Oil –

In both packs. Better than fish oil, Krill Oil provides important fatty acids (EPA & DHA) to boost brain health and total system health.

Spirulina & Chlorella –

In both packs. Both of these algae are nutrient-rich foods containing antioxidants and minerals for the whole body.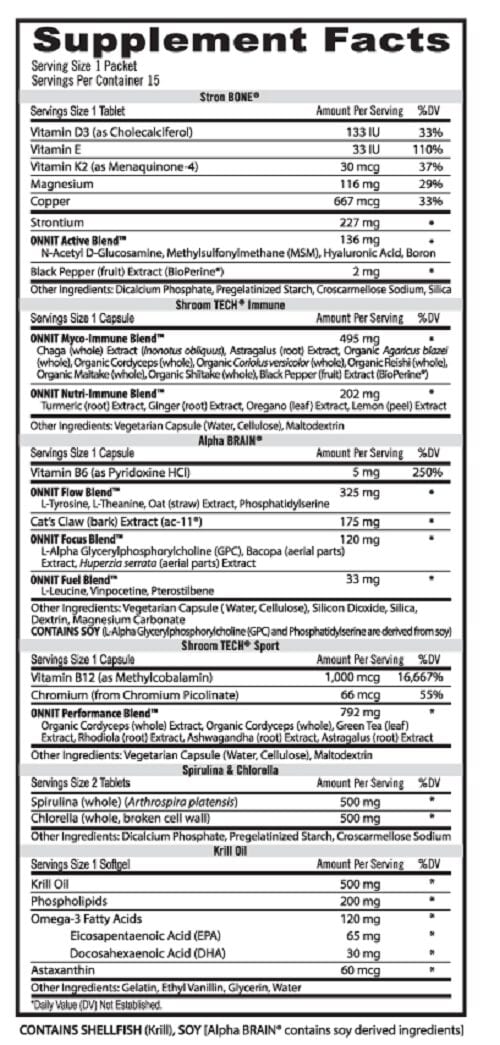 Why You Must Try To Better Yourself?
Because that is the thing about optimizing yourself, yeah you might be feeling fine most of the time and you think you're in pretty good health and you don't need any supplements. It's not until you try something different and feel better, that you realize there is a lot of room for improvement. You don't know until you have tried and feel better.
Total Primate Care will set you on the right course to better living. For athletes, housewives, students, the elderly, or anybody for that matter.
That's when you know, you know.
I found this out myself when I first starting taking Alpha Brain. Within a week I was enjoying the benefits of mental clarity, focus, and better cognition, just to name the obvious ones. But after taking this and then running out of Alpha Brain in the next couple of months, I started to see the benefits start leaving and I realized that I missed using the product. The mental fog came back and I wasn't as sharp.
Not until I tried it, then ran out of it, did I realize I wasn't the best I could be.
Then the light bulb turned on!
To be completely honest, I really missed it. Tasks were easier and I functioned better. Writing became almost effortless. The same thing happens when taking TPC, you'll notice an improvement in so many areas, you'll wonder why you didn't use this before.
You can read my other reviews about Onnit products here, What Is Alpha Brain For? and also MCT Oil Benefits & Side Effects.
Have You Taken A Multi-Vitamin Before, Notice Anything?
Nope. Neither, have I!!!
Wondering why these multi-vitamins are doing nothing for you but turning your urine bright yellow. Oh, yeah it does turn your urine a brighter neon, and that's about the only noticeable difference I have ever noticed. These multi-vitamins show no increase in energy, cognitive function, alertness, focus, so on, and so on.
You blindly assume something beneficial is happening when taking a multi-vitamin, unseen, and un-felt, inside your self. As you wonder, "I hope this is doing something".
Trust me, you'll notice benefits right away, if you ever tried any Onnit supplement you'll already know this, this stuff works.
You'll notice and not need to have blind faith if the product is working. You'll feel it!
Not only does it work but they find the best resources in the world to use within their products. Conscious, of environmental concerns with the harvesting of natural resources, is always taken into consideration.
Unlike multi-vitamins, the sources of the nutrients are unknown. Your guess is as good as mine, where all of the minerals come from. Onnit shares this information to educate and takes a responsible stance on the sustainability of our resources.
Who Is TPC for?
Total Primate Care is for everybody. Everybody can better optimize their body & mind, with diet, supplements. No one is above optimizing themselves. Onnit takes the guessing and the legwork of researching to simply just taking 2 packs a day of TPC. Leaving you more time to handle all the other going on's in your life while supporting your most healthy state possible.
Feel better, be better!
Total Primate Care is especially for athletes, who train hard and who are looking for that competitive edge. Many well-known athletes take Onnit products.
One would be hard-pressed to find a better supplement out there to optimize your health than Total Primate Care. That is probably why it is such a well-bought product.
The Packs are so easy to take as compared to having 20 bottles of pills to choose from and remember to take and at what time. The Day/Night Packs are a great idea, to simplify.
Price Break Down On Total Primate Care
For the Total Primate Care (15 day supply) it cost $64.95
For the Total Primate Care (30 day supply) it cost $109.95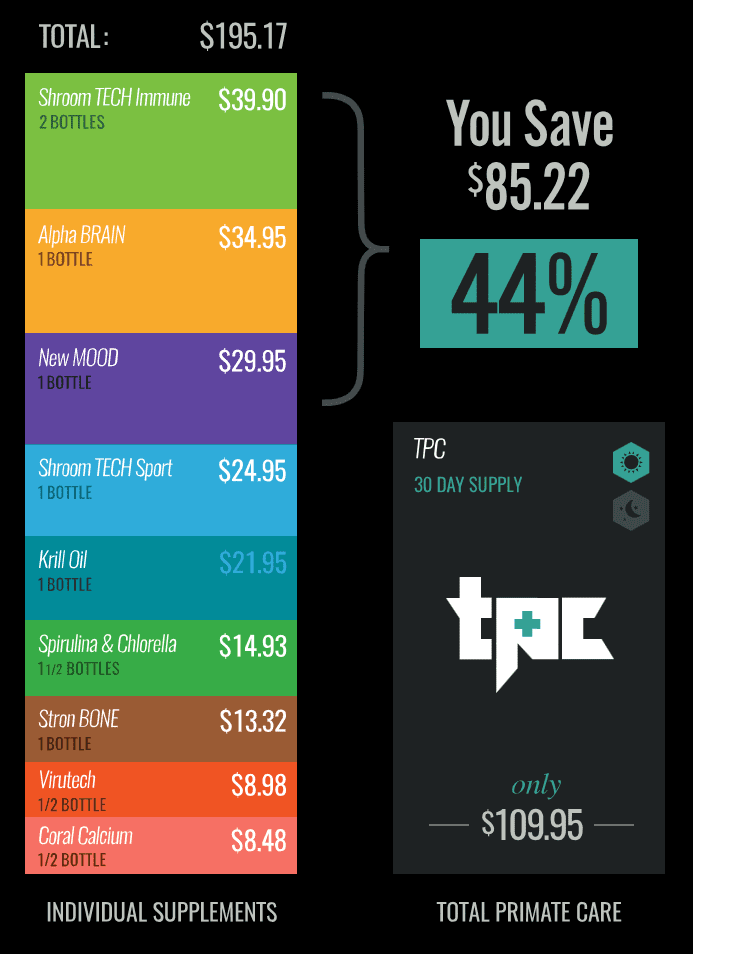 Tips On Saving Money At Onnit
I love saving money and maybe you like saving too. Who am I kidding we all like to save money, as long as it doesn't require a lot of work on our part? Onnit products can be kinda expensive, but they work. Onnit has a sale on products twice a year (read below to find out when).
Join the #StayOnnit save 20% on the first purchase. You can save money with a first purchase #StayOnnit Program for 20% off. This is a great way to save money and no need to keep ordering your favorite Onnit products. It allows you to automatically set up shipments. I highly recommend signing up for the #StayOnnit program.
Black Friday Sale – Forget fighting your way through Walmart and those massive lines. You will find the biggest savings on this day. Percentage varies.
April 19th – This is the only other sale date when Onnit has cheaper prices.
Promo codes – I know "Rogan" is an additional 10% off when enter as if you listen to the Joe Rogan Experience podcast he regularly shares this code.
Sign up for Ebates. Ebates gives you cashback for purchasing items online, much like using rebates but without the sending in of receipts. I highly recommend you download the Ebates Button on your browser, once you sign up. You can save up to 12.5% on Onnit purchases.
Dealspotr has the best current promo codes and sales updated daily by members. You can sign up for Dealspotr here. Amazing promo codes and sales. Currently, at the time of writing, this is code for $35.00 off Total Primate Care.
Final Thoughts
What is Total Primate Care? I believe this is one of the best bundlings of supplements in the world. This is such a great way to try most of the Onnit products in a simple, easy to use packet system. It covers so many bases for your health, well-being, and mood. You'll wonder why you didn't find this earlier. You'll also be ditching your old multi-vitamins for TPC, for something you can actually feel working in your day-to-day life.
Buy Total Primate Care
You can also take a look around to see all of the other products Onnit carries. Clothing, training equipment, food, supplements, personal care products, getting certified at the Onnit Academy too.

---
I would the opportunity to answer questions or comments below. Thanks!
Save
Save
Save
Save
Save
Save
Save
Save
Save
Save
Save
Save
Save
Save
Save
Share This: