Share This:






I believe when trying to lose weight one should try to make whatever your eating tastes better, so you feel satiated and satisfied. You could get full by eating rice cakes if you eat enough of them, but you will hunger for some sort of taste. A part of your brain will still crave a certain taste. That's where condiments come in, they can help you with eating more healthy more enjoyable.
The good news, it is possible to add lots of flavor with little to No Calories. Anybody can alter the amount of enjoyable flavor by adding very little calories or none, to improve the enjoyment of your food. Isn't life meant to be enjoyed?
The calories from condiments really do add up over the year. Take for example having on one can of soda a day for an entire year, you would put on 15 or so pounds. One can of soda has roughly 150 calories and if you have one a day for a week that's 1050 calories!!!  Now imagine the number of condiments you use. This is just another resource to help you lose weight if you're looking to lose weight by cutting the use of high caloric condiments without losing the FLAVOR!
If you need help counting calories please check out my article on the 5 Best Calorie Counting Apps for Android.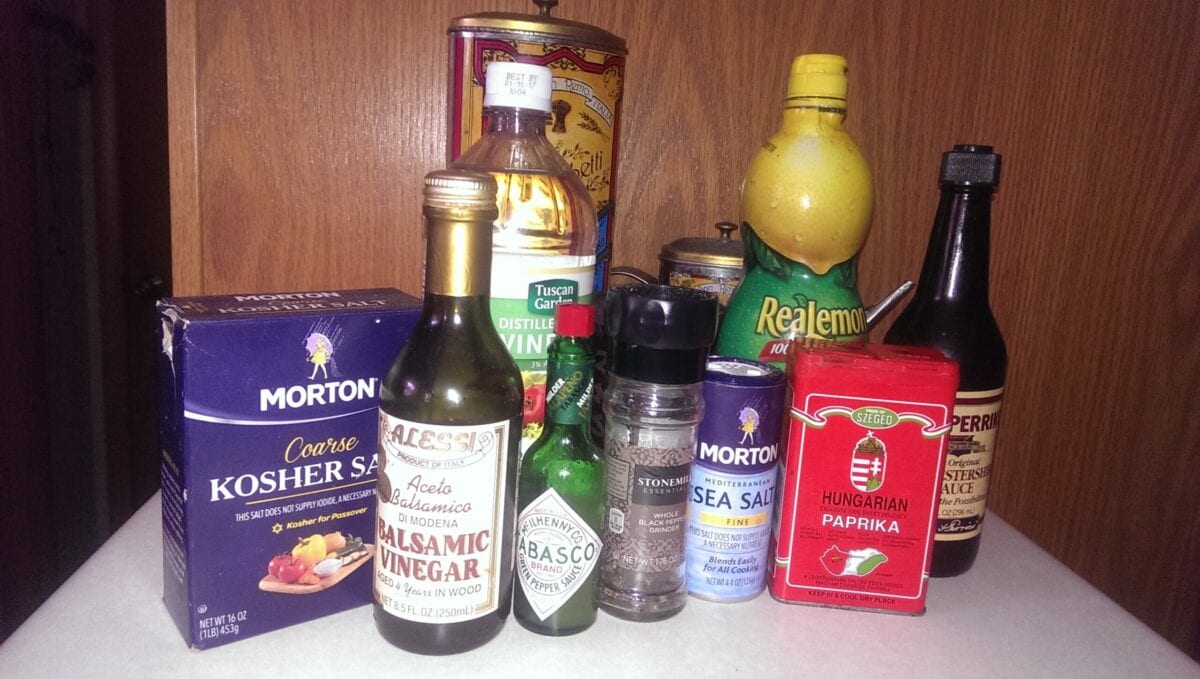 Indulge Guilt-Free Condiment List
If you order online, I highly recommend you getting the largest size you can get as it probably is cheaper in the long run, as far as shipping prices are concerned.
Black Pepper
Salt
Ms. Dash
Lemon Juice
Lime Juice
Mustards (Yellow and Brown)
Tabasco Sauces (I recommend Tabasco Green Pepper Sauce)
Soy Sauce- I highly recommend Pearl River Bridge Mushroom Flavored Superior Dark Soy
Vinegar (White, Balsamic, or Apple Cider)
Salsa (just about any)

Worcestershire Sauce

Cajun Chef Louisiana Hot Sauce
Dill Pickle Relish
Slawsa (haven't tried but looks awesome)
Kimchi
Some Horseradish Sauces (read the label)
Herbs (Rosemary, Basil, Thyme, etc.)
Spices (Paprika, Onion Powder, Cayenne Pepper, etc.)
Some Tips
My favorite way to add a lot of flavors to just about any meal is using Tabasco Green Pepper Sauce. It's got just the right amount of kick but not too much. On the box, it says, "Milder Than Original", the original must have been too hot but the new one is perfect. My wife gets me the gallon jug for my birthday and that lasts about a year. I buy one of those ketchup dispensers, you know the red plastic container, and use a funnel to transfer to the ketchup dispenser. Makes it a lot easier applying the sauce.
Another tip is to use mustard, instead of mayo. Like when I order a sub from Subway, I skip the mayo and get yellow mustard or brown mustard with salt and pepper. I want the taste without the calories. Another Subway tip is to get banana peppers or jalapeno peppers added. (if you can stand the heat) It adds a ton of flavor with little calories. Also, I get all the veggies when I order, it just tastes better to me when I have all the veggies and I'm sure healthier.
Another great tip is to use pepperoncini pepper. They are also called greek pepper, they are mildly hot, and they add a boatload of flavor. I use them in salads, either whole or cut up, or just on the side, to add some zip to a meal.
 No Calorie Condiments
This I hope helps you find alternative ways of adding flavor to your meals. All the while having limited calories added to your diet through no-calorie condiments. Who doesn't want their food to taste better?
If you have any suggestions on foods with little to no calories. PLEASE feel free to leave a comment below.
Save
Save
Save
Save
Save
Save
Save
Share This: