Share This:






An Affordable Way To Enjoy Designer Fragrances
Scentbox is a fun way for men and women to explore fragrances each and every month at a very affordable price. Each month Scentbox sends you through the mail a .27 ounce/8 ml bottle with an atomizer of your choice from their collection of over 750 authentic designer scents along with a signature keepsake box.
In my Scentbox review, I hope to fully explain how it works and its many benefits. Plus offer a 50% off coupon for your first month (see below).
Why A Subscription-Based Fragrance Makes Sense?
We all know quality fragrances can be quite expensive. Right?
Thankfully, there is a cheaper a better way to test and try out new scents, without the commitment of buying an expensive full bottle and not knowing if you really like it. I find I have to wear the scent at least 3 to 5 times before I really know. As everybody's body chemistry is different and fragrances smell different on everybody's skin.
Find A Fragrance You Like
From my own personal experience, I know I have at least five full bottles of colognes, which I will never use again. Good money wasted. Why? Well, because I blindly bought them, without first trying them out on my skin.
This can be avoided with a monthly subscription-based company, like Scentbox. To explore and find exciting new scents, and to test out on your skin to see if it agrees with you.
How Many Sprays In A Scentbox 30 Day Supply?
With the monthly 0.27 oz bottle, you can expect to get in were between 120 to 140 sprays. If you used the spray four times a day this should easily last an entire month and then some. Depending on the amount you spray, and the days you wear a fragrance.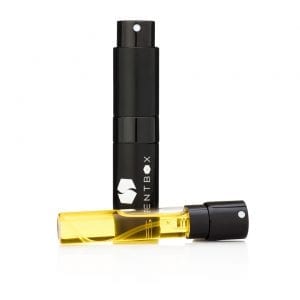 How Much It Cost?
What great about Scentbox is you can cancel your subscription at any time. As there are no contracts!
You pick what scent each month on what Scentbox sends you, as they have two monthly subscription options:
Standard ($13.95 a month)
Luxury ($18.95) – access to their premium fragrances
You can save 50% on your first month. Use the promo code SCENT50 at checkout.
Get a 30-day supply of designer fragrance for $13.95/mo. Get 50% Off First Month, ScentBox.com
Scentbox Standard vs. Premium
With the Premium you get an additional choice:
Currently at 70 Premium Men Colognes
Currently 140 Premium Women Perfumes
What's Good About Scentbox?
Always FREE shipping anywhere in the U.S.
You can cancel at any time. No contracts. There is a "Pause Button" which easily allows you to stop the next shipment of fragrance in "My Account."
A huge selection of over 750 designer fragrances for both men and women.
Over 200 top premium high-end fragrances.
A cheaper way to buy designer fragrances.
An affordable and great way to explore scents.
All fragrances are 100% authentic designer fragrances. As there has been a big surge in fake knock-off fragrances, that look just like the real thing. This can be avoided here.
You get an amazing atomizer, which disperses a good spray of your fragrance every time.
The ability to expand your scent wardrobe. Let's face it; some scents don't always go for occasion or season. Having a minimum of 10 fragrances, you love readily available to match your mood or setting adds versatility to your life.
Helps you decide before buying a full expensive bottle if you really like it. It usually takes me anywhere from 3 to 5 wearings of a fragrance to REALLY know if I love the fragrance.
The ability to purchase full bottles of some of the fragrances on Scentbox.
Avoid the annoying and pushy salesperson at the mall.
Highly affordable, starting at just $13.95 (even cheaper see Promo Code below). Most people can easily afford this.
Rural people, not everyone lives close to a mall or major department store. This allows "country folks" access to a wide selection of designer fragrances through the mail.
Travel-friendly and is TSA compliant.
Great for both men and women, as they carry both colognes and perfumes.
A great gift idea. You can gift a subscription and let them choose what scent they want. They have a 3 month $44.95, 6 month $79.95, or a 12 month for $159,95.
Once joined it's easy to alter your subscription queue after you added some fragrances. As you can click and drag to alter your monthly picks once added to your queue.
If your a real "fraghead" (someone who loves fragrances) you can upgrade to two choices per month once you added a subscription.
The ability to filter by brand and also filter by notes, to help make choosing a fragrance easier.
Easy to cancel your subscription if you decide to.
Stylish black atomizer included with a subscription.
Easily fits in your purse or pocket, to quickly refresh your scent when needed.
The atomizer is designed not to accidentally spray, just simply twist to spray.
With the first arrival of your fragrance, you receive a coupon code for 20% off Coupon for a full-size bottle of fragrance.
What's Bad About Scentbox?
Even though they have a large selection (over 750), they still don't have every brand out there. But this company has the most I've seen. A bigger selection is always better.
No Returns or Refunds on individual monthly vial size fragrances. So pick carefully.
Currently, only ships within the U.S. But they state they are looking to expand in the future.
One color (black) for the atomizer.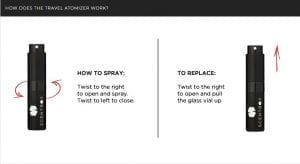 Scentbox Promo Code
You can save 50% off your first month with this promo code: SCENT50.
Canceling Your Subscription
I always want an exit strategy in case I am personally not satisfied. I've been a customer for a while of Scentbox and haven't disappointed yet. I'll just show you how simple it is to do. If it happens to not be right for you.
Cancel Anytime
If you decide you want to cancel your subscription to Scentbox simply go to the FAQ page located at the bottom of every page then scroll down to How Do I Cancel My Monthly Subscription Box? There you will find a red highlighted contact us here link or contact them through email at info@scentbox.com. It's pretty simple to do.
Other Subscription Based Fragrance Companies
I like to provide options for people that will fit them the best, so below I will post other similar fragrance subscription-based companies.
Scentbird – A very similar service to Scentbox starting at $14.95 a month. Offering over 500 designer fragrances in which to choose from. You can read my full in-depth review of them here, Is ScentBird Worth It?
Luxury Scent Box – This starts out at $15.00 a month and has over 550 designer fragrances.
Olfactif – This is slightly more expensive but offers more niche scents. Great for finding unique scents. This starts out at $20.00 a month.
Final Thoughts
I've enjoyed sampling and exploring the quality fragrances offered at Scentbox and building my scent wardrobe so that I can match the occasion with just the right scent. The quality is here for sure at Scentbox, and definitely, the price point is.
Scentbox has allowed me personally, to find what scents work with me without blowing a gigantic hole in my wallet. For the price of a few Starbuck lattes, you can have a 30 day supply of the top designer fragrance on the market. It is so affordable and fun exploring.
So, start building your fragrance library today.
Share This: