Share This:






Salmon = Health
Most of us know how good salmon is for us, for our brain and our hearts health, just two names the two big ones. But there are many other benefits as well, where research has shown improvements in a vast number of ailments. I know personally, I feel better after eating wild caught salmon, in both my energy levels and brain cognition.
This is where Vital Choice salmon oil review comes in. To help spread the word of a top-notch quality source of salmon oil. I've been impressed with this company on delivering impressive seafood and supplements for a while now.
I've written a couple of post pertaining to this impressive company, which can be found here, Where Can I Buy Wild Caught Salmon? and Best Online Seafood Delivery. As I've been to Alaska and have fished and eaten fresh salmon. I know what it looks like and taste like to base my opinions on.

Well, why is Vital Choice my choice?
In two words, high quality!!!
Food Is Medicine…People!!!
What you put into your bodies directly is what you can expect to get from your food.
Insert healthy foods = gain improved health and energy.
Insert junk foods or poor quality foods = low energy and bad health.
Why Vital Choice Salmon Oil?
This company makes so much sense to me.
As far as, from buying salmon oil and seafood from,  as they are first and foremost a wild harvested seafood company. Providing quality, sustainable, and most importantly healthy food.
Who better to get fish oil from, than the world's finest wild seafood company? As with little trust of products from foreign sources (China to name one) countries and the continuing decline of this trust, it makes more and more sense to buy quality products from our own country, the U.S.
They use the whole fish. To be more specific, they use the salmon heads to attain the salmon oil. Now, this might bother some people, but for me, this is a real positive. As long as the quality is there, I don't care what parts they use. As well as pleasing me for using the whole fish, as I am a hunter and hold myself to use as much as the animal as I can when processing the animal.

There is little risk involved with buying Vital Choice Salmon Oil. With so many positives and so few negatives, it's a really a smart choice to supplement your body with.
The first and most important reason why is Wild Caught!!! As wild salmon have higher levels of Omega 3 and Vitamin D than similar farm-raised salmon. Farmed raised salmon, in my opinion, should be avoided.
No artificial preservatives or additives.
Gluten-free.
This oil is extracted within hours of being caught.
Molecularly distilled for purity. This process removes mercury and other man-made chemicals without affecting the omega-3 fatty acids.
Certified by MSC for being a sustainable seafood.
The Vital Choice 100% Guarantee: They will replace or refund your money if you are not satisfied.
I appreciate the use of the whole fish, as this fish oil comes from the heads of freshly harvested Alaskan salmon.
According to the EPA, FDA, and a lot of various independent scientists, Wild Alaskan Sockeye Salmon are among the purest of all ocean fish.
High in astaxanthin. This is the bright orange color of the oil, which is a powerful antioxidant. Salmon acquire this from eating krill and zooplankton.
A variety of options in their Sockeye Salmon Supplements: different mg doses (500, 1000), organic lemon oil added for taste, and liquid form.
Cleaned and flash-frozen within hours of catching.
One of the top companies out there providing wild Alaskan salmon fillets and seafood delivered straight to your door.
Vital Choice Supplements
Vital Choice has a plethora of Supplements, click here to see the full list of their line of supplements on top of their salmon oils.
Wild Sockeye Salmon Oil 500mg softgel, 180 ct.
Wild Sockeye Salmon Oil 1000mg softgels, 90 ct.
Wild Sockeye Salmon Oil 1000mg softgels, 180 ct.
Wild Sockeye Salmon Oil 1000 mg softgels w/lemon, 180 ct.
NSF Certified for Sport – Wild Sockeye Salmon Oil + Vitamin D3
Sockeye Salmon Oil Liquid – 8 fl oz, with a pump. 60 servings. Great for adding to smoothies, or people or pets that have a hard time swallowing capsules.
Vital Omega-3/6 HUFA Test – Home test kit.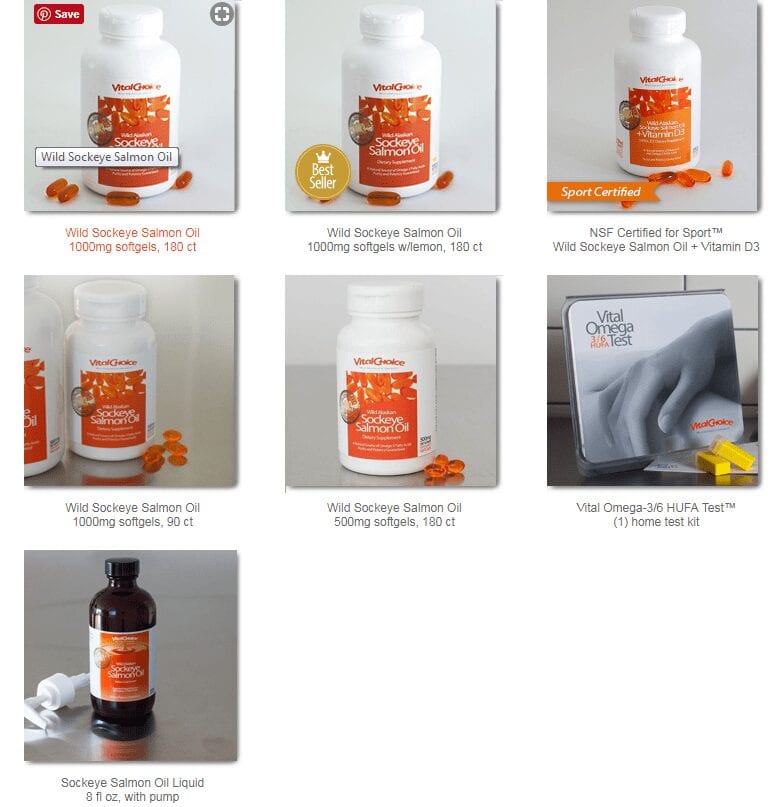 Why Take A Supplement?
The benefits of salmon in a pill form. No-brainer right?
The word is out, eating seafood that is wild, "wild" being the keyword here, has. As farm-raised seafood is not as healthy and is often times treated with pesticides, chemicals, vaccines and often times feed toxic or unnatural foods (vegetable based oils).
Taking a wild salmon oil supplement is the next best thing to eating wild caught salmon every day. It allows for easier and a simpler method of attaining all the important benefits in a capsule form. We all like the variety of having a different diet, as sometimes eating wild caught fish isn't always an option.
Enter the taking of a supplement. For convenience and for a piece of mind that you are getting the optimal benefits every day. Trying to incorporate a diet that includes a wild caught salmon into your daily meal plans can be hard and expensive. As modern life is very time constraining, making eating a fast meal is the norm.
You can be confident when taking Vital Choice Salmon Oil supplement you're getting pure and healthy nutrients for your body.
The Benefits Of  Omega-3 Fatty Acids
Higher HDL Levels – The good cholesterol, which is good for heart health.
High Blood Pressure – Studies have shown diets high in omega-3 lowers blood pressure.
Heart Disease – Many studies showing that there is a reduced risk factor for heart disease.
Joint & Movement – Promotes joints and the ability to move.
Diabetes – Has been shown to reduce triglycerides.
Rheumatoid Arthritis – Helps reduce symptoms of RA.
Lupus – Also been shown to reduce symptoms of lupus.
Osteoporosis – May increase levels of calcium in the body.
Depression – Possibly relief of depression with antidepressants working in combination.
Bipolar – Leveled off of mood swings.
Schizophrenia – A possible improvement of this symptom.
ADHD – Mixed results.
Age-Related Decline In Cognitive Function – Omega-3 and DHA may protect against Alzheimer and dementia.
Skin Problems – May help with sun sensitivity.
Prostate Cancer –
Breast Cancer –
Colon Cancer –
Menstrual Pain –
Macular Degeneration – Eyesight
Asthma
Inflammatory Bowel Disease (IBD)
A Great Supplement
With the many possible health benefits of eating a diet consisting of wild salmon and/or taking a supplement of oil salmon, one can effectively stave off many health problems.
I love supplementing with Vital Choice Wild Sockeye Salmon, it gives me a piece of mind and makes me feel great too.
Your health is the most important thing, without it we have almost nothing.
Give their supplements a try.

Share This: