Share This:






Quality, Sustainability, Fresh
Well, I live in basically the middle of the continental United States (Wisconsin) and it's hard to get quality seafood that is wild and not from somewhere questionable. So, this blog post really hits home for me and maybe for you too.
As I love seafood, but I absolutely demand quality. Quality comes with a cost, so also check out below for ways in which to save a substantial amount on seafood at Vital Choice.
Many Benefits
Seafood has so many health benefits from eating it, it's important to have a regular diet consisting of quality seafood.
Farm-raised salmon that is fed processed man-made pellets are problematic. The pellets are made with toxic ingredients or are from highly polluted waters. I often check the country of origin on sale items at the local grocery store. This is often appalling (China, Thailand). Not to mention fish confined in an unnatural pin develop viruses and parasites. Which are usually treated with chemicals and vaccines.

Thankfully, there are other options available to us people that are landlocked and even for those with ocean access for Wild Alaskan or the Pacific Northwest seafood. Through my searching for quality seafood, I have stumbled upon a company that provides wild, sustainably harvested,  pure, fresh, and healthy.
I specifically found Vital Choice, when I was looking for a good source of Wild Salmon Caviar. I wrote a simple recipe for Ikura (Salmon Roe) recipe found here, 2 Easy Salmon Roe Recipes. I also wrote about, Where Can I Buy Wild Caught Alaskan Salmon?
"Let Food Be Thy Medicine and Medicine Be Thy Food." – Hippocrates
I often think of this quote when buying food, as I want the highest quality food my money can buy me. As I age, I become wiser, this is a trait most of us attain with little effort if one pays enough attention to things. I would much rather buy unprocessed food, you know the good stuff that has little to zero of man messing with it. For example, unprocessed meats, vegetables, fruits, nuts, and seeds.
I will gladly pay more for these types of food, that is untouched by pesticides and man's meddling with them. This is one of the reasons for me starting my own garden. To know exactly what my food is grown in and what is applied to it. Just dirt, water, compost, and occasionally Epsom salt. Simple. Right?
What does this have to do with buying seafood online?
Well, a lot.
Getting quality fresh sustainable seafood is kinda rare. Unless you know where to look and go. Enter Vital Choice.

The Benefits Of Choosing Vital Choice
Finding great seafood is amazingly hard and it takes time. Finding a company with all the seafood and care with packaging and delivering an amazing product with a wide range of seafood, as well as other quality foods. I would like to highlight Vital Choice for you the consumer, to make an educated choice.
A one-stop shopping spot for quality seafood. A large selection of seafood and different choices. So many selections.
Offers a Wholesale Program for larger volumes and greater discounts for resale to your customers.
Worthwhile money saving Loyalty Program called Vital Rewards. (See below, How To Save On Seafood)
Both canned and frozen seafood selections.
100% guarantee, either replace your product or refund your money.
Sustainably harvested Alaskan salmon and northwest Pacific seafood. Marine Stewardship Council (MSC) certified and the State of Alaska.
Within hours of catching the seafood is cleaned and flash-frozen. Very important to quality!
Outstanding Quality.
Owners are previous professional fishermen. Knows the ins and outs of the fish business.
Certified-organic foods.
Certified-kosher foods.
Amazing Newsletter with lots of important articles and bonus offers, sale alerts, recipes. You can sign up here, Vital Choice Newsletter.
Cooking & Recipes section. Videos on how to prepare and cook your seafood. Must watch!!!
A full line of amazing Omega-3 supplements and other supplements.
I might just be unfairly patriotic, but I believe North America has some of the best seafood in the world, as all of the seafood comes from North America.
An amazing plethora of Wild Salmon Products to choose from.

Wild Alaskan Sockeye Salmon

Vital Choice Seared Sockeye Salmon Tataki

Wild Arctic Keta Salmon
Wild Pacific King Salmon
Wild Alaskan Silver Salmon
Wild Salmon Samplers
Seared Sockeye Salmon (Tataki)
Ikura Wild Salmon Caviar
Wild Salmon Dogs (Great!!!)

Lots of fish to choose from.

Salmon
Halibut
Cod
Sablefish
Tuna
Smoked Fish & Lox
Petrale Sole

Wide Selection of seafood to choose from both fish and shellfish in which to choose.

Scallops
Clams, Oyster, & Mussels
Wild Shrimp
Spot Prawns
Crab
Lobster
Calamari
and more…

As well as seafood they also have Quality Meat

Paleo-Friendly Pork
Grass-Fed Bison
Grass-Fed Beef
Heritage Chicken
Bone Broth (Wild Alaskan Salmon, Organic Chicken, Wild Alaskan Halibut, Beef)
My Recommendations For Foods At Vital Choice
I've tried a lot of products here and have yet to be disappointed. It's all been great. With so much to choose from at Vital Choice, it's hard to nail down just one thing. The best advice I would give is to buy what you already like and expand from there and/or try their sampler products.
I just love any of the Wild Salmon products. I am officially a salmon junkie. This is my top choice if you're looking to try Vital Choice products. They have many Wild Salmon Samplers products designed to explore and try various selections of products. The Sockeye salmon is one of their biggest sellers and it doesn't disappoint either the frozen or canned.
Dr. Rhonda Patrick Recommended
Another amazing product is there Ikura Wild Salmon Caviar (Salmon Roe). Super great food for pregnant women to supply their growing baby with the needed nutrients for a strong and functional brain in early development. Also, check out my post on Dr. Rhonda Patrick Recommendations for supplements and products, she also choices Vital Choice salmon roe (Ikura).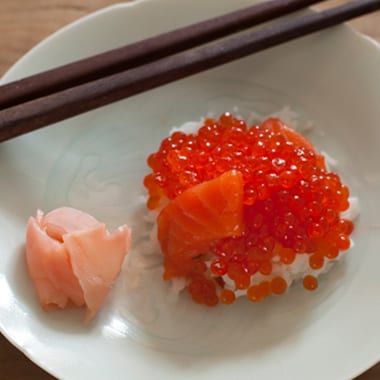 I love the Wild Alaskan Salmon Dogs as well, as it is a healthy alternative to regular hot dogs, plus they taste great. Great on the grill.
Try it all…
How To Save On Seafood
Seafood can be expensive, but it is so worth it, for taste and quality. But thankfully, there are ways of saving money on seafood and why not save some money when buying great seafood.
Also, any order over $99.00 is shipped free!!! Under the $99.00 the shipping rate is very reasonable too.
If you are a wholesaler, thankfully Vital Choice has a Wholesaler Account, in which to sell their products.
I will explain two methods of saving money specifically at Vital Choice, that can be used in conjunction or separately, but I prefer using both. Take advantage of these programs and save some bank for yourself.
Vital Choice Seafood Discount Code
Simply use this Vital Choice Discount Code at checkout to receive a 10% discount – VCAF10
Vital Rewards Program
The other method, which I highly recommend is joining the loyalty program, called Vital Rewards. It's pretty simple to understand and is a great way to save money by buying products routinely.
There are three levels:
Silver (New Members) For every $1.00 you spend you earn 2 points.
Gold (Need 1,500 points) For every $1.00 you spend you earn 4 points.
Platinum (Need 3,200 points) For every $1.00 you spend you earn 6 points.
Another great thing is there are other ways to earn Vital Rewards other than buying.
Customer Birthday – 200 Vital Points
Refer A Friend – 400 Vital Points
Liking Them On Facebook – 50 Vital Points
Following them on Instagram – 50 Vital Points
Creating A Store Account – 100 Vital Points
Wrapped Upped & Delivered 
You would be hard-pressed to find a local grocery store that carries this amount of diversity with the amount of quality delivered right to your front door. All frozen food is packed in dry ice to maintain freshness.
If your into eating organic or on a special diet I highly recommend checking out my article on Thrive Market here, Is Thrive Market A Good Deal? – Is It Worth Signing Up?
Before you go, I have a web post about Where Can I Buy Fresh Seafood Online article which is jam-packed with reputable companies that deliver seafood online.
Give Vital Choice a try, you will be impressed.

---
Would love to hear from other people that have tried Vital Choice and hear their experience. Also, welcome any comments or questions.
Share This: