Share This:






Problem Solved!
Not all of us are lucky enough to enjoy the benefits of living close to the ocean. The smells, the waves, the sunsets, the beaches and let's not forget about the amazing delicious seafood which is usually conventionally fresh and plentiful when living close to the ocean. This, unfortunately, leaves us people, that don't live close to the ocean, stuck hundreds or more miles away from the ocean without this option.
The problem of being landlocked is getting quality wild-caught seafood. Sure we could buy from the local grocery store, but most of the time, their seafood is farm-raised or caught from questionable waters. Farm-raised fish are usually fed cheap toxic feed, and usually treated with harmful chemicals and vaccines to address the issue of parasites and disease. Yep…really.
In this post, I hope to answer the question, where can I buy wild-caught Alaskan Salmon? By presenting with you two excellent companies that provide and ship straight to your door Wild Caught Alaskan Salmon.
Why Alaskan Waters?
Why do people want to buy wild-caught seafood from Alaskan waters?
Well to start off with, Alaskan waters is one of the most beautiful pristine places in the world. What better place to harvest salmon from. The salmon from Alaska are the purest and wholesome source of fish protein in the world.
To help ease your mind about overfishing, Alaska is heavily regulated by The Alaska Department of Fish and Game. To sustain future generations of salmon for future generations of both humans and other wildlife. So everything is regulated and on the up and up, which is impossible to tell when the fish is caught somewhere else overseas.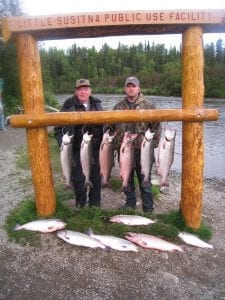 Vital Choice
My first choice is Vital Choice for salmon!
This is probably the biggest and most well-rounded of seafood companies out there. They sell everything from many kinds of seafood to Omega-3 Wild Salmon Oil supplements. A wide range of products that will surely please just about everyone. This is great for exploring or trying new items! I've ventured to try different things and have been pleasantly surprised with the taste & quality.

Not only are they a well-known reputable company, but they also carry a wide range of products and probably the best seafood money can buy. The owners of Vital Choice have decades of on-hand experience as professional fishermen in Alaska. This is very important because they know quality seafood and sell nothing less than quality seafood.
Offering both frozen and canned wild-caught seafood from Alaska, as well as the Pacific Northwest. As well as, already mentioned Omega-3 Wild Salmon Oil supplements.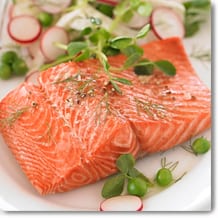 Plus they have free shipping if you spend $99.00 or more within the lower 48 states. Yepp…shipping is free if you spend $99.00 or more. 100% guarantee on your purchase as well, they will replace or either refund your money.
You can read a fuller in-depth look at Vital Choice here, Best Online Seafood Delivery. I also have another article Where Can I Buy Fresh Seafood Online, which highlights a bunch of well-known and respected seafood companies.
Vital Choice only ships to the U.S. for perishable packages, but ships non-perishable goods to Canada as well.
The Types Of Wild Caught Salmon Vital Choice Sells
Wild Alaskan Sockeye Salmon
Wild Arctic Keta Salmon
Wild Pacific King Salmon
Wild Alaskan Silver Salmon
Wild Salmon Samplers
Seared Sockeye Salmon (Tataki)
Ikura Wild Salmon Caviar
Wild Salmon Dogs (a type of hot dog)
Wild Salmon Supplements (omega-3, DHA, Krill oil, etc) – Great for getting your daily omega-3 daily.
A huge selection of other seafood available as well.
How To Save Money At Vital Choice
We all like to save money and Vital Choice has a couple of ways in which to do this.
Vital Rewards – Get points for every dollar spent which can be redeemed for a coupon. Also, earn reward points by posting to social media and inviting friends.
Regular Special Offers/ Value Picks – This is great to see all the reduced prices that offer the best value. Definitely worth a look, every time you visit.
Promo codes –  For a first-time customer use Promo Code: VCAF10  for a discount of 10%. Sign up for the newsletter, as promo codes, recipes, and a lot of good info sent to your inbox. They don't send you a ton of mail either.
Vital Choice even has a Wholesale Program for canned wild seafood and their premium line of supplements in full case quantities for resale to your customers. You can sign up for the Wholesale Program here.
Alaska Gold Brand 
Alaska Gold Brand Seafood is a more uniquely different seafood company, as the seafood is all hook-and-line-caught Wild Alaskan seafood by a Co-op of fishermen called Seafood Producers Co-op. It's been around for 70 years providing quality seafood. The fishing method they use is simply, one hook, one fish at a time. So, overfishing is pretty much non-existence, as compared to large netting fishing. This also ensures quality, as the fish is properly cleaned and handled, due to having to deal with just one fish at a time.

This has a more personal touch to providing seafood, which is why they have people coming back year after year. They also list the name of the fisherman/fisherwomen with personal information about them and their methods of fishing. Real people providing a service in a sustainable method. I really like supporting this company's fishing practices.
With this quality and care, they have less diversity in the products they carry but the quality is surely there. Another reason Alaska Gold Brand is amazing is they offer FREE SHIPPING on every order. This is great especially if you want to buy a small order, just to see the quality of seafood before placing a big order. They also have the option of setting up regular delivery if you want a steady supply of Wild salmon delivered to your door.
Wild Salmon Available At Alaska Gold
Wild Coho Salmon
Wild King Salmon
Ivory King Salmon
plus a lot of other seafood available as well.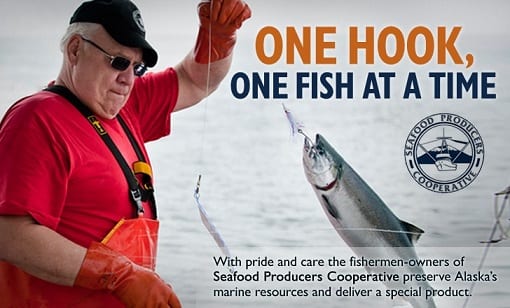 How To Save Even More Money At Alaska Gold
Fishermen's Locker – Offcuts of seafood that don't meet size specs, (usual pieces under 8 oz.) but still the same great quality is fantastic for getting wild-caught salmon cheaper. Sizes range from 3 to 7 ounces in 10 to 20-pound box sizes. This is a great way to buy at a discount with substantial savings. These are available while supplies last. The pieces are mainly a high percentage of tailpieces but still wild Alaska salmon.
The Alaska Gold Loyalty Program -With signing up for a regular Seafood Subscription, you can save substantially as well. They offer monthly, every other month, biweekly, or even quarterly shipments at a discounted price.
Discounted Packages For Restaurants and Group Buyers – This is great for small restaurants or for a group of people to buy together to effectively split up and share. This program offers 20 and 30 lbs boxes of Wild Alaskan King Salmon, Wild Coho Salmon, Halibut, and Sablefish (black cod).
Alaska Gold Seafood Coupon Code – Click this link and use this promo code: CatchAKGold to save 10% for all first-time customers.
Alaska Gold Seafood Coupon Code – Click this link and use this promo code: 18AKGoldHooked to save $25 Off Your First Order. Valid only till 01/31/2018.
Important note about Alaska Gold Seafood is they only ship within the United States, so no international orders.
Wild Salmon There Is No Substitute 
There is no substitute for wild Alaskan salmon! Both of the companies I listed above have stellar reputations, as well as quality. They obviously care a tremendous amount, evident through their shipping practices and core values. I have personally ordered through both, and I am thrilled and confident recommending both companies for quality seafood.
Buy Wild Salmon

Or

---
Would love to hear any comment or questions, as well as other recommendations.
Share This: