Share This:






Are you wondering is Thrive Market a good deal?
Is it worth signing up for?
In this review of Thrive Market, I hope to shed light on these questions and many more to help determine specifically if Thrive Market is for you. Along with that how to save the most money as well.
What Is Thrive Market?
It is important to first understand what Thrive Market is before proceeding, as many people probably never heard of it before.
Think of Thrive Market as an online healthy grocery store. This is a great option when considering the current pandemic we are all going through right now at the time of writing this review.
Not Everyone Has A Whole Foods Down The Block
I think they realize that not everyone lives in a city with a Whole Foods. So they provide a business that delivers to areas of the country where health products are not as easily found while providing affordable prices!
Sounds good so far, if you live in the sticks. Am I right?
We all know or heard of how expensive Whole Foods can be. If you want healthy food you are going to pay for it.
Use this link to start shopping and saving at Thrive Market today. You will get 25% off your first order, and a free gift ($24.00 value). I will make a small commission but this supports my website. I appreciate the support.
Key Features Of Thrive Market That Stand Out
The top key feature of Thrive Market is sort by diet where you can filter products based on your specific diet. As these products are going to be compliant with your specific diet. Diets like Vegan, Gluten-free, Paleo, Keto, Raw, etc.
They have just added Meat & Seafood, where you can get 100% grass-fed beef, organic chicken, pasture-raised chicken, Non-GMO chicken, pork, and seafood all delivered to your front door.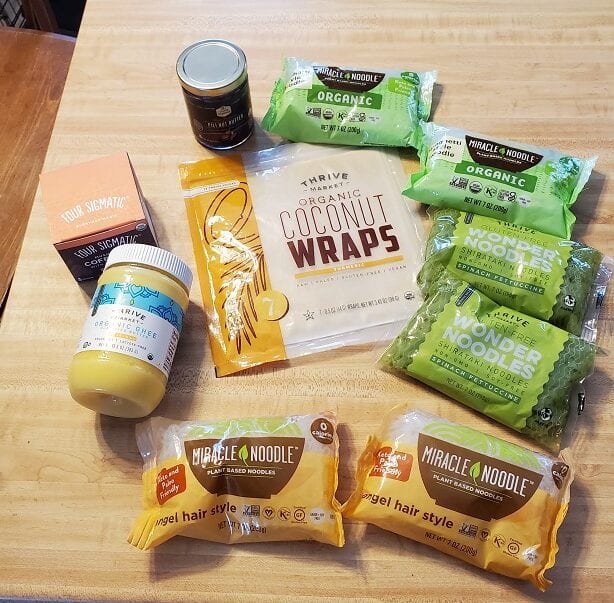 They also have a very wide range of products, just like a regular grocery store. Stuff for babies, pets, cleaning products, beauty products, and etc.
Thrive Market Best Sellers
This very subjective to the person buying the product but I would like to suggest things I have like. Keep in mind I have only bought from Thrive Market once at the time of writing this article.
Thrive Market Organic Coconut Wraps Turmeric – I love low carb wraps or tortillas and this doesn't disappoint. Just 6 Carbs and taste good too.
Pili Nut Butter – A great alternative to Peanut Butter and/or Nutella.
Four Sigmatic Mushroom Coffee Mix with Lion's Mane 10 pack – Taste good and good for the brain. I wrote a full review of this product here, Lions Mane Mushroom Reviews.
Miracle Noodle Angel Hair Shirataki Noodles – 0 calories, yeah get em. Guilt-free shrimp scampi….yes please!
Pros & Cons
Pros
Products are mailed in a sturdy cardboard box and placed inside a ziplock bag (when appropriate) This will keep everything contained if something gets broke en route to your house. No messes if an accident happens.
Plenty of recycled packing material enclosed to keep items safe.
Online shopping and delivered to your home. Yes, please!
The packaging is excellent. Ice packs when needed bottles wrapped etc.
It's convenient.
Good Variety
Prices are affordable.
Sort by diet feature is very convenient and requires no thought. Paleo, Whole30, Vegan, Certified Organic, Non-GMO, Big 8 Allergen-Free Certified Gluten-Free, and Keto. Over 70+ diets and values to choose from.
Autoship is available for monthly delivery.
Buy it again menu makes ordering products you ordered and like simple.
Autoship is scheduled deliveries of products you choose, when, and how often. You can save money this way too, as you can save an extra 5-10%.
Free shipping is available if you spend over $49.00.
Over 6,000 organic and non-GMO products to choose from.
Don't like a product or do you really love a product leave a review. Help others determine if it is a good product.
Can save products to a favorite list for easy ordering next time.
Great place to find food/snacks for people with a specific diet or restrictive diet.
A good place to explore health foods, I know I like to buy one or two items that look interesting to me that I have never heard of before. Plenty of stuff here I have never heard of.
Cons
You must subscribe either for 1 month or 1 year to shop.
Not all products are cheaper than products that can be purchased at Walmart.
If your buying wine you have to purchase 6 bottles at a time.
Some products you have to buy in multiples, like 6 bottles of wine or 3 bags of chocolate chips.
Tips On Saving Money At Thrive Market
Thrive Market claims on average the customers save $32.00 per order and $384.00 a year (ordering 1x per month).
Save Save Save!!!
Spend the $49.00 to get the free shipping.
If you love the products and need them every week/month consider Autoship, as you can save an additional 5-10%.
Check out the Deals Save Cash button below the main header on the homepage. Save from 5% on up to 58% off certain products. Worthy of a look for sure!
If you enjoy Thrive Market and think others you know would share it via Refer & Earn $25 tab. If they become a paid member receive $25.00.
Shop certain select products and earn Thrive Cash. This Thrive Case can be applied to your next order. I see that percentage of sales of 5% to 15% is offered on the select products. Again worth a look.
Wrap Up
You'll save 25% off your first order plus get a Free gift and receive a 30-day trial membership. You can cancel anytime.
If you are looking for the highest quality seafood check out my page Best Online Seafood Delivery.
If you are into healthy food and or on a specific diet Thrive Market can make your life easier. So take advantage of this great opportunity to take Thrive Market on a test drive.
Have any product suggestions from Thrive Market or any questions, would love to hear them. Thanks!
Share This: