Share This:






What Is A Quality Source of Hydrolyzed Collagen?
When I first heard of hydrolyzed collagen, bells went off for me as at the time of hearing about hydrolyzed collagen, as I was experiencing sharp knee pain and was looking to recover from this limping aliment.
This was a supplement I was willing to try because I haven't tried it before and it kind of makes sense to repair the knee with what the knee is made up of. Along with many other benefits of using this product, I wanted to know a good reputable company in which to purchase hydrolyzed collagen. What is the best-hydrolyzed collagen? I will recommend what I believe is the best on the market but first, we must understand what it is first.
What Is Missing From Your Diet?
This also struck a chord with me because I have read stories about Native Americans that used the whole part of the animal they killed. From hides to blood. Where they would cook the bones too, not a part of the animal went to waste. This was out of respect for taking of the animal's life to fully use everything from the animal. Something, that always held my attention and interest. This idea coupled with the notion that this might help with ailments gripped me and I had to find out more about this.
To be able to get the best-hydrolyzed collagen we must first understand the many details pertaining to collagen.
What Is Collagen?
The principal structural protein that is found in connective tissues, is also in the skin, blood vessels, the gut, teeth, bones, and muscles. This protein is the most copiously found throughout the body.
So basically, collagen is a protein.
It is also used heavily in many beauty products and cosmetics.
What Is Hydrolyzed Collagen?
Is a form of collagen that has been made by breaking down the bonds between collagen strands and peptides. This is done by either a chemical, physical, or biological method.
Hydrolyzed collagen goes by many names also, probably the most familiar is gelatine, along with collagen hydrolysate, gelatine hydrolysate, hydrolyzed gelatine, and collagen peptides. You will not get hydrolyzed collagen by eating meats alone. Thus many of us are probably not getting enough collagen into our daily modern diets. This is why one should sincerely consider taking a collagen supplement.
What Is Hydrolyzed Collagen Made From?
It is important to know what you are ingesting? I don't take or recommend anybody take anything without knowing how and what you are consuming. Knowledge is power, and learning something new helps to better understand the human body as well, if not on some deeper level.
Hydrolyzed collagen is produced from animal by-products from the meat industry. Either bovine (cow), porcine (pig), or fish from the skin, bones, or the connective tissue.
Why Hydrolyzed Collagen Is Amazing!
What makes it amazing is that Hydrolyzed collagen has many fantastic benefits.
Great for hair, skin, and nail growth and maintaining these for optimal health and appearance.
Great for joint health. Any joint, elbow, knee, and hip to name the main ones.
Maintain a youthful appearance by supplying the skin with nutrients to remain elastic.
It is easily digested and immune-enhancing components within the gut.
A high source of protein, which is odorless and tasteless. About 6-7 grams per tablespoon.
Helps bones healing and regenerate.
Fight fatigue.
Help get a good night's sleep.
Tips On Buying The Best Collagen Supplements
I like researching the company I plan on buying and see what information they give you. If they are very upfront with helpful and detailed information it usually is a great first sign.
I can highly recommend Great Lakes Collagen Hydrolysate, pure quality and it can be purchased here Great Lakes Collagen Hydrolysate.
Methods Of Consuming Collagen
Smoothies
Dr. Rhonda Patrick's Smoothie #2, where she uses hydrolyzed collagen in her smoothies. Now if you don't know who Dr. Rhonda Patrick is, the female equivalent to Dr. Oz…but better. She has a website FoundMyFitnesss.com and also a podcast of the same name. She is a pretty regular guest on the Joe Rogan Experience, where she continuously impresses with her vast knowledge of nutritional research and of the human body. She dazzles you with the amount of knowledge she has.
For even more Dr. Rhonda Patrick's recommendation head over to my page that highlights more of the supplements she takes, Dr. Rhonda Patrick Recommendations.
Great Video
So, when I heard she was taking hydrolyzed collagen, by adding it to her smoothies, my ears perked up like a dog hearing food being placed in its bowl. Below is the video, if you want to skip to where she talks about hydrolyzed collagen it roughly at 12:30 minutes into the video
This is my preferred method of consuming hydrolyzed collagen, well, because I drink a smoothie every day and I just assimilate it very easily into my daily routine. When I brewing a batch it just another ingredient I dump into the blender.
Hydrolyzed Collagen
From the video above you can see that Dr. Rhonda Patrick uses Great Lakes Gelatin Collagen Hydrolysate. This is a great company that supplies this in powder form. If she uses it, you know it must be good because she is the research queen and incredibly smart. They test for all sorts of chemicals, insecticides, pesticides, and herbicides and post their finding on their website.
The recommended daily serving is one to two times a day. Which varies on the amount of one's activity. One serving in the morning and one serving at night. This can be easily mixed with hot or cold drinks or food. Results are optimally felt in six to eight weeks of taking this product, sometimes sooner.
---
While these methods are not Hydrolyzed Collagen they are essentially almost the same ingredients and benefits. So, these are worth mentioning and offer an alternative to the powder form, especially on a cold winter day. Just like comforting on a cold winter day, maybe it isn't as appealing in the hot months of summer as the hydrolyzed collagen powder form would be. It is another source of consuming gelatin and collagen.
This is becoming a craze in some parts of the country, where the business is selling bone broth in place of the ubiquitous coffee. Yep, people claiming it gives them more energy than the typical morning coffee does, as well as helping them fight fatigue issues.

Homemade Bone Broth
This is another amazing method of consuming collagen and it is so good for you and it tastes great too. It is definitely the more natural approach to consuming more collagen. You could also buy a really high-quality grass-fed bone broth, such as this one, more on this below. Now, bone broth isn't always appealing mainly because of the time required to make it. It's just hard to always have enough time in today's busy lifestyle.
You can check out my beef bone broth recipe here, Best Beef Bone Broth Recipe.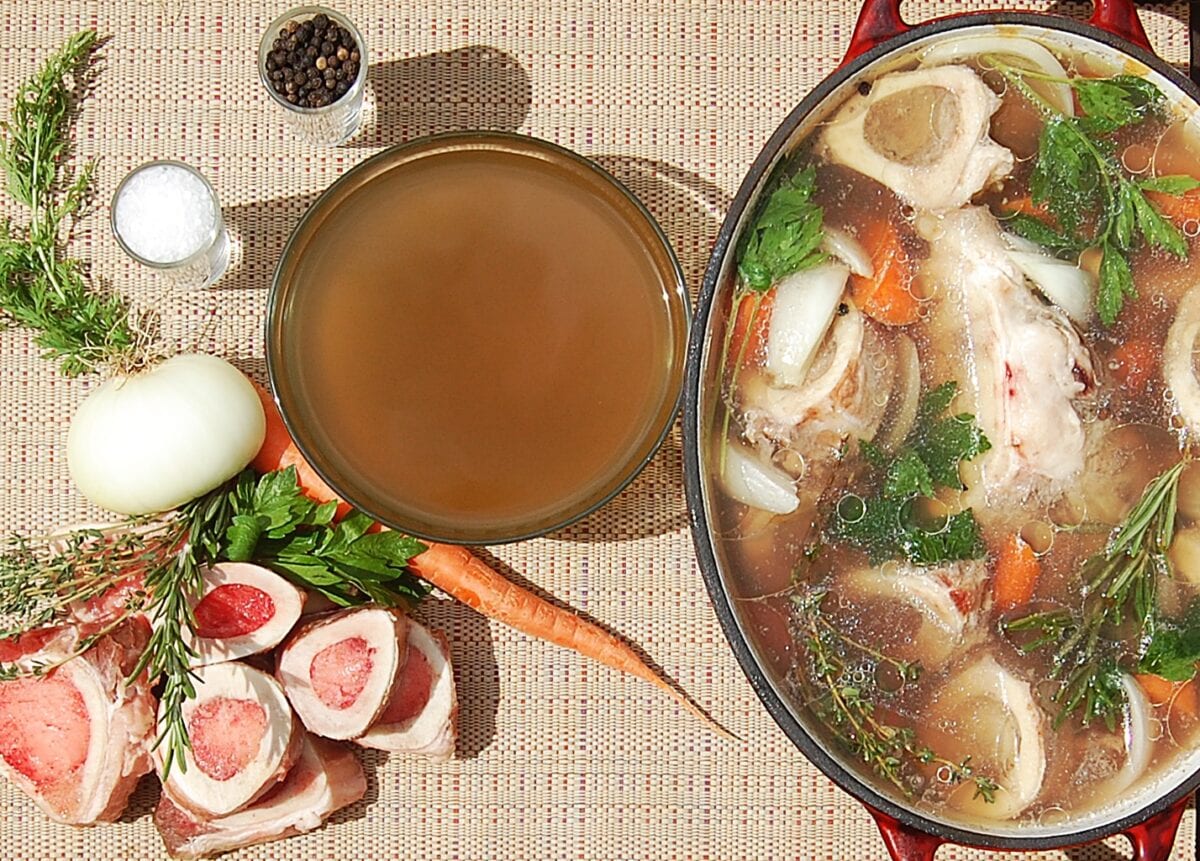 Buying Bone Broth
I live in a smaller city with no real good access to a Whole Foods store, so I like ordering my bone broth online from Kettle & Fire. Rest assured this is the best quality you can find. They have two delicious flavors Beef Bone Broth and Chicken Bone Broth. Both are excellent. You can order for a one-time purchase or they also have an awesome monthly subscription, so you never run out. I do the monthly with 4 boxes a month.
They use only bones from 100% organic grass-fed beef and organic chickens, pasture-raised cattle, and chickens. The cattle and chickens are also antibiotic and hormone-free, a real quality source for bone broth. Mind you they also only use only organic vegetables and herbs when making the broth. 100% pasture-raised and humanely treated animals.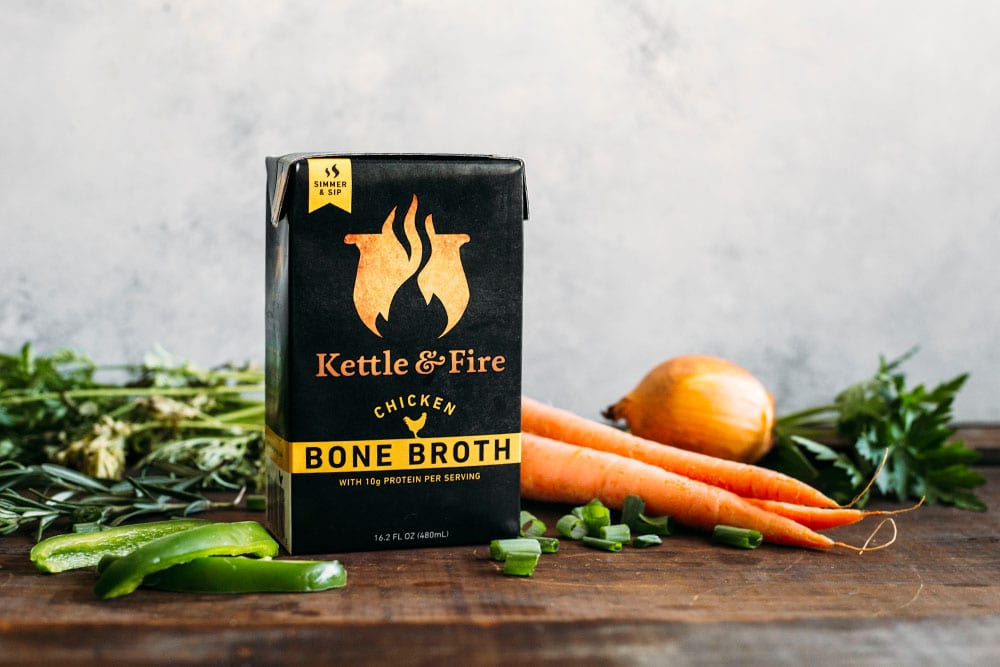 The taste is delicious and healthy too. Just sip it and see. Amazing!!!
So, if you're short on time and need a quality bone broth this my friends is it…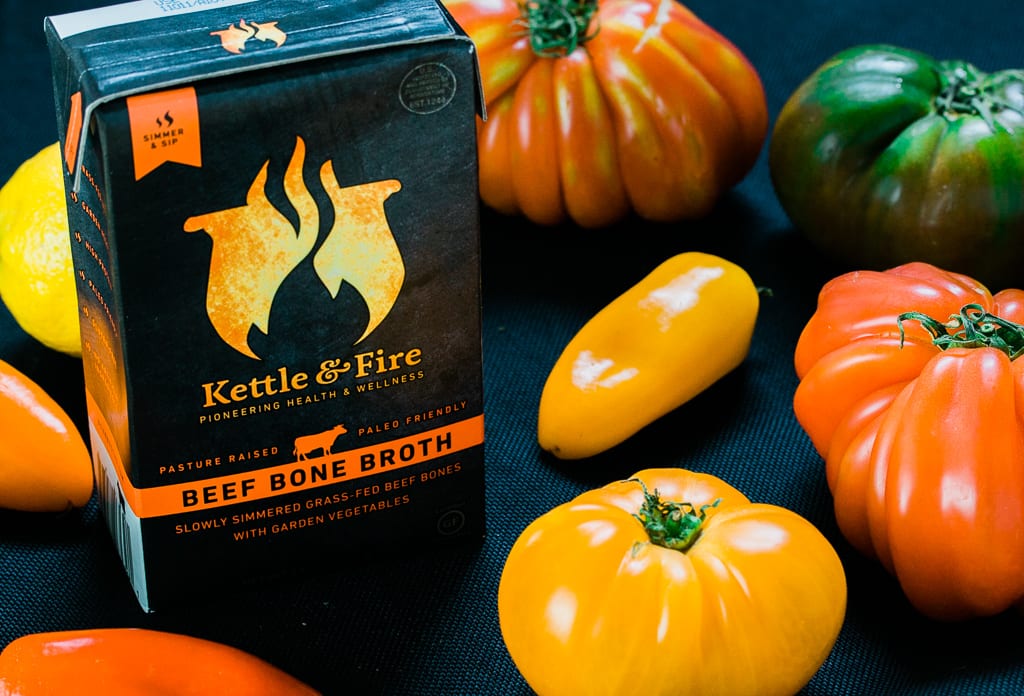 Plus it just tastes good. I can't more highly recommend using this product for quality and taste. Take a look around for yourself and see what I am talking about.
My Experience
I found the little aches and pains of joints just disappear after a while. Especially my knee pain, which wasn't minor, as Dr. Patrick stated above the collagen was radiolabeled and it is shown that it went directly to the joints and cartilage in some cases, probably where it was needed the most. Along with that, I felt my hair and skin became better and a little softer. My wife's nails grew and were a lot stronger than before taking this supplement. I felt more energy as well as compared to the days, I didn't consume any powder or broth, the best way I can describe it as I felt peppier and the aches went away.
The Benefits I Experienced
Knee pain helps tremendously!!!
Little aches and pains were diminished.
Hair and skin are softer.
More energy.
What Is The Best Hydrolyzed Collagen? I think I laid out reputable companies in which passed my mustard, but do your own research and then make a decision because this supplement is wonderful.
---
Would love to hear of any experience of using hydrolyzed collagen or bone broth, either positive or negative.
Save
Save
Save
Save
Save
Save
Save
Save
Save
Save
Save
Save
Save
Save
Save
Save
Save
Save
Save
Save
Save
Save
Save
Save
Save
Share This: