Share This:






As a working man at my other job, other than writing for my websites, I work in a stainless steel factory.
Often times my hands take a pretty good beating, cuts, smashed fingernails, and nearly all of the time…dirty fingernails. As I work on old equipment and some of it's pretty grimy. Despite good handwashing with a powerful hand scrubber, it is just not possible to get your hands and fingernails properly clean with just these methods.
I often hear from my wife, how disgusting it looks, especially when going out to eat, despite numerous hand washing and a shower.
Up Your Fingernail Game
I knew I had to step-up my fingernail game. As I am entering a more refined period of my life, a departure from my barbaric youth.
Enter the reason for my review of what is the best manicure kit for men.
Presenting yourself with your best foot forward will build confidence and make you feel better about yourself.
Important Things To Know Before Buying A Manicure Kits
You Get What You Pay For!!!
It's been said time and time and again…but it really truly applies to manicure kits!
Quality comes at a price. You get what you pay for, as a cheap drugstore pair of clippers will do the job but will rarely last. While getting a quality set made out of high carbon steel will last 25 years. It all comes down to the materials used and the precision machining of the tools.
Best Material For A Manicure Kit In Order
High Carbon Stainless Steel – Very Durable, resists rust, and stays sharp for the longest time. The best steel but it is the most expensive.
High Carbon Steel – Stays sharp longer than anything else but is prone to rust. The 2nd best choice at a moderately affordable.
Stainless Steel – Doesn't rust, affordable, doesn't stay sharp for more than one year. Cheap and affordable.
Where Do The Best Kits Come From?
The best manicure and pedicure kits come from two countries, either Germany or Japan. As the two countries both produce excellent steel and craftsmanship.
Why You Need A Manicure Kit EVEN Though You Get Your Nails Done Professionally
Bringing your own quality manicure kit when going to the nail salon ensures you are not exposed to bacteria, viruses, influenza, and fungus. As some nail salons don't practice standard safety procedures or they just become lax with cleanliness.  Granted some are extremely careful but why take the risk, after all, sharp instruments are going to be used.
Additionally…
Check Out my article on what to pack in a Dopp kit found here, What To Pack In A Dopp Kit? This is full of practical ideas for items to put in your travel bag…including a manicure kit.
Okay…now we know some general information on a manicure, let's look at some top quality manicure sets that are built to last.
Here is a quick overview of  the 7 Best Of manicure kits:

This is made with German-made steel and is pretty inexpensive to boot. This makes the number one position due to its price, affordability, and precision tooling. Small enough for your travel bag or just for use at your own home. It also has seven different colored cases to match your own style.
This is far superior in quality to anything you will find in your local drugstore. This makes a giant leap in quality without hurting your pocketbook and is a great option.
Pros
Plenty of color choices for the cases in which to choose, seven different colors to be exact.
General information booklet included on how to properly trim nails.
Sharp tools.
For both sexes, men, and ladies.
German steel and German engineered.
Amazon's Choice.
Nickel-plated coating to protect against corrosion.
Makes a great gift.
Great customer service.
Cons
Nail clippers are not made in Germany.
Stainless steel not as long-lasting as high carbon steel.
2. Takumi No Waza G-3104 Craftsman Luxury 9-Piece Grooming Kit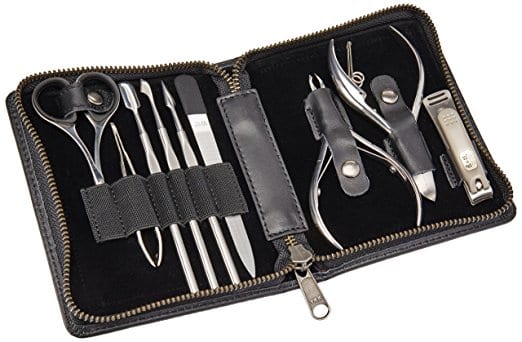 This is made in Seki Japan by the company Greenbell. I just love anything built in Japan, like guitars, knives, and swords. The reason for this is because the Japanese people pay such high attention to detail and quality of workmanship. It's really ingrained in their culture, and it shows in their craftsmanship.
This set of highly effective tools is for the man that pays strict attention to detail, as well as enjoying the finer things in life. This is my personal pick.
Pros
Nine tools to choose from.
Very sharp.
For a man or woman.
Quality leather case included.
Compact and great for traveling. A great item to throw in your Dopp kit.
Cons
As you can see from the picture, there is no toenail clipper included.
No instructions.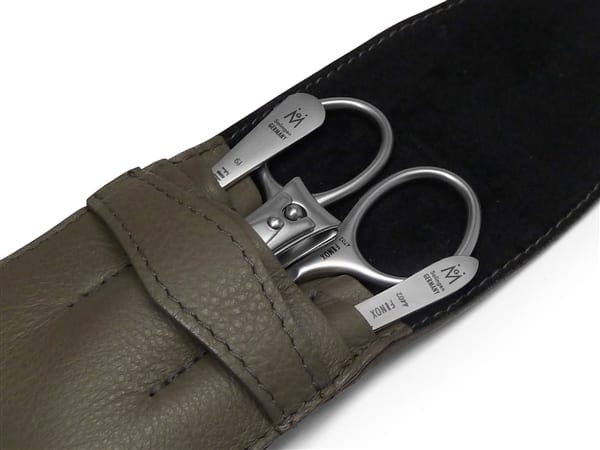 With this high-quality travel set, you get four highly handcrafted tools made from quality materials. This is made out of High Carbon Stainless Steel!!! Having the sharpness as well as the longevity as these won't rust either.
The double-sided nail file has a medium and fine texture to clean up nails after cutting them. The nail file uses sapphire to achieve this smoothing.
Ohh…and how about a Lifetime Warranty to boot. These can be purchased through Zamberg.com.
Pros
Made from High Carbon Stainless Steel!!!!
Will stay sharp a long time.
This is a real pleaser, despite being only four pieces. Simple but very long-lasting.
Great set of tweezers!
Really good size for a travel set or to put in a Dopp kit.
Made of German steel.
Each tool is handmade in Solingen, Germany.
Lifetime warranty.
A small leather compact case which the tools fit snugly into.
Cons
For a four-piece set, quite expensive but don't forget…you get real quality here.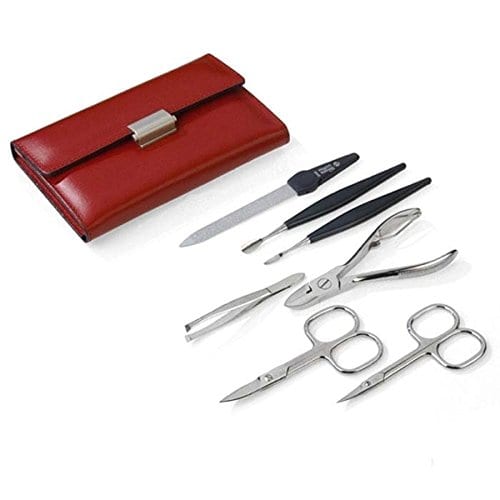 We can't leave the ladies out of this, so I added this.
This is a very classy looking case and manicure set made by Niegeloh. This company is based out of Solingen, Germany. Most importantly this comes with a lifetime warranty, so if you happen to run into problems, they can be quickly solved. The materials they use are high carbon stainless steel.
Pros
High-quality steel, as the use a high carbon stainless steel that has a nickel-coating to prevent rust.
Made in Solingen, Germany.
Quality made beautiful soft leather case. Will look classy in your purse.
Well made.
Instructions are included.
Lifetime warranty.
Cons
No nail clippers…but does have a nail nipper.
The tools are handmade in Solingen, Germany by real craftsmen and artisans that come in this classy and elegant soft leather case. This kit is very stunning in its appearance as well as functionality. Each tool has a matte finish to it and well as having some of the sharpest tools on this list. This set is made from stainless steel to provide years of service.
Pros
90 Day Guarantee.
Magnetic closer.
I love this case, simple, quality, and functional.
Longevity.
Real sharp.
Topinox is their top brand name for Niegeloh.
Cons
No cuticle nipper included.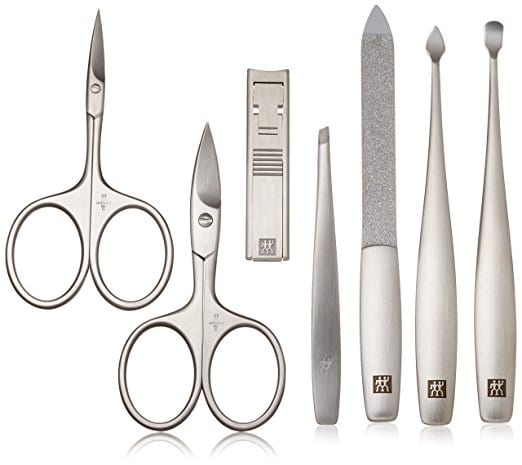 This is made by Zwilling J.A. Henckels, a company that has been in business for almost 300 years making all kinds of blades. This company makes ultra-luxury precision tools with an ultra-luxury price tag as well. This is made with a high-quality luxe stainless steel that has a very refined matte finish to it. Important to note, it comes with a quality Italian leather case as well and comes packaged in a gift box, so it makes a nice gift to give someone.
Pros
Ultra-luxurious engineered precision manicure set.
Nice Italian leather case.
German made.
High-quality stainless steel.
Satin matte finish.
Comes in a gift box for gifting.
Old well-established company.
Cons
Very Expensive.
Very different design on the nail clipper, but works.
This is a relatively cheaper set of quality instruments but with a cheaper case. This is made in Germany and has 16 instruments to keep your hands and other body parts looking their best.
Pros
Lots of options of tools for maintaining your nails.
Stainless steel material with nickel plating on the exterior.
Delivered in a gift box. Great for gifting.
Three color options for the case: black, brown, and burgundy lacquered.
Made in Germany.
Some tools in this kit are labeled as F. F is the highest quality 3 Swords make.
Cons
This isn't a real leather case; it's synthetic leather.
Small nail clipper.
---
Do you have a favorite Manicure Kit? What is it?
Share This: