Share This:






In general drinking unsweetened tea is a great way to drink your fluids without the unnecessary calories associated with drinking high-calorie cola products. But..what if I told you that on top of drinking the super low-calorie tea, that certain teas also have the ability to help you lose weight and they taste good too. Amazing right?
Well yes and no. Let's get this cleared up right away!
You're Going To Need More Than Just Tea…
Drinking tea alone won't make you lose weight. Let's keep it, real folks! Common sense, people. People on social media sites and YouTube claim just by drinking this tea you will lose weight. Your spidey senses should be going off telling you that something doesn't sound right.
Drinking a certain tea is not going to help you lose weight alone. Drinking tea can help you lose weight combined with other efforts.
Losing Weight Takes More Than Drinking Tea
You need to eat right, exercise, eat at a caloric deficit, and drink plenty of water. Doing this with herbal tea in conjunction with a healthy diet, exercise program, and eating a caloric deficit can help you lose weight. So, you're going to have to watch what you eat…I know people hate hearing that. I know I hate hearing it, but I also know it's the truth.
Replacing your soft drinks with a zero-calorie drink (like tea), will also greatly help you, especially if you consume a lot of soft drinks in a day. I also wrote a post on How To Drink Water Correctly, that gives a lot of tips on replacing soft drinks with water, a must-read.
Exercise
Also if you need a fantastic diet and exercise plan, might I suggest a revolutionary one, that is gaining a lot of steam in the last couple of years. The program is called Kinobody, you can read my review here, Is Kinobody A Scam? By the way, it's not a scam and it works amazingly. It uses intermittent fasting and also working out just 3 times per week while eating like a king or queen. Kinobody has programs both for men and women. It works and I was so impressed with its results, I recommend it to everybody I know.
I also did a review on a program that works fantastic for older men in their 40's or more. Check it out here, Is Get Abs After 40 A Scam?
What Herbal Tea Do You Recommend?
Now, certain teas do have properties that can suppress appetite, boost metabolism, increase energy, and help detox. Yeah, we want these to help us. These would definitely help us on our journey to lose weight.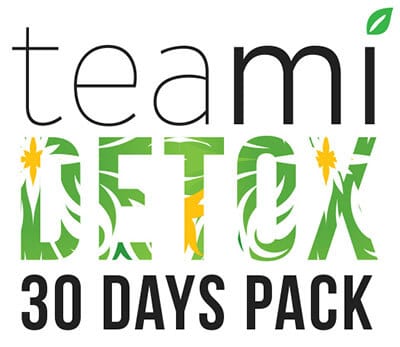 So, what teas have these components? Great question!
Teami Detox 30 Day Pack is made up of two tea blends, Teami Skinny and Teami Colon, that I think fit the bill.
Teami Skinny
Teami Skinny is a morning drink that helps you wake up in the morning, which boosts metabolism, suppress hunger cravings, and gives you that pick me up in the morning. Teami Skinny can drink all day long. This is the one that tastes good, thank god, because this is the one you'll be drinking a lot of.
Now the Teami Skinny is a 30 day supply of loose leaf tea. See below for what herbs are contained within Teami Skinny. You will only need one teaspoon per serving. Then let it steep for a few minutes. Supposedly, you can use that same teaspoon of tea 3 times throughout the day.
Teami Colon
Teami Colon is a detox tea taken every other night to help clear the body of toxins. This could help with losing weight, getting better sleep, improved digestion, and cleansing the body. This has a laxative effect, so be warned. This is recommended taken right before bed and in the morning nature will take over. Also a note here, your urgency will only happen in the morning and not during the day.
Some people might take a little time to warm up to the taste of the Colon tea, but regular tea drinkers should find it enjoyable.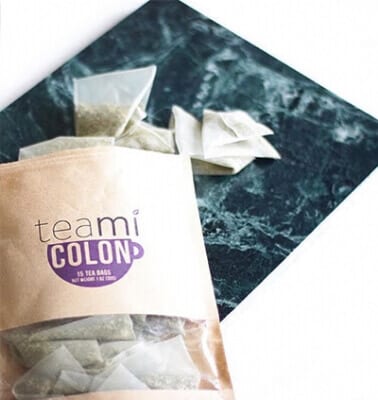 The Colon tea is only enough for 15 days, as you are only taking this every other night. This is not a loose-leaf, as this has a mesh tea bag containing the tea.
Teami Skinny/Teami Colon
What Is In Teami Skinny Tea?
Oolong
Yerba Mate
Lime Leaf Extract
Lotus Leaf
Ginger Root
Dandelion Leaf
Rhubarb Root
What Is In Teami Colon Tea?
Senna Leaf & Root
Hawthorn Berry Extract
Lotus Leaf
Lime Leaf & Extract
Psyllium Husk Seed
Phaseolus Calcaratus Seed
Rhubarb Root
Poria Cocos Stem Bark
Valerian Root
What I like About Teami Blends
I really like it is a loose-leaf, as I a regular tea drinker and I prefer loose leaf over bagged teas. Why? Normally you get more ingredients with a loose-leaf (twigs, branch, bark, leaf, etc) or a bagged tea which is normally just made up of leaves. You get a fuller taste as well as the increased benefits of the whole plant as opposed to just the leaf. Also generally speaking loose-leaf is a lot fresher than tea bags, as you have no idea how long it has been that the product has been just sitting there.
Great Tumblers
Teami Tea Tumbler is a portable method of drinking your tea. They really thought up a good design here to drink your tea on the go. It's double insulated to help retain heat and keep from burning your hands. It also works great for both hot and cold beverages. It has a mesh strainer that adequately strains the tea and which can be removed also. They come in a variety of colors and look sporty and refined.
The sheer amount of additional information that can be found on Teami Blends from diet tips, exercise tips, and tips on detoxing. Take a lot around and you're sure to find a ton of information that is surprisingly pretty darn useful.
Teami Accessories
They have the Teami Tumblers which sure will be helpful drinking their tea on the go and completing the 30-day detox. It makes it easy to take it to work or the gym and have it around you so you can drink it. These tumblers are nice to have and are really designed well. With a strainer and double-walled construction are very welcomed to drinking on the go.
They also have these Teami Tea Infusers that come in 7 colors. Red, blue, green, purple, yellow, pink, and black. This fits any cup or tumbler too. Small holes are drilled into the stainless steel bottom section, this will contain the loose leaf tea while allowing it to effectively mix with the hot water.
Teami Coupons/Promo Codes
We all love saving money, right? Another great thing about Teami Blend is they always have coupons or promo codes running. What a great way to get introduced to a company by getting a discount. Below are some promo codes to help save you some money.
10% Off Any Teami Products. No minimum. – DAN10
12% Off Any Purchase. No minimum. – DAN12
15% Off minimum purchase of $34.99 – DAN15
25% Off Minimum Purchase of  $99.99 Through June 27, 2018, to Wednesday, July 4th, 2018 – DAN25
Final Thoughts On Teami Blend Teas For Weight Loss
So, make a commitment to doing everything you can to achieve your weight loss goals. Exercise, eat a healthy diet, eat at a caloric deficit, and supplement with products that can help you achieve this goal.
I think implementing tea into your diet can impact your ability to lose weight if used correctly with other methods as well. Like working out, eating healthy, and eating a caloric deficit. The Teami Detox 30 day pack tea at Teami Blends, I believe can help facilitate weight loss. It's a tool to use to help hurdle the weight loss problem many of us face with the high amounts of calories easily attained nowadays.
You can buy the Skinny tea and Colon tea as well as other teas such as Teami Alive, Teami Focus, Teami Profit, Teami Energy, and also Teami Relax. Surely, something for everybody.
Share This: