Share This:






Are Your Jeans Constantly Ripping In The Back Pocket?
Are your jeans ripping around the stitching in the back pocket?
Have you thrown a countless number of pants away because of this?
I have…
Think of all that wasted money.
It starts at the upper corner on one side or the other of the back pockets of pants. It can start with a small tear, that isn't very noticeable and quickly become a serious full on rip, that is quite revealing. Unfortunately, I have had this problem over the years, and I myself have often wondered why this is. Dealing with this problem has led me to some obvious and not so obvious solutions.
This can be a very frustrating and expensive problem unless you like presenting yourself with rips in your pants. As you will probably need to buy a new pair of jeans when you see this happen. If you don't…prepare for further rip-age when you bend down to pick something up. A complete nightmare especially if you are at work. Insert clean underwear joke.
There could be a multitude of reasons why this is happening to you. Let's explore some of the reasons and address some possible answers.
Possible Reasons For Tearing The Ass Out Of Your Jeans
Oversized Wallet – Or simply a wallet.
It's time to ditch that overgrown wallet.
Yeah, you know what I'm talking about George Costanza. You keep all your receipts, lottery tickets, phone numbers, business cards, money, credit cards, and family pictures.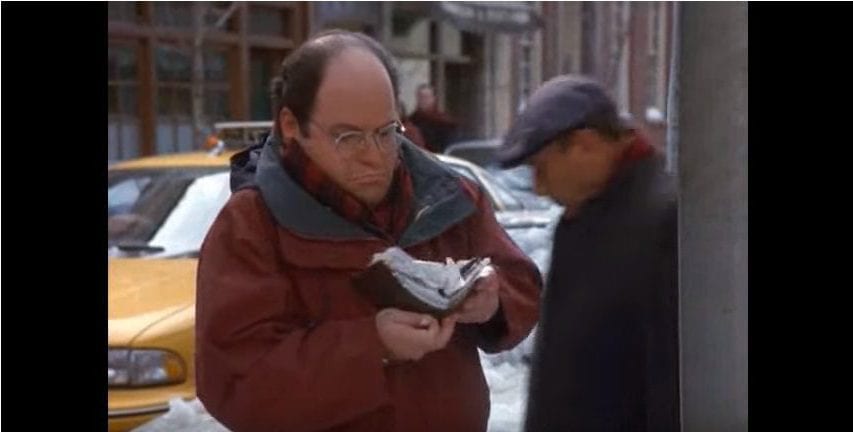 The main culprit, and probably the obvious one, if it is happening on one side and one side only, is this where you keep your wallet? Especially a thick wallet. Anything in your back pocket is going to increase the likely chance of that pocket stitching to become more compromised.
It might be any wallet for that matter and not just an oversized wallet. As it puts more stress on the stitching over time and will eventually lead to tearing of the denim, especially when bending down. An oversized wallet while bending down with your knees, will in all likelihood over time lead to a blowout.
For me personally, I would have blowouts in the back right pocket and this is where I usually 99.9% of the time kept my oversized wallet.
Get A Slim Wallet My Friend
A solution…get a slim wallet. It's time to downsize your wallet. Simply change your wallet. Don't worry you can do this and you'll love doing as well.
Clean simple and sexy.

Now, it's time the thin the herd. To eliminate the credit cards you never use, to ditch those business cards you'll never use and to store your receipts somewhere else. Store these things in your office and not in your wallet anymore.
I've switched to a slim wallet and have personally loved it and wonder why I didn't do it sooner. As you can wear it in your front pocket as well as your back pockets as well.
I like a slim wallet with a money clip and recommend that.
Less likely to blow out your back pocket when bending over.
More Comfortable.
Sleek looking.
More refined looking looks like you are well put together.
Pocket-friendly.
Can be placed in either front or back pockets.
Lighter to carry.
Your back will thank you for it, as it can hurt your posture when sitting for long periods.
Quicker to find the right credit card or photo id.
Increase security as it is less likely to be pickpocketed in the front pocket.
New Rules Of What Goes Into Your New Slim Wallet
No coins, a maximum of 5 credit cards, photo id, and cash. That's it, men. Follow this simple rules to be the master of your wallet, everything else simply put somewhere else.
With so many reasons for switching to a slim wallet and few negatives, it's pretty much a no-brainer.
Make the switch to a slim wallet with a money clip and you'll be really happy you did.
Overweight
Being overweight plus having a thick wallet in your back pocket, is a sure way to rip the back side of your pants. Since we have already addressed the oversized wallet we need to address being overweight. As this might be the next possible reason for having jeans rip in the butt area.
My weight has fluctuated in the past, having been at one time 270 lbs. Thankfully, I am down to a more healthy weight of 230 lbs. Yes, with an oversized wallet and having gone through quite a few pairs of jeans and me slow to catch on to the problem. Also, my full-time job also requires me to pick up heavy loads from deep knee bends.
Having more junk in the old trunk and that old spare tire is not helping anything.
If you are looking for a method of losing weight, I highly recommend you check out my review of Kinobody, Is Kinobody A Scam? This is my number 1 way to lose weight. As it addresses so many myths about losing weight and putting on muscle. I highly highly recommend it. So many benefits.

When you start to lose so weight this probably will also help save on you having to buy pants due to ripping the back pocket out.
Quality Of Jeans Or Design
Some jeans, just have thinner denim than others or the way the back pockets are stitched or riveted effects if your jeans will rip here. With so many features that can contribute to your jeans ripping out, there is just no way of eliminating this other than by trial and error. I've had all different types of jeans rip out on me. Name brands jeans to cheap ones.
Just make sure you are getting the right size of jeans for your body. Something that isn't too tight and is comfortable, is usually a good rule to follow.
Sometimes stressed out jeans can be worn out and increase the likelihood of blowouts in the backside. Maybe stay away from these if you have this problem.
Another possible solution is to buy jeans with no back pockets. I've never seen a pair, I don't think…but apparently, there are some.
Stop The Tearing
Why Do Jeans Rip On The Back Pocket? Well, for many possible reasons or possible a combination of reasons mentioned above.
I hope to have helped some people from embarrassing themselves, or by simply saving them a little money and avoiding the fear of every time they bend down not to hear that dreadful rip.
---
Would love to hear any other possible solutions anyone else might have or jean recommendations that don't blow out in the backside to please comment below.
Share This: