Share This:






This review is going to on the all-natural Dr. Squatch Shampoo and Conditioner and below I will post a Promo Code for you to use to save you 15% off.
Before we get into it just some cold hard fact first, most commercially available shampoos and conditioners have chemicals that are, how do we say this, bad for our bodies and health.
For example, chemicals that are cancer causing, skin irritants, lung irritants, eye irritants, organ system toxicity, and other.
Quite shocking right? All in order to mass produce and make the most money they can by cheaply producing products with cheaper chemicals, instead of using natural products.
This is why people look for all natural products, as they don't want to be slowly poisoned by the products they buy and use. They want natural ingredients as well as something that works!
What Is Dr. Squatch?
Before we head into this review, let's get to know the company a little.

Dr. Squatch is a company geared toward men hygiene products that feature All-Natural ingredients. There a company that enjoys bringing quality products to men, while also making sure to have those products smell appealing to men, without the girly smells that usually come along the hygiene products.
Return to nature comes to my mind when I think of this company. They also have a great sense of humor as presented by their content on their website and videos.
Products Sold By Dr. Squatch
Bar Soap
Hair
Colognes
Beard
Shaving Products
Gift Products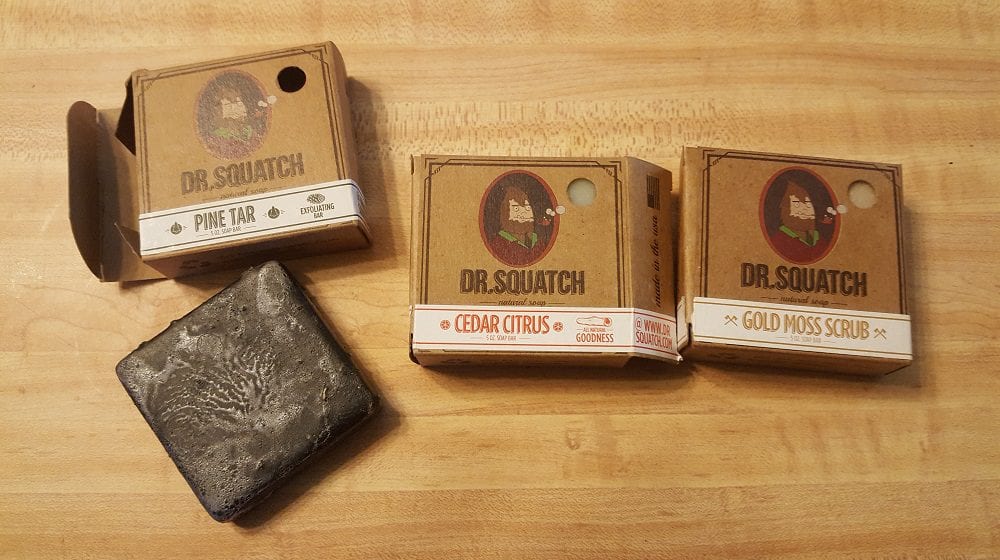 After first trying Dr. Squatch Soaps and being totally blown away with their products I am very naturally curious to try their Dr. Squatch Men's Moisturizing Shampoo and Men's Daily Conditioner. As I want to see if their shampoo and conditioner can hold up as their soaps can.
You can review my soap review here, Dr. Squatch Soap Review.
What Do They Smell Like?
Shampoo – Cypress Coast
This is exactly like you think it smells with its name. As cypress smells for me, a cross between a lighter smelling pine smell mixed with cedar. I also smell tea tree oil in there which is always a pleasant smell too and it's great for hair.
A very clean scent.
Conditioner – Cool Citrus
A very light citrus smell with just a hint of peppermint and sage.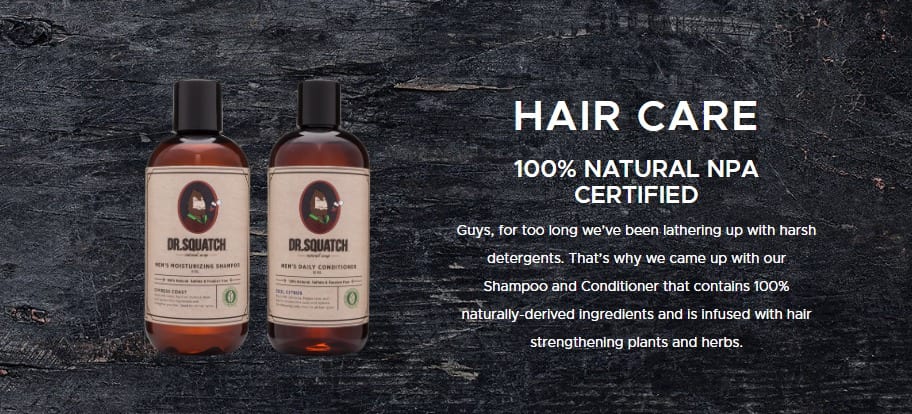 What's In The Dr. Squatch Shampoo & Conditioner?
It is important to list the ingredients for complete transparency and knowledge.
Shampoo
Water (Aqua), Decyl Glucoside, Coco-Glucoside, Glycerin*, Citric Acid, Xanthan Gum, Trehalose, Honey, Simmondsia Chinensis (Jojoba) Seed Oil*, Sodium Stearoyl Lactylate, Caprylyl/Capryl Glucoside, Rosmarinus Officinalis (Rosemary) Leaf Extract*, Calendula Officinalis Flower Extract*, Urtica Dioica (Nettle) Leaf Extract*, Equisetum Arvense (Horsetail) Extract*, Symphytum Officinale (Comfrey) Leaf Extract*, Sodium Cocoyl Glutamate, Hydrolyzed Oat Protein, Citrus Aurantium Bergamia (Bergamot) Oil, Cupressus Sempervirens (Cypress) Oil, Melaleuca Alternifolia (Tea Tree) Leaf Oil, Citrus Reticulata (Tangerine) Peel Oil, Tocopherol, Polyglyceryl-5 Oleate, Glyceryl Caprylate, Gluconolactone (Corn), Potassium Sorbate, Sodium Benzoate.
* Certified Organic Ingredient.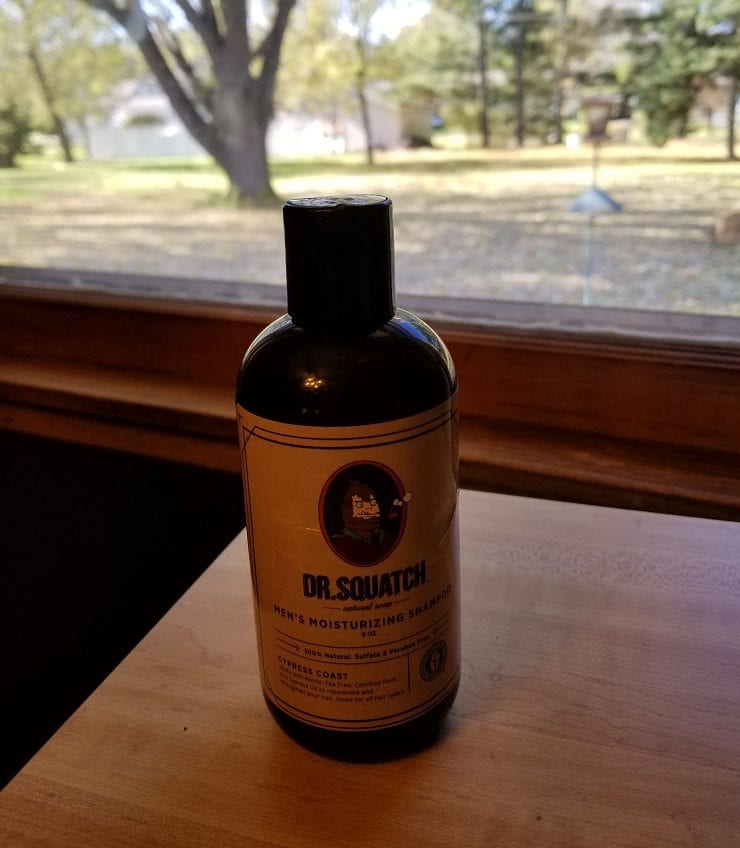 Conditioner
Water (Aqua), Stearyl Alcohol (Palm), Behenyl Alcohol (Rapeseed/Canola), Aloe Barbadensis Leaf Extract*, Glyceryl Caprylate (Vegetable), Persea Gratissima (Avocado) Oil, Butyrospermum Parkii (Shea Butter), Glyceryl Stearate (Vegetable), Caprylic/Capric Triglyceride (Vegetable), Cellulose Gum (Plant), Trehalose (Tapioca/Cassava), Simmondsia Chinensis (Jojoba) Seed Oil*, Cocos Nucifera (Coconut) Oil*, Glycerin* (Vegetable), Rosmarinus Officinalis (Rosemary) Leaf Extract*, Calendula Officinalis Flower Extract*, Urtica Dioica (Nettle) Leaf Extract*, Equisetum Arvense (Horsetail) Extract*, Symphytum Officinale (Comfrey) Leaf Extract*, Sodium Stearoyl Glutamate (Vegetable), Hydrogenated Vegetable Oil, Xanthan Gum (Corn), Hydrolyzed Oat Protein, Citrus Sinensis (Sweet Orange) Peel Oil*, Salvia Sclarea (Sage) Flower Oil, Pogostemon Cablin (Patchouli) Leaf Oil, Menthol, Mentha Piperita (Peppermint) Oil, Cannabis Sativa (Hemp) Seed Oil, Azadirachta Indica (Neem) Kernel Oil, Citric Acid (Corn/Cassava), Glyceryl Undecylenate (Castor).
* Certified Organic Ingredient.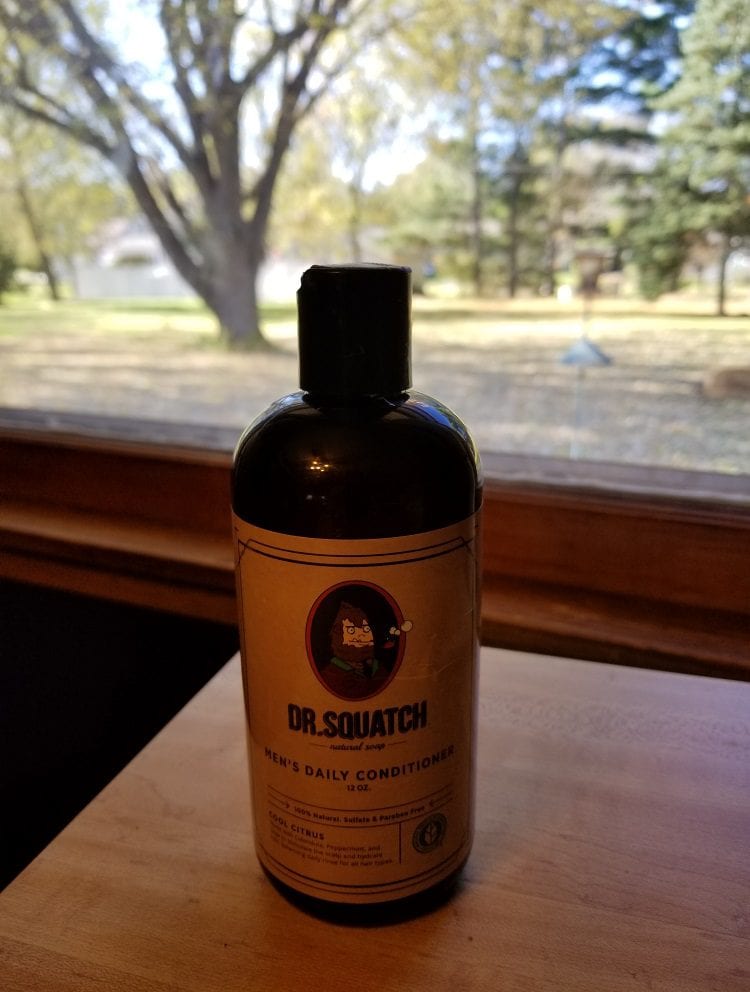 Performance?
Right out the gate, if you are looking for a great lather on this shampoo you'll be disappointed. But this is a good thing because most lather from commercially produced shampoos is made from horrible chemicals. The Squatch has avoided this and it still gets your hair clean with a slight bit of lather.
Using just a dime size dollop for the amount of hair I have was more than enough.
It cleans very well. I was using it every day because I wear pomades and clays products in my hair and if I don't my hair gets overburdened with hair product. This really does a nice job of removing even the hardest to remove of the pomades I own. Although on their website they encourage you not to wash your hair every day, as not to strip your hair of natural vital oils.
After rinsing my hair after shampooing and running my fingers through it, my hair felt really clean. Cleaner than it has felt in years without totally stripping my hair of oils.
Dispensing some the conditioner in my hand I was immediately surprised by the consistency of it. As it is more like a runny yogurt consistency, definitely different than my normal products which just gloop from the container to my hand. Again it is different but not bad at all, as I have never used a conditioner like this before with this consistency.
The conditioner can be used every day as a daily rinse and moisturizer. Nice.
I feel my hair is softer in general after using this for a week with both the conditioner and shampoo. I actually prefer Squatch's S&C to my other shampoos and conditioners and now they are often neglected now and occupying space in my shower.
Oh, Let Me Count The Ways...
NPA Certified – This means when they are 100% legit when they say all natural.
Great smelling shampoo and conditioner. No chemical smell. 100% plant-derived essential oils used for the scents.
100% Natural!!! No Sulfates or Parabens.
I wear a lot of different pomades. Some pomades are harder to get out than others, but Dr. Squatch shampoo has no problem removing them, even the hard to remove ones on the first go. Check out my review of Lockhart's Authentic Hair Pomade here, Lockhart's Authentic Review – Best Hair Styling Product For Men. This stuff is amazing and smells great too!
Never dries my hair out, as I been using this every day (both products) and no signs of dry hair. I would also like to note here, my hair is prone to drying out, as I usually skip washing my hair every other day to avoid this.
Offers international shipping too.
Great and friendly support. They will often get back to you in 24 hours.
A great sense of humor!
The consistency of the conditioner is different than what I am used to and I find this a bonus, as it is like a yogurt when you squirt it out of the bottle. Instead of a glump like most conditioners. This I actually prefer over commercial conditioners.
Plenty of tips and information about hair care products located on their shampoo and conditioner pages.
Don't need a lot of shampoo to get the job done. I usually just squirt a dime size of shampoo in my hand and this is more than enough.
Provides a very natural clean feeling after use.
Softer hair.
Many positive reviews online.
Doesn't take a lot of product to get the job done and the bottles should last a long time.
Dr. Squatch Discount Code
We all love saving money! Especially when it just as simple as entering a promo code.
For readers of my website, you can save an additional 15% off your order by just entering in a promo code at checkout
Use the promo code: DANNAGEL15
Save Even More $$$
Another way to save money on the Dr. Squatch Shampoo and Conditioner is to buy the bundle shampoo and conditioner together instead of separately. This will also save you an additional 15%.
So buy the Bundled Shampoo & Conditioner found here. A real no-brainer here. With my promo code and the bundled feature, you can save 30% off the shampoo and conditioner.
Other Products From Dr. Squatch You Need To Checkout!
I highly recommend you order a couple of their soaps if you are looking for a great smelling soap that is all natural.
By far and away my favorite soap of theirs is the Pine Tar Soap, works amazingly at removing grease and grime. I haven't tried all their soaps yet but have been very pleased with all of them I have tried.
Wrap Up
If you're looking for a 100% natural shampoo and conditioner that leaves your hair better than it was before washing it, grab some of this product. I've found that once I used any of their products from Dr. Squatch I prefer them to anything else I have owned.
This so gets my approval!

---
Would love to hear any questions or comments. Also would love to hear if you have used any of Dr. Squatch products and offer your opinion on them.
Share This: