Share This:






Meet Onnit's New MOOD

What is New MOOD? Does this work? Will it help with stress & sleep problems? With every supplement, we wonder about these things and more. So, I hope to help people understand the many benefits of using Onnit's New Mood Supplement.


New Mood is their sleep and mood-enhancing supplement. It was specifically designed to help people with their daily stress and also help people enjoy the most restful sleep possible. Onnit's blend of vitamins and herbs are all designed to improve the ubiquitous stress of everyday life.
Are you constantly stressed out? Do you need a way to relax that healthy and as simple as taking a pill? All the herbs in New MOOD are known for hundreds of years to have very positive effects on the human body. Coupled this with other vitamins that also been proven to help with stress and you have a real winner of a product.
Helped With Sleep
Me personally, I was excited to use New MOOD, as my sleep pattern has been really messed up taking a second job and getting only 4 hours of sleep a night, twice a week. Before this job, I slept wonderful, with almost no problems. Although it's been a while since I quit that job, it still is lingering over me by the constant restless sleep of getting up multiple times a night. Before I never woke up, I just slept straight through the night.
I am a big fan of Onnit's line of supplements especially Onnit's Alpha Brain. I know their products work because I use them, this was why I was excited to try New Mood. You can read some of my reviews here,  What Is Alpha Brain For? What Is Total Gut Health? What Is Total Primate Care? and MCT Oil Benefits & Side Effects.
Sleep is so important to all of us. It rejuvenates and recharges us. It such a beneficial function that any disturbance to it severely affects your waking moods and energy levels.
I was in definite need of what Onnit New MOOD promises and needed to get back to my normal self. I believe New MOOD did that and fast.

My Experience Taking New MOOD
Since I was experiencing problems with my sleep, I took the recommended two capsules an hour before bed. I notice the effects right away, as I drifted off to sleep a lot faster. Along with this, I didn't wake up during the middle of the night, as I was doing prior to taking New MOOD.
I slept like a LOG! Deep and restful. Which was what my body was craving for a long time but was unable to do on my own. It was such a relief to find something that works as advertised.
How much is sleep worth to you? To me, it's worth a lot. Not only to me but to millions of people. Why is sleep so important? Because good sleep refreshes and makes you the best you, both mentally and physically. To be able to complete tasks at your job in an efficient manner is paramount to most people.
Sleep is the foundation of health, interrupt this process, and see your health decline.
My Mood
Although my mood is usually pretty good and I don't really think I have a problem with it, I did notice slight improvements in my general mood. I could imagine if I did have mood problems and the effects New MOOD would probably have a real stabilizing and harmonizing effect.
Some reviews I have read that people suffering from PTSD and depression have seen good results with supplementing with New MOOD.
Immediate results
A stable mood balance
Slept liked the dead
More refreshed both mentally and physically
A slight increase in my mood, generally happy and more stable
Why Should You Take New MOOD?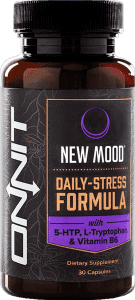 The reasons one may want to take New Mood varies. These are some of the obvious ones.
Sleep problems, unable to get enough restful sleep during the night
Stress reliever
Problem relaxing
Positively improve mood
Control Mind Chatter
Price Breakdown
Right now Onnit is offering a tremendous deal for a 30-count bottle of New MOOD for free. Yep for free, how great is that. Just pay shipping and handling. So if you are on the fence about trying New Mood, there are literally zero risks.
New MOOD comes in two sizes.
30ct Bottle – 15 Servings Per Container $29.95
90ct Bottle – 45 Servings Per Container $71.88
What Is In New MOOD?
New MOOD has quite a few ingredients to its blend of supplements. A few words on Onnit's ingredients choices, Onnit scours the Earth looking for the most beneficial and nutritional healthy sources. All the while, only buying the raw ingredients that are ethically grown or harvested. Onnit cares about sustaining a healthy Earth, they are a very green company.
New MOOD contains NO: Caffeine, Soy, or Gluten. All of the herbs have been known worldwide to help with sleep or feeling relaxed.

Vitamin B-3 – Oxygenates the blood and helps to detoxify.
Vitamin B-6 – One of the most used vitamins in the body. Helps make amino acids and neurotransmitters (serotonin).
Magnesium – Helps to stave off stress and a sense of restlessness.

Tryptophan – A direct precursor to serotonin. Helps with sleep and feeling a sense of restfulness.

5-HTP – The most important precursor to generating serotonin.

Valerian Root – Used for hundreds of years as an aid in helping restlessness. Calming effect.

Chamomile – Very calming effect on the body.

Lemon Balm – Shown to help maintain a positive mood.

JuJube – Another herb that helps calm nerves.


When Should You Take It?
The suggested use on the back of New MOOD is Adults take two capsules in the evening prior to sleep. A serving of two capsules may be taken during the day for occasional stress support. Do not exceed 6 capsules in any 24-hour period.
I took my two pills roughly about an hour before bed and I saw positive results.
In Conclusion
What is New MOOD? As with all of Onnit supplements, and New MOOD is no different, it works. If you are experiencing any sleep or stress problems consider purchasing New MOOD. There are so many reviews stating the numerous positive results. All the necessary ingredients have been researched and added to this supplement in order to help people de-stress and also to improve restful sleep. Onnit is a company that cares and the results show that in products that work. Try it today!
---
If you have any questions or comments or if you have used Onnit New Mood and would like to share your experience, I would love to hear them. Thanks!
If youSave
Save
Save
Save
Save
Save
Save
Save
Save
Save
Save
Save
Save
Save
Save
Save
Save
Save
Save
Share This: