Share This:






Onnit's Total Gut Health
This article will be a review of Onnit's Total Gut Health. Which will answer the question, What is Total Gut Health? This will also cover the benefits of using this product which is made by Onnit.
Every day, researchers are discovering how important overall gut health is to the human body. This is the leading edge. On researching and also for people to looking to improve their health, as this often gets overlooked. A decade ago the thought of gut health was never even thought of and actually was taken for granted. Like for example doctors subscribing patients taking high doses of antibiotics, which just devastate good and bad bacteria alike. Turning your gut and immune system into quite literately a mess.

Onnit is a total human optimization company, where supplements healthy food, exercise equipment, and an online research facility called the Onnit Academy is designed to get people to their highest state of being. I have personally found the benefits of Onnit's supplement from personally taking them. I love sharing this information with people I know that are also looking to improve themselves in one form or another.
Great Products
I have personally never felt better using their product as evidence from the number of reviews of their products I review on my website. Yeah, I might be an Onnit Fan Boy. But I don't care, I just love the products. You can read my other Onnit reviews here, What Is Alpha Brain For? & What Is Total Primate Care? & MCT Oil Benefits & Side Effects.
Now people are waking up to gut health and it is being seen as so important. Maybe even the most important aspect of health. This area of self-improvement is so doable and the benefits are easily within reach. The benefits are many and quite effortlessly achieved with minor changes in one's own lifestyle.
If you never heard about the importance of gut health, let me help you understand the benefits and necessities of having healthy gut bacteria. I think Onnit has effectively come up with a good product to help maintain and optimize your gut health.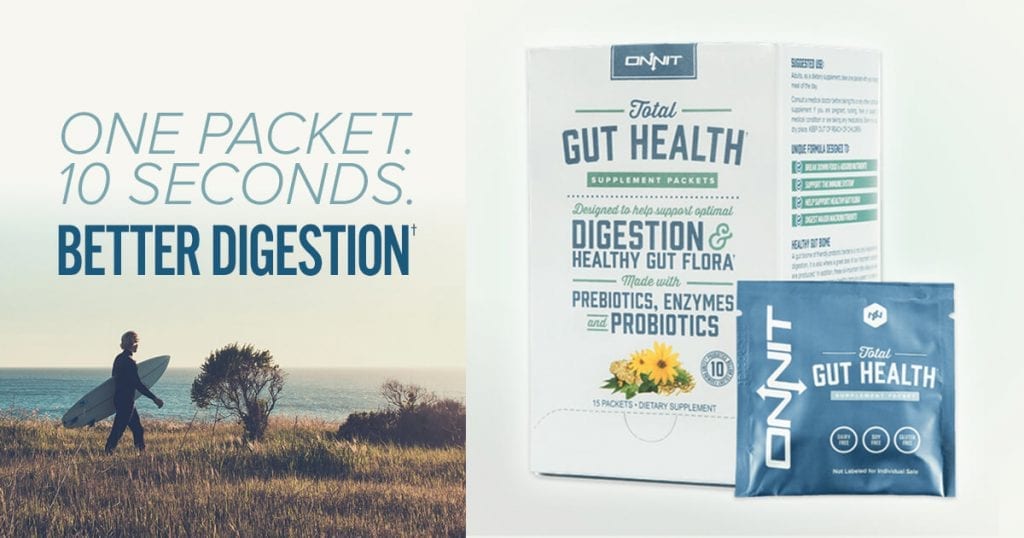 This is exciting stuff!
This is where Total Gut Health steps in. To supply people with a supplement that improves digestion and overall gut health by introducing your gut biome with multiple healthy probiotics and prebiotics.
What Is In Total Gut Health?
When you purchase the 15 count box of Onnit Total Gut Health you receive a 15 day supply of supplements for your gut health. Onnit at the time of writing this is currently out of stock, which speaks to the popularity of this product and how gut health is being realized by the general population.
Onnit is currently looking into providing a 30 day supply along with the 15 day supply of Total Gut Health.
Well, let's start off by telling you what's not in there.
There are NO dairy products, gluten, or soy products in Onnit's Total Gut Health.
To summarize there are prebiotics, enzymes, and probiotics all in this 15 packet Total Gut Health.
Digestech – This is a supplement that is also sold separately at Onnit and is also combined with Total Gut Health.
Bentaine HCL – Breaks down food and allows easier absorption of nutrients.

Saccharomyces Boulardii – A beneficial yeast that supports the immune system.

5 Strains of Probiotics – Acid resistant strains of probiotics.

The Benefits of Taking Total Gut Health
Your immune system is most highly concentrated in your gut, more than anywhere else in your body.
Why? Think about it, where else is foreign material so often entered within the body. Nowhere else, we are constantly drinking and eating, which in turn are foreign to the body. Our bodies must make sure nothing bad comes and if it does come it to effectively handle the situation. So, it makes so much sense that the immune system is so heavily fortified within the gut.
It also makes so much sense, that if your gut health is in good working order that your immune system is also healthy. This will help your ability to fight off colds and better to fight off other ailments because your immune system is not having to fight off bad bacteria within the gut. As there are good bacteria in place already.
Improvement in mood and optimal brain function! This is what truly excites me about Total Gut Health, as more and more research is finding out that improving your gut health has a direct link to improving your mood and increasing brain function.
Helps breaks down food and also helps absorb more nutrients
Supports and improves the immune system.
Supports optimal healthy gut bacteria.
Aids to digest major macronutrients ( fats, protein, carbs)
When To Take Onnit Total Gut Health
It is stated right on the box to take with food, but also it should state to take with your biggest meal of the day. Also, it should be at the beginning of the meal to fully optimize the benefits of this supplement. This supplement is recommended only to take once a day.
Other Ways To Improve Gut Health
Onnit's Total Gut Health simplifies the whole process of restoring and bringing your gut bacteria back to optimized health but there are other ways to also bring well-being to your digestive system too. There are plenty of foods you can eat to encourage healthy microbes to flourish and be happy.
Eating fermented foods – like Tempeh, Miso, Sauerkraut (my favorite), Yogurt ( make sure it is labeled "Live & Active Cultures"), Kefir, Kombucha, Kimchi.
Eating a healthy well-balanced diet. Avoiding processed refined foods, these are all relatively new to the human body and are generally unhealthy and harder to process and promote more of the bad bacteria than the healthy bacteria within your gut.
Eating food high in natural fibers.
My Personal Experience Of Taking Onnit Total Gut Health
If you want a single product that improves your overall health in one supplement, all signs point to improving gut health and I am then seen pointing to this single product, Total Gut Health.
Look over here, because this is it…PEOPLE!!!!
Whether it's improving your health or you looking to feel better, or just improve athletically, Total Gut Health will fit the bill. At least from my own experience. I have enjoyed most importantly more mental clarity. I put a lot of focus on brain function because without the brain feeling the best you will never perform at your best. I think it starts here. Along with that, my mood is more stable. Fewer swings in mood. I enjoy the smooth sailing feeling. I get far fewer colds as my wife works at a school and a daycare and brings home colds almost weekly.
I am also craving less and less sugar. I just don't want the sugary products anymore, I opt for the meat and potatoes route more and more. This, in turn, aids in a more healthy diet that supports better body-weight numbers.

Why You Might Need To Take Total Gut Health
The reason can vary a lot of what might lead you to seek to add a sublimation for gut health. But the beauty of it having a healthy gut is beneficial to everyone. It's only when we are sick or suffering, do most people look for a solution to their problem. But the benefits of having a healthy biome is so essential to optimal health for everyone.  Many people have found taking Onnit Total Gut Health to improve many of the symptoms listed below. For example:
On a recent high dose of antibiotics. This destroys good and bad bacteria and takes a long time to recover from.
Brain fog
Other medications
Poor immune system (including having a cold or flu)
Sluggishness
Chronic stress
Poor Diet
Skin problems ( eczema or psoriasis)
Leaky Gut
Lack of energy
IBS
Bloating and Gas
Chronic Fatigue Syndrome
Obesity
Diabetes
In Closing
What is Total Gut Health? Trust me on this, the benefits are many and impactful in taking Total Gut Health. The digestion system is so important because this is where you absorb nutrients. So be rest assured when you take Total Gut Health along with a meal you are optimizing yourself to receive the most from your food that is possible while maintaining beneficial bacteria in your biome along with actively supporting your general intestine system. Taking this product will also help boost your immune system's ability to fight off colds & the flu.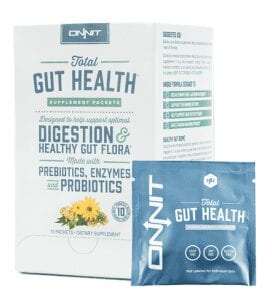 ---
If you have any questions or comments about Onnit's Total Gut Health, I would love to hear them. Thanks!
Save
Save
Save
Save
Save
Save
Save
Save
Save
Save
Save
Save
Save
Save
Save
Save
Save
Save
Save
Save
Save
Save
Share This: